Ducati Diavel Service Manual: Refitting the front brake master cylinder
Insert the front brake master cylinder unit (1) on the right side of the handlebar to bring the terminal internal edge in correspondence to the bolted joints (a).
Fit the terminal (12) on the handlebar inserting the screws (15).
Tighten the terminal (12) retaining screws to a torque of 10 nm +/- 10% (sect. 3 - 3, Frame torque settings) following the sequence 1-2-1 starting from the upper screw.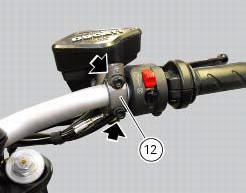 Locate the pipe with sealing washers (4) on the master cylinder assembly (1) and secure it with the special screw (3), without tightening it.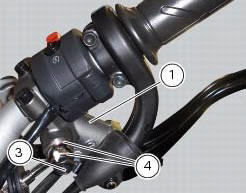 Warning
An incorrectly positioned hose can cause clutch faults and interfere with moving parts.
Orientate the pipe (24) as illustrated in the figure and then tighten the special screw (3) to a torque of 23 nm +/- 10% (sect. 3 - 3, Frame torque settings).
In order to fit the pipe (24) and the retaining clips, follow instructions in sect. 7 - 6, Flexible wiring/hoses positioning.
Warning The brake master cylinder manufacturer advises against servicing the brake master cylinder due to the safety critical nature of this component. Incorrect overhaul of these critical safety ...
Warning Brake fluid is corrosive and will damage paintwork. Avoid contact with eyes and skin. In case of accidental contact, wash the affected area with abundant running water and consult a doctor ...
Other materials:
Reassembly of the tool tray
Place the tool tray unit (23) on the lateral brackets (2) and (3) by tightening the screws (24) to 14 nm +/- 5% (sect. 3-3, Frame torque settings). If the handle guide (32) has been previously removed, position it on the tray (23) and tighten the screws (34) to 20 nm +/- 5% (sect. 3-3, Fram ...
Disassembly of the clutch cover
Remove the plug (14) and its o-ring (13), the plug (17) and its o-ring (15) from the cover. Undo the fixing screw (16) of the inner cover (19). Remove the inner cover (6) and soundproofing panel (18). Remove the circlip (10) and withdraw the shim (9) and the sealing ring (8). The dri ...
Riding safety
The points given below are applicable for every day motorcycle use and shoud be carefully observed for safe and effective vehicle operation. A motorcycle does not provide the impact protection of an automobile, so defensive riding in addition to wearing protective apparel is extremely importa ...