Ducati Diavel Service Manual: Front brake control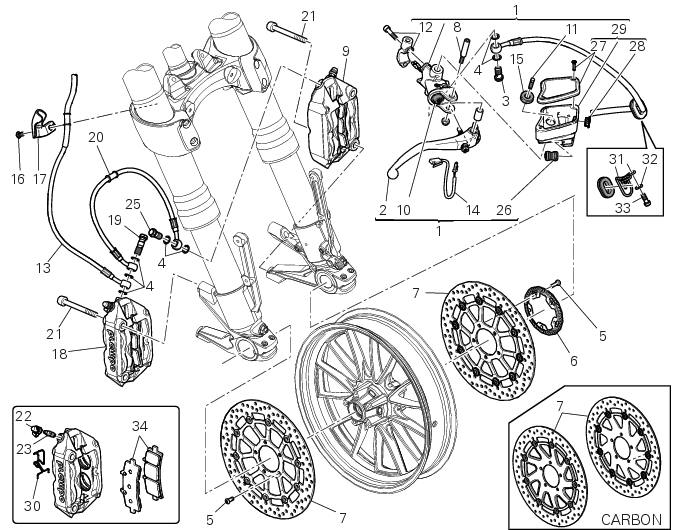 Front brake master cylinder
Brake lever
Special screw
Sealing washer
Screw
Phonic wheel
Brake disc
Pin
Left brake calliper
Boot
Bleed valve
Spare stand
Control unit - front callipers pipe
Microswitch
Oil duct union
Screw
Hose clip
Right brake calliper
Special screw
Front brake hose
Screw
Dust cap
Bleed valve
Front pump - control unit pipe
Special screw
Union
Plug
Inspection plug (replacement part)
Fluid reservoir assembly
Clip
Hose clip
Washer
Screw
Pair of brake pads
Spare parts catalogue
Diavel abs front brake
Diavel abs front and rear wheels
Diavel carbon abs front brake
Diavel carbon abs front and rear wheels
Important
Bold reference numbers in this section identify parts not shown in the figures alongside the text, but which can be found in the exploded view diagram.
Lubricate the wheel shaft threaded end with prescribed grease. Insert the wheel shaft by matching (a) with pins (b). Install spacer (3) with the conical surface faced to the wheel conical ...
Warning The brake master cylinder manufacturer advises against servicing the brake master cylinder due to the safety critical nature of this component. Incorrect overhaul of these critical safety ...
Other materials:
Removal of the steering head components
Note All parts fitted to the top and bottom yokes, including the wiring and control cables, can remain on the motorcycle provided they do not hinder the following operations. Loosen the screws (19) securing the supports (21) and (23) of splashguard (22) to the air conveyors (t). ...
Oil pump
Complete oil pump assembly O-ring Circlip O-ring Pump body Circlip Reducer bush Spring washer Screw Screw Spring washer Pump drive gear Key By-pass plug Locating bush By-pass spring By-pass valve Spare parts catalogue Diavel abs filters and oil pump Diavel ...
Checking and adjusting the valve clearances
Note For clarity, the figures show the engine removed from the frame. Move the piston of the cylinder being checked to tdc of the power stroke: in this condition, all the valves are closed and the timing shafts come in neutral position and, therefore, free to rotate; check to the valve cl ...