Ducati Diavel Service Manual: Front brake control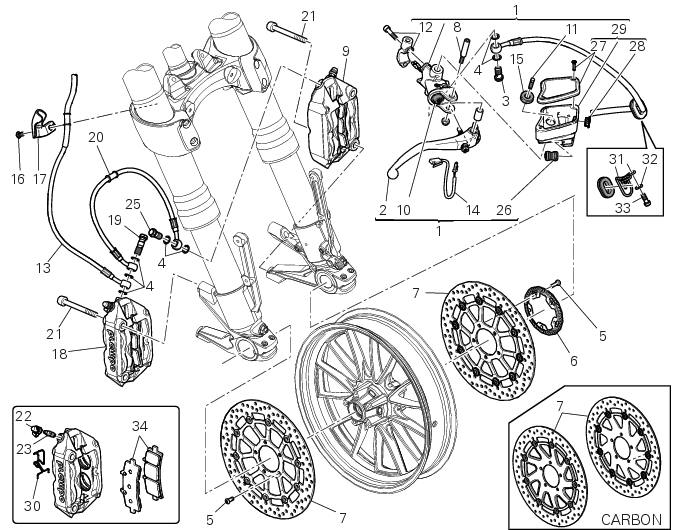 Front brake master cylinder
Brake lever
Special screw
Sealing washer
Screw
Phonic wheel
Brake disc
Pin
Left brake calliper
Boot
Bleed valve
Spare stand
Control unit - front callipers pipe
Microswitch
Oil duct union
Screw
Hose clip
Right brake calliper
Special screw
Front brake hose
Screw
Dust cap
Bleed valve
Front pump - control unit pipe
Special screw
Union
Plug
Inspection plug (replacement part)
Fluid reservoir assembly
Clip
Hose clip
Washer
Screw
Pair of brake pads
Spare parts catalogue
Diavel abs front brake
Diavel abs front and rear wheels
Diavel carbon abs front brake
Diavel carbon abs front and rear wheels
Important
Bold reference numbers in this section identify parts not shown in the figures alongside the text, but which can be found in the exploded view diagram.
Lubricate the wheel shaft threaded end with prescribed grease. Insert the wheel shaft by matching (a) with pins (b). Install spacer (3) with the conical surface faced to the wheel conical ...
Warning The brake master cylinder manufacturer advises against servicing the brake master cylinder due to the safety critical nature of this component. Incorrect overhaul of these critical safety ...
Other materials:
Warranty
In your own interest, and in order to guarantee product reliability, you are strongly advised to refer to a ducati dealer or authorised service centre for servicing that requires any particular technical expertise. Our highly skilled staff have the tools required to perform any servicing job ...
Helmet cable
Note Helmet cable (2, fig. 104) Can be found inside the tool kit, see "tool kit and accessories" on page 141. Pass the cable through the helmet and insert the end of the cable in the pin (3, fig. 104). Leave the helmet hanging and refit the seat to hold it in place. Warning Th ...
Engine on/off
Warning Before starting the engine, become familiar with the controls you will need to use when riding (page 99). Warning Never start or run the engine indoors. Exhaust gases are toxic and may lead to loss of consciousness or even death within a short time. In the presence of the active or ...