Ducati Diavel Service Manual: Refitting the rear sprocket
Check the cush drive bushes (6) condition and, if necessary, replace them by removing them from the flange.
Refitting is the reverse of removal.
Apply recommended grease on the rear sprocket flange (5) external diameter.
Place the rear sprocket flange (5) on sprocket (17) by inserting it on cush drive damper pins (6).
Apply prescribed threadlocker on the nut threads (4).
Start the nuts on the cush drive damper pins (6) threaded side.
Tighten the nuts (4) to a torque of 44 nm +/- 10% (sect. 3 - 3, Frame torque settings), following a cross-pattern sequence.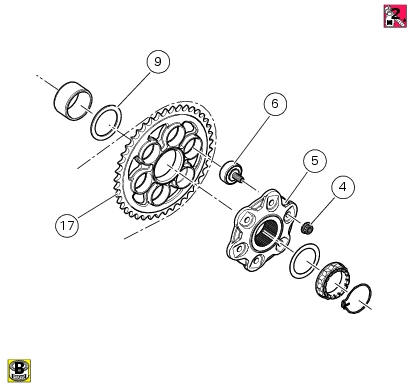 Check for wear following the instructions given at the beginning of this section.
To refit the nut (2) follow the specifications for the wheel fixing nut, in sect. 7 - 2, Refitting the rear wheel.
Position the clip (1) as shown.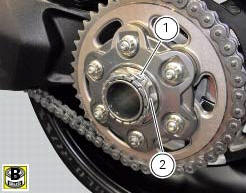 Washing the chain
Chains with o-rings must be washed in oil, diesel fuel or paraffin (kerosene).
Do not use fuel, trichloroethylene or other solvents which will damage the rubber o-rings. For the same reason use only sprays specifically formulated for use with o-ring chains.
Lock the wheel axle rotation. Remove the clip (1). Loosen the locking nut (2) with a socket wrench. Fully unscrew the nut (2) and remove the washer (3) and the flange (5) with the sproc ...
O-ring chains have sealed, life-lubed link studs and bushes. However, these chains need lubricating at regular intervals to protect metal parts of the chain and the o-rings. Lubrication also ser ...
Other materials:
Lubricating cables and joints
Check the outer sheath of the throttle control and cold start lever cables for damage at regular intervals. The outer plastic cover should not be flattened or cracked. Operate the controls to make sure the inner cables slide smoothly inside the outer sheath: if you feel any friction or catching, ...
Guided diagnosis
Note The on-screen icons used during this procedure are explained in a table at the end of this section. The dds diagnosis instrument guides the operator step-by-step through the various diagnostic procedures, providing descriptions and documentation for motorcycle components, wiring diagra ...
Replacing the battery in the active key
Only use 3 volt cr 2032 lithium ion batteries. Note The keys do not need to be reprogrammed after replacing the battery. Remove the metal part of the battery. Use a large sized coin to pry open the shells of the plastic grip (2? coin) as shown in fig. 65. Important Insert the coil on ...