Ducati Diavel Owners Manual: Residual range indication when the service is due
After resetting the first oil service warning (triggered at 1000 km), upon every key-on the system displays the indication of which type of service should be performed next (oil service or desmo service) and the residual range.
A (green) warning (1, fig. 32) Is activated for 2 seconds on every key-on; while 1000 km before the threshold an (amber yellow) warning (2, fig. 32) Is activated for 5 seconds upon every key-on.

Warning
This message can only be reset by the ducati dealer or authorised service centre that performs the maintenance.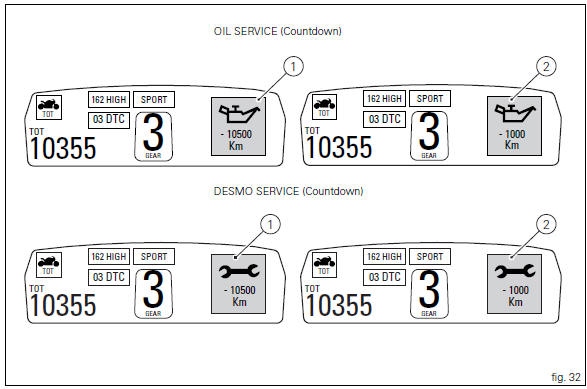 This function indicates that the vehicle is about to or has travelled a distance for which an authorised ducati service centre should be contacted to have the general maintenance or oil change perf ...
When service coupon threshold is achieved, upon every key- on the system displays the indication of the type of intervention that is required (oil service or desmo service). The (red) warning is ...
Other materials:
Removal of the front wheel
Support the bike so that the front wheel is raised from the ground. Remove the front brake calliper (b) by unscrewing the two screws (a) securing the calliper to the fork leg; do not disconnect the calliper from the hose. Warning Do not operate the brake lever when the callipers are ...
The hands free module
Introduction The hands free module incorporates the control unit communicating with the other nodes on the motorcycle, the on/off button, the microswitches detecting full lock steering angle (for enabling steering lock engagement) and the steering lock. The module is sealed and its individu ...
Spark plugs replacement
Check the colour of the ceramic insulation around the central electrode: an even, light brown colour indicates the engine is in good condition and running at the right temperature. Inspect the centre electrode for wear and check spark plug gap, which should be: 0.8+/-0.1 Mm. Important ...