Ducati Diavel Owners Manual: Indication of range reached for service
When service coupon threshold is achieved, upon every key- on the system displays the indication of the type of intervention that is required (oil service or desmo service).
The (red) warning is activated as a large icon for 10 seconds upon every key-on (1, fig. 33) Then as a small warning that remains displayed (2, fig. 33) Until it is reset.
After reset, the system will display again the type of intervention required next and the residual range (as described in the previous paragraph).

Warning
This message can only be reset by the ducati dealer or authorised service centre that performs the maintenance.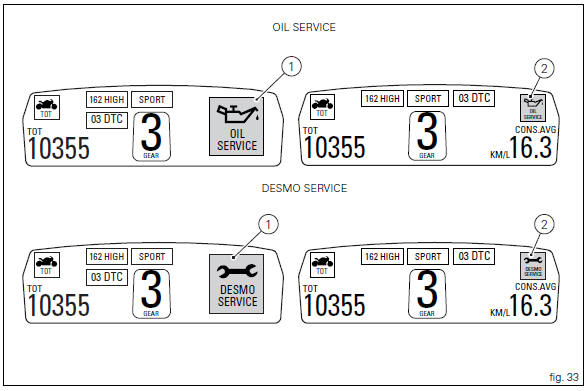 After resetting the first oil service warning (triggered at 1000 km), upon every key-on the system displays the indication of which type of service should be performed next (oil service or desmo se ...
The instrument panel activates in real-time some warnings / malfunction that are not dangerous for the correct operation of the vehicle. At key-on (at the end of the check) one or more "warn ...
Other materials:
Oxygen sensors
Introduction An on-off type oxygen sensor (in normal operating conditions, the voltage generated by the sensors switches between a value close to 1v and a value close to 0v) is mounted on each of the exhaust manifold of the diavel. Each oxygen sensor has its own internal heater, which recei ...
Number plate light not working
Fault codes Dds: no fault code displayed. Dashboard: no fault code displayed. Location of connections and components Location of rear turn indicator and number plate light connection. pin numbering for wiring harness side dashboard connector. Checks The number plate light receives p ...
Refitting the external components
Fit the cap (39) on spring (38) until it engages. Mount ball (40), spring (38) with cap (39), washer (37) and screw (36) on the chain side half-casing by starting the screw into hole (f). Note The spring (38), with cap (39), must be oriented as shown. Tighten the screw fully home to a torqu ...