Ducati Diavel Owners Manual: Indication of range reached for service
When service coupon threshold is achieved, upon every key- on the system displays the indication of the type of intervention that is required (oil service or desmo service).
The (red) warning is activated as a large icon for 10 seconds upon every key-on (1, fig. 33) Then as a small warning that remains displayed (2, fig. 33) Until it is reset.
After reset, the system will display again the type of intervention required next and the residual range (as described in the previous paragraph).

Warning
This message can only be reset by the ducati dealer or authorised service centre that performs the maintenance.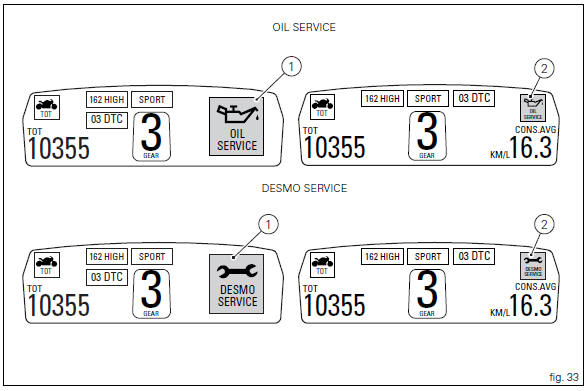 After resetting the first oil service warning (triggered at 1000 km), upon every key-on the system displays the indication of which type of service should be performed next (oil service or desmo se ...
The instrument panel activates in real-time some warnings / malfunction that are not dangerous for the correct operation of the vehicle. At key-on (at the end of the check) one or more "warn ...
Other materials:
Refitting the side stand
Place the stand plate on the rear shock absorber support; bring adjuster (14) in line with bracket (s) and start the screw (12) in the nut behind the bracket (s). Insert the screws (11), (3) and (10) fully home in this order, but do not tighten. Loosen the screw (12) with the relative nut ...
Refitting the seat
Note Apply recommended grease to the hole (a) of latch (6). Fit the seat (1) as follows: insert the tabs (b) (on the front side) under the rubber pads (c) of the gloves compartment; then push the seat rear side until hearing the lock latch click. ...
Overhauling the rear swingarm
Inside the swingarm (8), in correspondence with the pivot point on the frame, there is a pair of ball bearings (10) and a spacer (11) on the rh side, and a pair of roller bearings (6), with sealing rings (5), on the lh side. To change the bearings, proceed as follows. Remove the shims ( ...