Ducati Diavel Owners Manual: Indication of range reached for service
When service coupon threshold is achieved, upon every key- on the system displays the indication of the type of intervention that is required (oil service or desmo service).
The (red) warning is activated as a large icon for 10 seconds upon every key-on (1, fig. 33) Then as a small warning that remains displayed (2, fig. 33) Until it is reset.
After reset, the system will display again the type of intervention required next and the residual range (as described in the previous paragraph).

Warning
This message can only be reset by the ducati dealer or authorised service centre that performs the maintenance.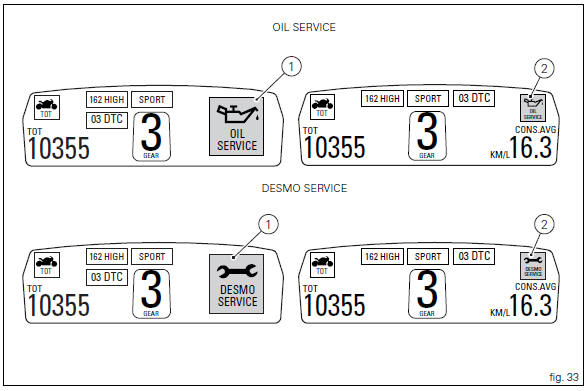 After resetting the first oil service warning (triggered at 1000 km), upon every key-on the system displays the indication of which type of service should be performed next (oil service or desmo se ...
The instrument panel activates in real-time some warnings / malfunction that are not dangerous for the correct operation of the vehicle. At key-on (at the end of the check) one or more "warn ...
Other materials:
Adjusting the clutch lever and front brake lever
The clutch lever (1) is fitted with a span adjuster (2) which serves to alter the distance of the lever from the handlebar. The lever distance can be adjusted through 10 clicks of the dial (2). Turn clockwise to increase lever distance. Turn the adjuster counter clockwise to decrease lever d ...
Refitting the front wheel
When all the necessary inspections have been completed, refit the wheel as follows. Fit the spacers (3) and (9) to the seal rings on the sides of the wheel hub. Install the complete wheel between the fork legs. Lubricate the shank and thread of the wheel axle (10). Take the pin ...
Reassembly of the gearbox
To refit the gearbox components follow the procedure under sect. 9 - 9.2, Reassembly of the crankcase halves, relating to reassembly of the engine crankcase. As a final practical test, ensure that with the gearbox in neutral the front coupling dogs (a) of sliding gears (b) are equidistant o ...