Ducati Diavel Owners Manual: Side stand

Important
Before lowering the side stand, check that the ground is sufficiently even and firm.
Do not park on soft or pebbled ground or on asphalt melted by the sun heat and similar or the motorcycle may fall over.
When parking on a slope, always park with the rear wheel on the downhill side.
To pull down the side stand, hold the motorcycle handlebars with both hands and push down on the side stand (1) with your foot until it is fully extended. Tilt the motorcycle until the side stand is resting on the ground.

Warning
Do not sit on the motorcycle when it is supported on the side stand.
To raise the side stand to rest position (horizontal), tilt the motorcycle to the right and, at the same time, lift the stand (1) with your foot.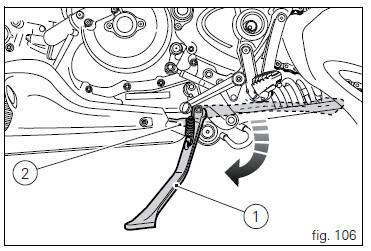 Note
Check for proper operation of the stand mechanism (two springs, one into the other) and the safety sensor (2) at regular intervals.

Note
It is possible to start the engine with side stand down and the gearbox in neutral. When starting the bike with a gear engaged, pull the clutch lever (in this case the side stand must be up).
Make sure all parts are correctly arranged and secured in the underseat compartment. Insert the mounts (4) of the seat base in the projecting parts (5) of the frame, then push the rear end of the s ...
Passenger grabhandle (1, fig. 107) Is located inside the tail guard; to take it out, remove the seat (see "removal of the seat" on page 119), pull the knob (2, fig. 107) While taking out ...
Other materials:
Removal of the fuel tank
On the usa version remove the canister filter as indicated in sect. 8 - 10, "Removal of the evaporative emissions canister". Loosen and remove the front retaining screw (4) Remove the flange cover (a) by loosening the screws (b), disconnect the quick-release fittings (c) from the fl ...
Removal of the gearchange control
Loosen and remove the pivot screw (4) securing the gearchange pedal (1) and recover the washer (9) and the o-ring Seals (5). Loosen and remove the screw (7) securing the gearchange lever (8) to the gear selector shaft. Withdraw the lever (8) complete with the gearchange control assem ...
Specific tools for the engine
88713.2011.Tool to lock crankshaft at top dead centre 88713.2676 .Wrench for tightening cylinder head nuts 88713.2103 Stand for cylinder head assembly 88765.1657 Timing check tool 88713.1821 Wrench for tightening timing belt tensioner pulley shafts 88713.2861 Camshaft oi ...