Ducati Diavel Owners Manual: Timing system
Desmodromic (type) with four valves per cylinder, operated by eight rocker arms (4 opening rockers and 4 closing rockers) and two overhead camshafts. It is operated by the crankshaft through spur gears, belt rollers and toothed belts.
Desmodromic timing system (fig. 159)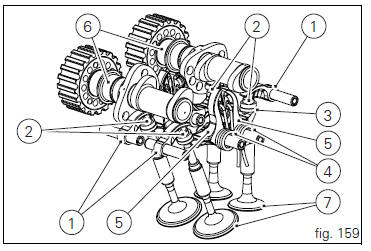 Opening (or upper) rocker.
Opening rocker shim.
Closing (or lower) rocker shim.
Return spring for lower rocker.
Closing (or lower) rocker.
Camshaft.
Valve.
Twin cylinder, four-stroke, 90 "l" type, longitudinal, with deep sump die-cast crankcase. Bore, mm: 106 Stroke, mm: 67.9 Total displacement, cu. Cm: 1198 Compression ratio: 11.5В±0 ...
Maximum speed in any gear should be reached only after the correct running-in period with the motorcycle properly serviced at the recommended intervals. Important Failure to follow these instruct ...
Other materials:
Lap registration function
This function describes the "lap" time registration. If the function is activated (see "lap activation/deactivation description), the lap time can be registered as follows: Pressing the flash headlight button (11, fig. 12) The first time starts the "lap timer" for ...
Changing the coolant
Warning This operation must only be carried out when the engine is cold. Attempting to change the coolant with the engine hot could lead to burns from hot coolant or scalding steam. Place a container under the engine and place the motorcycle on its side stand. Remove the expansion reserv ...
Removal of the water pump
Note For clarity, the figures show the engine removed from the frame. Loosen and remove the water pump cover (12) fixing screws (13) to the generator cover (16). Remove the water pump cover (12). Clean the pump housing of any scale. Check the bearings wear by turning the impeller s ...