Ducati Diavel Owners Manual: Timing system
Desmodromic (type) with four valves per cylinder, operated by eight rocker arms (4 opening rockers and 4 closing rockers) and two overhead camshafts. It is operated by the crankshaft through spur gears, belt rollers and toothed belts.
Desmodromic timing system (fig. 159)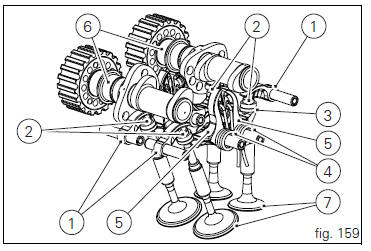 Opening (or upper) rocker.
Opening rocker shim.
Closing (or lower) rocker shim.
Return spring for lower rocker.
Closing (or lower) rocker.
Camshaft.
Valve.
Twin cylinder, four-stroke, 90 "l" type, longitudinal, with deep sump die-cast crankcase. Bore, mm: 106 Stroke, mm: 67.9 Total displacement, cu. Cm: 1198 Compression ratio: 11.5В±0 ...
Maximum speed in any gear should be reached only after the correct running-in period with the motorcycle properly serviced at the recommended intervals. Important Failure to follow these instruct ...
Other materials:
Checking and topping up coolant level
Check coolant level in the expansion tank on the right side of the vehicle. Steer the handlebar completely to the left and check that the level is between the min and max marks on the side of the expansion reservoir. Top up if the level is below the min mark. Unscrew the filler plug (1) ...
Beam setting
When checking beam setting, put the motorcycle upright. Tyres should be inflated at the correct pressure and one person should be sitting astride the motorcycle, keeping it at right angles to its longitudinal axis. Place the motorcycle opposite a wall or a screen, 10 meters apart from it, draw ...
Ground connection locations
The negative cable, which is normally connected to the negative pole of the battery, is fastened to the crankcase. From here, the cable branches off and splits up within the electrical system to carry the ground connection to the different elements in the system. The image shows the ground ...