Ducati Diavel Owners Manual: Timing system
Desmodromic (type) with four valves per cylinder, operated by eight rocker arms (4 opening rockers and 4 closing rockers) and two overhead camshafts. It is operated by the crankshaft through spur gears, belt rollers and toothed belts.
Desmodromic timing system (fig. 159)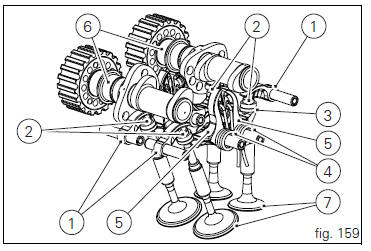 Opening (or upper) rocker.
Opening rocker shim.
Closing (or lower) rocker shim.
Return spring for lower rocker.
Closing (or lower) rocker.
Camshaft.
Valve.
Twin cylinder, four-stroke, 90 "l" type, longitudinal, with deep sump die-cast crankcase. Bore, mm: 106 Stroke, mm: 67.9 Total displacement, cu. Cm: 1198 Compression ratio: 11.5В±0 ...
Maximum speed in any gear should be reached only after the correct running-in period with the motorcycle properly serviced at the recommended intervals. Important Failure to follow these instruct ...
Other materials:
Riding safety
The points given below are applicable for every day motorcycle use and shoud be carefully observed for safe and effective vehicle operation. A motorcycle does not provide the impact protection of an automobile, so defensive riding in addition to wearing protective apparel is extremely importa ...
Disassembly of the gearchange mechanism
Refer to the exploded view at the beginning of this section for indications on disassembly and renewal of gearchange components. If the bushing (2) inside the pedal (1) needs replacing, grease the external surface and drive the new bushing into place using a press. The bushing must be seate ...
Removal of the clutch
Note For clarity, the figures show the engine removed from the frame. Undo the fixing screws (1) and remove the ring (2) and the springs (3) from the pressure plate (4). Slide the pressure plate (4) paying attention to the circlips (6). Remove the clutch control pin (14) and the ...