Ducati Diavel Owners Manual: Timing system
Desmodromic (type) with four valves per cylinder, operated by eight rocker arms (4 opening rockers and 4 closing rockers) and two overhead camshafts. It is operated by the crankshaft through spur gears, belt rollers and toothed belts.
Desmodromic timing system (fig. 159)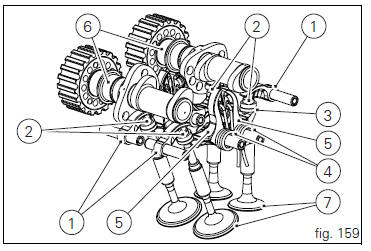 Opening (or upper) rocker.
Opening rocker shim.
Closing (or lower) rocker shim.
Return spring for lower rocker.
Closing (or lower) rocker.
Camshaft.
Valve.