Ducati Diavel Owners Manual: Timing system
Desmodromic (type) with four valves per cylinder, operated by eight rocker arms (4 opening rockers and 4 closing rockers) and two overhead camshafts. It is operated by the crankshaft through spur gears, belt rollers and toothed belts.
Desmodromic timing system (fig. 159)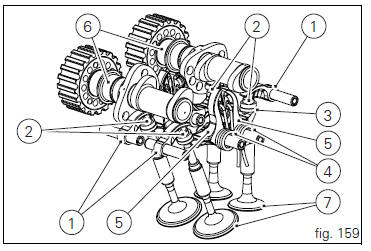 Opening (or upper) rocker.
Opening rocker shim.
Closing (or lower) rocker shim.
Return spring for lower rocker.
Closing (or lower) rocker.
Camshaft.
Valve.
Twin cylinder, four-stroke, 90 "l" type, longitudinal, with deep sump die-cast crankcase. Bore, mm: 106 Stroke, mm: 67.9 Total displacement, cu. Cm: 1198 Compression ratio: 11.5В±0 ...
Maximum speed in any gear should be reached only after the correct running-in period with the motorcycle properly serviced at the recommended intervals. Important Failure to follow these instruct ...
Other materials:
Removing of the rear brake control
Warning The brake master cylinder manufacturer advises against servicing the brake master cylinder due to the safety critical nature of this component. Incorrect overhaul can endanger the rider and passenger. Maintenance operations on these units are limited to renewal of the following par ...
Refitting the cylinder/piston assembly
If new units are used, it is necessary to couple the cylinders and pistons of the same selection (see paragraph "overhaul Of the cylinder barrel/piston components" of this section). If the pistons have been separated from their cylinders, before reassembling these components, position the p ...
Main bearings
The main bearings have are of the angular contact type with offset inner races so that the balls transmit loads from one groove to the other along straight lines at an angle to the axis of the bearing. The angle-contact ball bearings are designed for bearing combined loading (radial-axial load ...