Ducati Diavel Service Manual: Turn indicators not working
Fault codes
Dds: no fault code displayed.
Dashboard: no fault code displayed.
Wiring diagram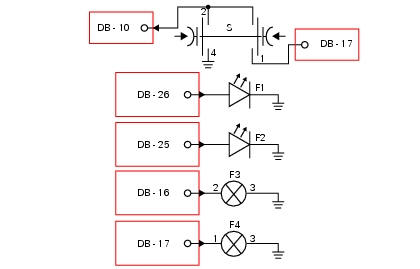 Db dashboard connection, bbs bbs unit connection, s turn indicator button, f1 front left turn indicator, f2 front right turn indicator, f3 rear left turn indicator, f4 rear right turn indicator. 2 On grey button - gr, 1 on red/blue button - r/b, 4 on black button - bk, db 26 white/black w/bk, db 25 green/black - g/bk, bbs 16 white/green - w/g, bbs 17 White/black w/bk.
Location of connections and components
Location of rear turn indicator and number plate light connection.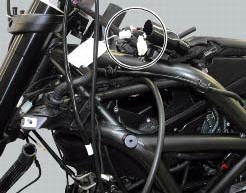 Location of left hand handlebar switchgear set connection.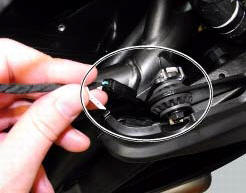 Location of front right turn indicator connection.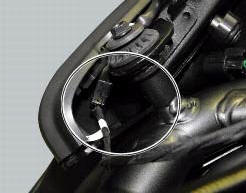 Location of front left turn indicator connection.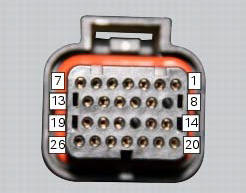 Pin numbering for wiring harness side dashboard connector.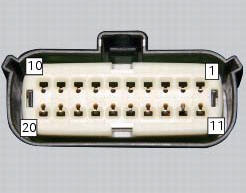 Pin numbering of wiring harness side bbs unit connection.
Fault codes Dds: horn diagnosis -> short circuit to ground (s.C. Gnd). Dashboard: the error "claxon" (horn) is shown on the service display. The eobd warning light activates. Wiring diagram ...
Fault codes Dds: no fault code displayed. Dashboard: no fault code displayed. Wiring diagram Db dashboard connection, s high beam flash button. 7 Orange - o, 1 red/blue - r/b. Location of ...
Other materials:
Throttle valve position sensor
Introduction The throttle valve position sensor (tps) of the diavel is mounted on the throttle body. The sensor is integrated into the throttle valve actuator motor, which turns the spindle of the vertical cylinder throttle valve directly. The sensor sends information to the engine con ...
Battery voltage indicator (battery)
This function describes the battery voltage indicator. To access the function it is necessary to view the ""setting" menu", using buttons (1) "s" or (2) "t" select the "battery" function and press the reset button (3) to confirm. The information will be displayed as follows: if battery vol ...
Check engine oil level
Check the engine oil level through the sight glass (1) on the right-hand side of the oil sump. Stop the engine and allow a few minutes for the oil to settle to a steady level. Oil level must be checked with the vehicle perfectly upright and the engine cold. The oil must be between the m ...