Ducati Diavel Service Manual: Turn indicators not working
Fault codes
Dds: no fault code displayed.
Dashboard: no fault code displayed.
Wiring diagram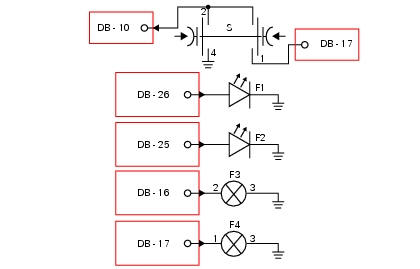 Db dashboard connection, bbs bbs unit connection, s turn indicator button, f1 front left turn indicator, f2 front right turn indicator, f3 rear left turn indicator, f4 rear right turn indicator. 2 On grey button - gr, 1 on red/blue button - r/b, 4 on black button - bk, db 26 white/black w/bk, db 25 green/black - g/bk, bbs 16 white/green - w/g, bbs 17 White/black w/bk.
Location of connections and components
Location of rear turn indicator and number plate light connection.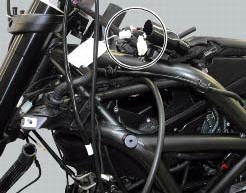 Location of left hand handlebar switchgear set connection.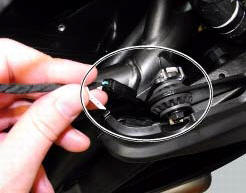 Location of front right turn indicator connection.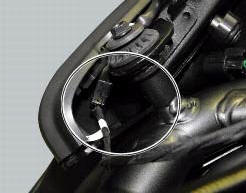 Location of front left turn indicator connection.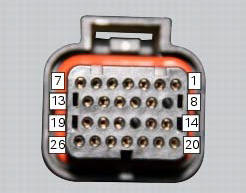 Pin numbering for wiring harness side dashboard connector.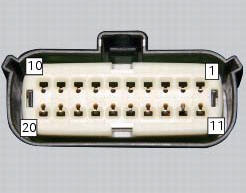 Pin numbering of wiring harness side bbs unit connection.
Fault codes Dds: horn diagnosis -> short circuit to ground (s.C. Gnd). Dashboard: the error "claxon" (horn) is shown on the service display. The eobd warning light activates. Wiring diagram ...
Fault codes Dds: no fault code displayed. Dashboard: no fault code displayed. Wiring diagram Db dashboard connection, s high beam flash button. 7 Orange - o, 1 red/blue - r/b. Location of ...
Other materials:
Adjusting the chain tension
Make the rear wheel turn until you find the position where chain is tightest. Set the vehicle on the side stand. Push down the chain at the point of measurement and release. Measure the distance between the "aperture" upper profile and pin centre. The read distance must be: 9 to 11 mm. ...
Refitting the intake manifold and coolant union
Apply prescribed threadlocker to the fitting (12), start it with seal (24) and tighten it to a torque of 2.5 Nm (min. 2 Nm - max. 3 Nm) (sect. 3 - 3, Frame torque settings). Install the pipe (b) and tighten the clamp (a) to the torque of 1 nm +/- 10% (sect. 3 - 3, Engine torque settings). ...
Airbox - throttle body
Airbox O-ring Injector Throttle body assembly Screw Clamp Intake manifold Screw Pressure sensor Screw Clamp Hose Sealing washer Intake manifold Sealing washer Screw Screw Spacer Bracket Rubber pad Clamp Hose Clamp Union Washer Hose Cable gro ...