Ducati Diavel Service Manual: Turn indicators not working
Fault codes
Dds: no fault code displayed.
Dashboard: no fault code displayed.
Wiring diagram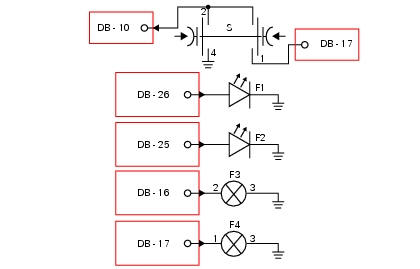 Db dashboard connection, bbs bbs unit connection, s turn indicator button, f1 front left turn indicator, f2 front right turn indicator, f3 rear left turn indicator, f4 rear right turn indicator. 2 On grey button - gr, 1 on red/blue button - r/b, 4 on black button - bk, db 26 white/black w/bk, db 25 green/black - g/bk, bbs 16 white/green - w/g, bbs 17 White/black w/bk.
Location of connections and components
Location of rear turn indicator and number plate light connection.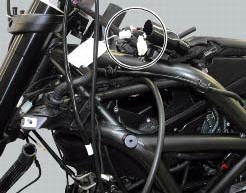 Location of left hand handlebar switchgear set connection.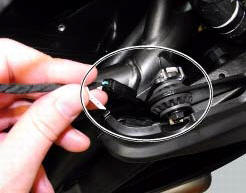 Location of front right turn indicator connection.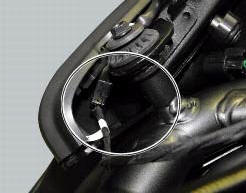 Location of front left turn indicator connection.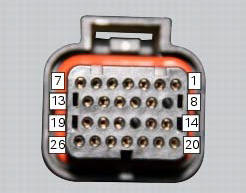 Pin numbering for wiring harness side dashboard connector.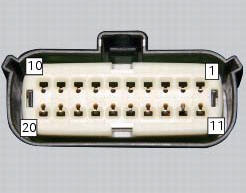 Pin numbering of wiring harness side bbs unit connection.
Fault codes Dds: horn diagnosis -> short circuit to ground (s.C. Gnd). Dashboard: the error "claxon" (horn) is shown on the service display. The eobd warning light activates. Wiring diagram ...
Fault codes Dds: no fault code displayed. Dashboard: no fault code displayed. Wiring diagram Db dashboard connection, s high beam flash button. 7 Orange - o, 1 red/blue - r/b. Location of ...
Other materials:
Draining the clutch hydraulic circuit
Warning Clutch fluid will damage painted surfaces if spilled on them. It is also very harmful if it comes into contact with the skin or with the eyes; in the case of accidental contact, wash the affected area thoroughly with plenty of running water. Remove the dust cap to expose the bleed val ...
Limitations
This emission control system warranty shall not cover any of the following: Repair or replacement required as a result of Accident, Misuse, Repairs improperly performed or replacements improperly installed, Use of replacement parts or accessories not conforming to ducati specifi ...
Checking the engine timing
Set the engine to the configuration described for the "checking and adjusting the valve clearances", previously indicated. Install tool 88765.1188 (G) in the spark plug bore to determine the piston tdc, the gauges (h) on the tool 88765.1518 And the timing check tool (degree wheel (l) 887 ...