Ducati Diavel Owners Manual: Electric system
Basic electric items are: headlight: low beam bulb type: 1xh7 blue vision (12v-55w); high beam bulb type: 1xh1 (12v-55w); parking light: led (12v-2.4W).
Electrical controls on handlebars.
Turn indicators: front: led (13.5V-2.9W).
Horn.
Brake light switches.
Sealed battery, 12v-10 a.
Generator 12v-430w.
Master fuse, protected by a 30a fuse located on the solenoid starter, behind the battery (c, fig. 162).
Starter motor: 12v-0.7 Kw.
Tail light, brake light and rear turn indicators: parking: (13.5V-0.6W); stop: led (13.5V-2.8W); rear turn indicators: led (13.5V-2.06W).
Number plate light: led (13.5V-0.67W).
Note
See "replacing the high and low beam bulbs" on page 158 for relevant instructions.
Fuses
There are twelve fuses that protect the electric components located inside the front and rear fuse boxes, and one on the electric solenoid starter. There is a spare fuse in every box.
Refer to the table below to identify the circuits protected by the various fuses and their ratings.
The rear left fuse box (a, fig. 160) And the rear right one (b, fig. 161) Are located under the seat, inside the underseat compartment.
To access the fuses, remove the seat (see "removal of the seat" on page 119).
To expose the fuses, lift the box protective cover. Mounting position and ampere capacity are marked on box cover.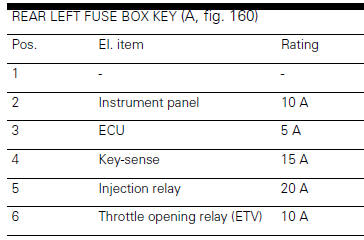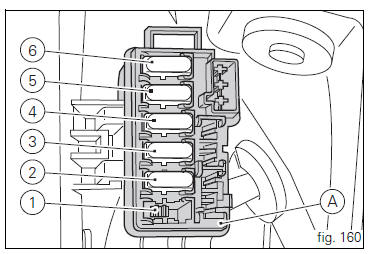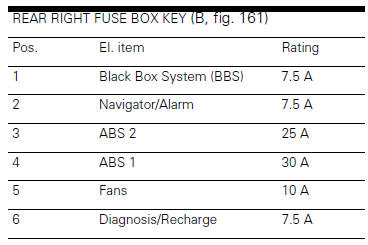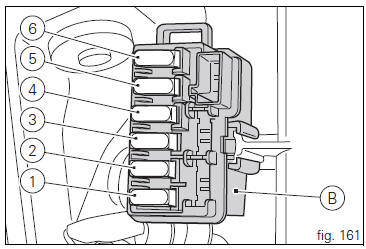 Note
Remove the left cowling to reach the main fuse (see "charging the battery" on page 148).
The main fuse (c, fig. 162) Is positioned next to the battery, on the solenoid starter (d). Remove the fuse cap (e) to reach it.
A blown fuse is identified by the interrupted centre link (f, fig. 163).

Important
To prevent short circuits, replace the fuse after the key-off.

Warning
Never use a fuse with a rating other than specified.
Failure to observe this rule may damage the electric system or even cause fire.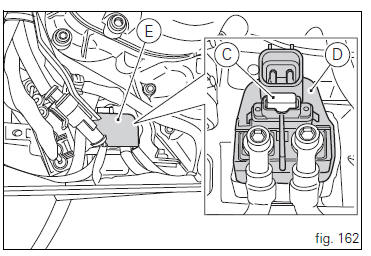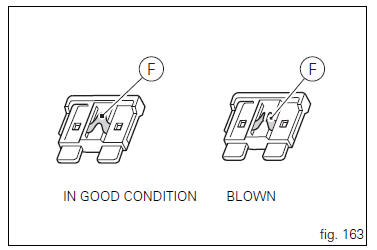 Injection /electric system diagram key
Right-hand handlebar switch
Immobilizer
Hands free relay
Hands free
Front fuse box
Right fan
Left fan
Fan relay
Fuel pump relay
Ride-by-wire relay (etv)
Injection control unit (ems)
Rear fuse box
Data acquisition/diagnosis
Starter motor
Fused solenoid
Battery
Wiring ground
Regulator
Generator
Fuel pump
Fuel level
Rear right turn indicator
Rear light
Rear left turn indicator
Vehicle control unit (bbs)
Antitheft alarm
Exhaust valve starter motor
Gear sensor
Rear speed sensor
Abs control unit
Throttle twistgrip position sensor (aps)
Starter motor - position sensor / ride-by-wire (tps/etv)
Timing/rpm sensor
Vertical map sensor
Horizontal map sensor
Engine temperature
Air temperature sensor
Vertical lambda sensor
Horizontal lambda sensor
Oil pressure switch
Rear stop
Side stand switch
Clutch switch
Front stop
Main vertical injector
Main horizontal injector
Horizontal coil
Vertical coil
Left-hand handlebar switch
Horn
Front speed sensor
Front left turn indicator
Instrument panel on handlebar
Instrument panel on tank
Front right turn indicator
Navigator
High / low beam
Parking light
Wire colour coding
B blue
W white
V violet
Bk black
Y yellow
R red
Lb light blue
Gr grey
G green
Bn brown
O orange
P pink

Note
The electric system wiring diagram is at the end of this manual.
Scheduled maintenance reminder

Ducati red enamel code 54d234015 (akzo); red frame and black rims. Diamond black code 57e22714 (akzo); enamel code 54m22705 (akzo); clear lacquer part no. 228.880 (Ppg); racing black frame blac ...
Other materials:
Check the idle and the co amount with warm engine
Start the engine; Switch on the dds and check that it does not signal any error (otherwise consult the relevant paragraph of this manual to reset the error and proceed with the idle check); Enter the "self diagnosis" menu by selecting the diavel model in the available vehicle version. ...
Specific tools for the frame
88713.1072 Drift to install half bearing in bottom yoke 88713.2562 Chain assembly tool 88713.1058 Wrench for steering shaft nut 88713.1062 Tool for installing steering head bearings 88713.2951 Rear wheel balancing tool 88713.3211 Wrench for adjustment of the eccentric hu ...
Riding mode set indication
This function indicates the "riding style" set for the vehicle. Three "riding modes" are available: sport, touring and urban. Each riding mode can be changed using the "riding mode" function. Note The background of the riding mode (sport, touring or urban) i ...