Ducati Diavel Service Manual: Abs fault indicator not working
Fault codes
Dds: displays a fault code described in the description of the abs system.
Dashboard: no fault code displayed.
Wiring diagram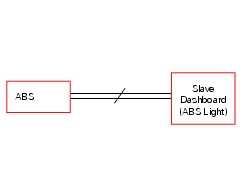 Checks
The abs fault indicator indicates the occurrence of one or more faults in the antilock brake system, or if the system itself has been disabled by the rider, using the relative control. The signal causing activation of the abs fault indicator in the event of an antilock brake system malfunction, comes directly from the abs control unit, and the information is transmitted over the can line, so that it may be acquired by the dashboard, where the indicator itself is located.
Diagnose the abs unit.
Check the integrity of the electrical circuit and connections (short-circuits to ground, short-circuits to vdc, open circuits).
If the above test did not identify the problem, contact ducati.
Note
Check integrity of electric circuit - short-circuit to vdc = with dashboard on, using a voltmeter, a voltage is measured between the wire tested and ground check integrity of electric circuit - short-circuit to ground = with the battery cables disconnected, using an ohmmeter, continuity is detected between the wire tested and ground check integrity of electric circuit - open circuit = with the battery cables disconnected, using an ohmmeter, no continuity is detected between the two ends of the wire tested)