Ducati Diavel Service Manual: Bleeding of the abs hydraulic system
If some "sponginess" is detected on the brake control, due to air bubbles in the system, bleed the system, as indicated in sect. 4 - 3, Changing the brake fluid.
Before bleeding a brake pump, move back the calliper pistons, as indicated in (sect. 4 - 3, Changing the brake fluid) to Drain in the pump the air collected near the abs control unit purge must be carried out by means of the corresponding joints (a) placed near the callipers and the brake pumps.
Important
Do not undo the fixing screws of the joints of the pipes on the abs hydraulic control unit, unless control unit replacement is necessary.
Important
If the abs control unit is replaced, this must be supplied with secondary circuit already full of fluid; the control unit must be fitted and the system filled and bleeded as a traditional system.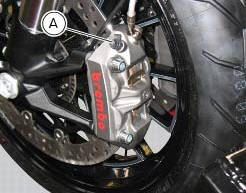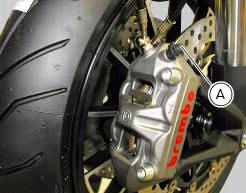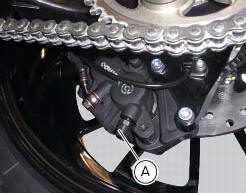 (For front as well as rear sensor) in each case of maintenance that foresees: Replacement or refitting of the wheel Replacement or refitting of the phonic wheel (1) or (2) Replacement or refit ...
Other materials:
Checking protection and safety device components
Checking the side stand switch Remove the switch (1) from the side stand undoing screw (2) and disconnect the main wiring connector from the switch (see paragraph "routing of wiring on frame", sect. 6 - 1). Use an analogue or digital multimeter (sect. 6 - 11, Using a multimeter to check the ...
Disassembly of the clutch cover
Remove the plug (14) and its o-ring (13), the plug (17) and its o-ring (15) from the cover. Undo the fixing screw (16) of the inner cover (19). Remove the inner cover (6) and soundproofing panel (18). Remove the circlip (10) and withdraw the shim (9) and the sealing ring (8). The dri ...
On-board computers and the can line
The following on-board computers make up the electrical system of the diavel and are connected with each other via the can line (or network): Master dashboard Slave dashboard Hands free (facilitated keyless start system) Ecu (engine control unit) Bbs (black box system or central elect ...