Ducati Diavel Service Manual: Bleeding of the abs hydraulic system
If some "sponginess" is detected on the brake control, due to air bubbles in the system, bleed the system, as indicated in sect. 4 - 3, Changing the brake fluid.
Before bleeding a brake pump, move back the calliper pistons, as indicated in (sect. 4 - 3, Changing the brake fluid) to Drain in the pump the air collected near the abs control unit purge must be carried out by means of the corresponding joints (a) placed near the callipers and the brake pumps.
Important
Do not undo the fixing screws of the joints of the pipes on the abs hydraulic control unit, unless control unit replacement is necessary.
Important
If the abs control unit is replaced, this must be supplied with secondary circuit already full of fluid; the control unit must be fitted and the system filled and bleeded as a traditional system.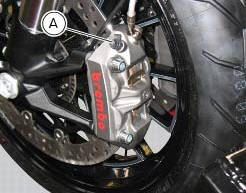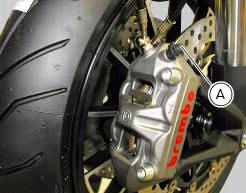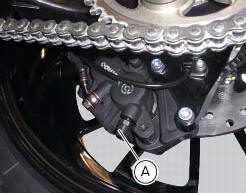 (For front as well as rear sensor) in each case of maintenance that foresees: Replacement or refitting of the wheel Replacement or refitting of the phonic wheel (1) or (2) Replacement or refit ...
Other materials:
Refitting the engine
Refitting is the reverse of removal. Important Apply recommended grease and tighten the special screws (6) to a torque of 60 nm +/- 5% (sect. 3 - 3, Frame torque settings). Tighten the nuts (3) to a torque of 48 nm +/- 5% (sect. 3 - 3, Frame torque settings). Warning For the assembly seque ...
Coolant temperature
This function indicates coolant indication state. The temperature unit of measure can be selected (C or f). The reading is indicated as follows: If the reading is between - 39C and +39C "lo" is shown flashing on the instrument panel (steady); If the reading is between +40C an ...
Headlight aim
The motorcycle must be perfectly upright with the tires inflated to the correct pressure and with a rider seated, perfectly perpendicular to the longitudinal axis. Position the motorcycle 10 metres from a wall or a screen. On the wall or surface, draw a horizontal line at the same height fr ...