Ducati Diavel Service Manual: Bleeding of the abs hydraulic system
If some "sponginess" is detected on the brake control, due to air bubbles in the system, bleed the system, as indicated in sect. 4 - 3, Changing the brake fluid.
Before bleeding a brake pump, move back the calliper pistons, as indicated in (sect. 4 - 3, Changing the brake fluid) to Drain in the pump the air collected near the abs control unit purge must be carried out by means of the corresponding joints (a) placed near the callipers and the brake pumps.
Important
Do not undo the fixing screws of the joints of the pipes on the abs hydraulic control unit, unless control unit replacement is necessary.
Important
If the abs control unit is replaced, this must be supplied with secondary circuit already full of fluid; the control unit must be fitted and the system filled and bleeded as a traditional system.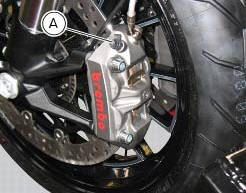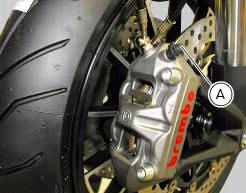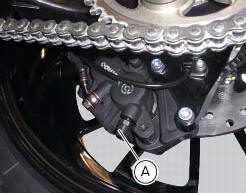 (For front as well as rear sensor) in each case of maintenance that foresees: Replacement or refitting of the wheel Replacement or refitting of the phonic wheel (1) or (2) Replacement or refit ...
Other materials:
Passive key
Introduction The passive key (1) is used when the active key is not working correctly or is not available. The passive key works as a transponder, and must therefore be placed physically onto the antenna to work. The mechanical part (2) of the key is used to open the seat or the tank plug ...
Exhaust by-pass valve not working correctly
Fault codes Dds: exvl diagnosis -> position error, potentiometer, short circuit to ground or open circuit (s.C. Gnd or c.O.), Potentiometer short circuited to vdc (potentiometer s.C vdc). Dashboard: the error "exvl" (exhaust bypass valve) is shown on the service display. The eobd warning ...
Specific tools for the engine
88713.2011.Tool to lock crankshaft at top dead centre 88713.2676 .Wrench for tightening cylinder head nuts 88713.2103 Stand for cylinder head assembly 88765.1657 Timing check tool 88713.1821 Wrench for tightening timing belt tensioner pulley shafts 88713.2861 Camshaft oi ...