Ducati Diavel Service Manual: Bleeding of the abs hydraulic system
If some "sponginess" is detected on the brake control, due to air bubbles in the system, bleed the system, as indicated in sect. 4 - 3, Changing the brake fluid.
Before bleeding a brake pump, move back the calliper pistons, as indicated in (sect. 4 - 3, Changing the brake fluid) to Drain in the pump the air collected near the abs control unit purge must be carried out by means of the corresponding joints (a) placed near the callipers and the brake pumps.
Important
Do not undo the fixing screws of the joints of the pipes on the abs hydraulic control unit, unless control unit replacement is necessary.
Important
If the abs control unit is replaced, this must be supplied with secondary circuit already full of fluid; the control unit must be fitted and the system filled and bleeded as a traditional system.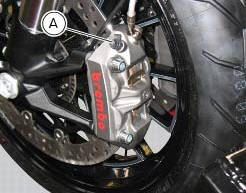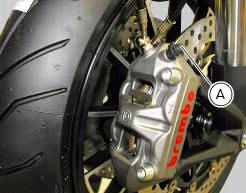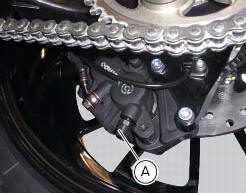 (For front as well as rear sensor) in each case of maintenance that foresees: Replacement or refitting of the wheel Replacement or refitting of the phonic wheel (1) or (2) Replacement or refit ...
Other materials:
Removal of the fuel tank
On the usa version remove the canister filter as indicated in sect. 8 - 10, "Removal of the evaporative emissions canister". Loosen and remove the front retaining screw (4) Remove the flange cover (a) by loosening the screws (b), disconnect the quick-release fittings (c) from the fl ...
Adjusting the front fork
The front fork used on this motorcycle has rebound, compression and spring preload adjustment. The settings are adjusted using external adjuster screws. To adjust rebound damping (fig. 109); To adjust spring preload (fig. 109); To adjust compression damping (fig. 110). Park the mo ...
Tips for use on the road
Activate the dtc, select level 8 and ride the motorcycle in your usual style; if the level of dtc intervention seems excessive, try reducing the setting to levels 7, 6, etc., Until you find the level that suits you best. If changes in the grip conditions and/or circuit characteristics and/or ...