Ducati Diavel Service Manual: Bleeding of the abs hydraulic system
If some "sponginess" is detected on the brake control, due to air bubbles in the system, bleed the system, as indicated in sect. 4 - 3, Changing the brake fluid.
Before bleeding a brake pump, move back the calliper pistons, as indicated in (sect. 4 - 3, Changing the brake fluid) to Drain in the pump the air collected near the abs control unit purge must be carried out by means of the corresponding joints (a) placed near the callipers and the brake pumps.
Important
Do not undo the fixing screws of the joints of the pipes on the abs hydraulic control unit, unless control unit replacement is necessary.
Important
If the abs control unit is replaced, this must be supplied with secondary circuit already full of fluid; the control unit must be fitted and the system filled and bleeded as a traditional system.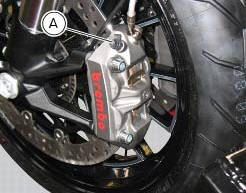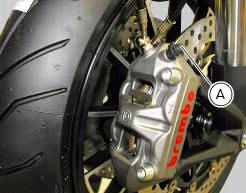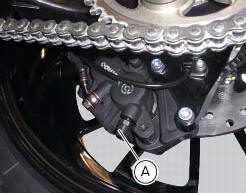 (For front as well as rear sensor) in each case of maintenance that foresees: Replacement or refitting of the wheel Replacement or refitting of the phonic wheel (1) or (2) Replacement or refit ...
Other materials:
Recharging the battery
Examine the label on the battery showing the check intervals in order to determine when to test the voltage. Charge the battery if the open circuit voltage is lower than 12.8 V. Leaving the battery discharged for more than one month could damage it. Check the battery charge with a voltmete ...
Removal of the swingarm
Before removing the parts in question, you must first carry out the following operations: Remove the rear wheel eccentric hub as described in chapter "removal of the rear wheel eccentric hub and rear wheel shaft" of this section. Loosen screws (7) and remove the hose grommets (13), (15) ...
Scheduled maintenance chart
Operations to be carried out by the dealer List of operations to be performed at 1000 km Reading of the error memory with dds on the engine control units, vehicle and abs Change the engine oil Change the engine oil filter Check the indicators and lighting Check the safety devices (side stand ...