Ducati Diavel Service Manual: Bleeding of the abs hydraulic system
If some "sponginess" is detected on the brake control, due to air bubbles in the system, bleed the system, as indicated in sect. 4 - 3, Changing the brake fluid.
Before bleeding a brake pump, move back the calliper pistons, as indicated in (sect. 4 - 3, Changing the brake fluid) to Drain in the pump the air collected near the abs control unit purge must be carried out by means of the corresponding joints (a) placed near the callipers and the brake pumps.
Important
Do not undo the fixing screws of the joints of the pipes on the abs hydraulic control unit, unless control unit replacement is necessary.
Important
If the abs control unit is replaced, this must be supplied with secondary circuit already full of fluid; the control unit must be fitted and the system filled and bleeded as a traditional system.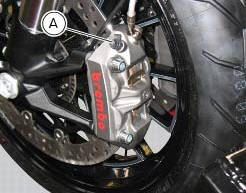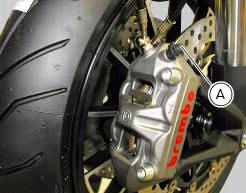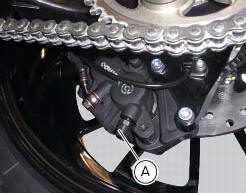 (For front as well as rear sensor) in each case of maintenance that foresees: Replacement or refitting of the wheel Replacement or refitting of the phonic wheel (1) or (2) Replacement or refit ...
Other materials:
General safety rules
Carbon monoxide When a maintenance operation must be performed with the engine running, maker sure that the working area is wellventilated. Never run the engine in an enclosed space. Warning Exhaust fumes contain carbon monoxide, which is a poisonous gas that can cause unconsciousness or e ...
Water radiators
Clip nut Spacer Vibration damper mount Screw Screw Spacer Vibration damper mount Clip nut Bush Spacer Rear sprocket Screw Water radiator (right) Screw Screw Air deflector (right) Special screw Electro-fan Screw Vibration damper mount Screw Plug Half ...
Oil pump
Complete oil pump assembly O-ring Circlip O-ring Pump body Circlip Reducer bush Spring washer Screw Screw Spring washer Pump drive gear Key By-pass plug Locating bush By-pass spring By-pass valve Spare parts catalogue Diavel abs filters and oil pump Diavel ...