Ducati Diavel Service Manual: Changing the coolant
Warning
This operation must only be carried out when the engine is cold. Attempting to change the coolant with the engine hot could lead to burns from hot coolant or scalding steam.

Place a container under the engine and place the motorcycle on its side stand.
Remove the expansion reservoir filler cap (1).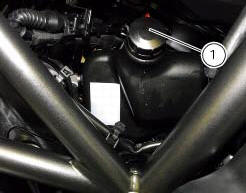 Loosen clip (2), disconnect the hose (3) and drain the coolant inside a container.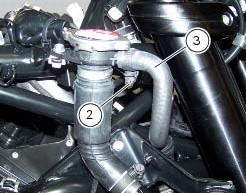 Loosen the cap (4) of the fluid exhaust hole placed on the pump cover.
Allow the coolant to drain off completely.
Screw plug (4) with a seal again in the fluid drain hole, and recover the new seal (5).
Tighten the plug (4) to a torque of 20 nm (min. 18 Nm - max. 22 Nm) (sect. 3 - 3, Engine torque settings).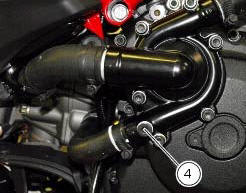 Refill the circuit by pouring new coolant into the circuit via the remote filler cap (6).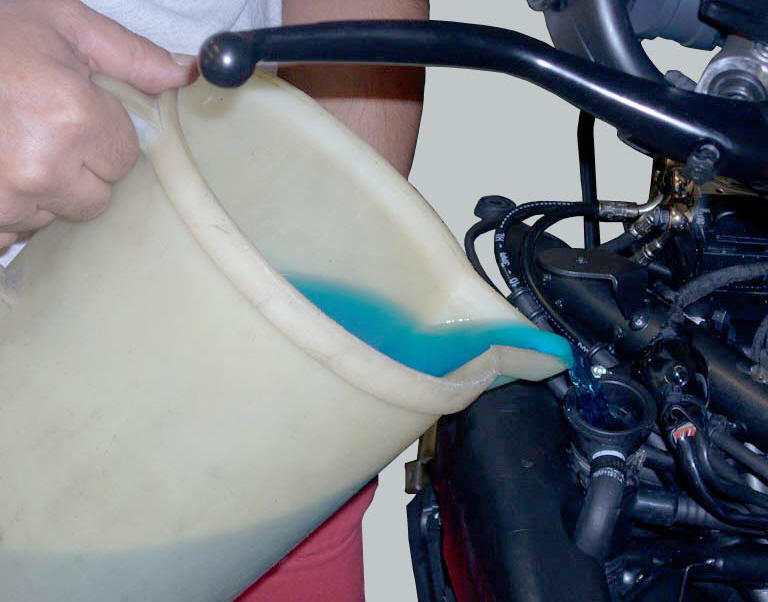 Connect the pipe (3) by tightening the clamp (2) to a torque of 1 nm +/-10% (sect. 3 - 3, Frame torque settings).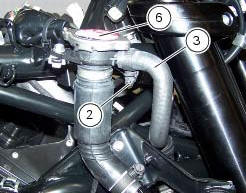 Allow several minutes for the coolant to fill all the internal passages.
Start up the engine and allow the coolant to reach 110 C; run the engine for about 10 minutes.
Stop the engine and allow it to cool down so that all the air is expelled from the cooling circuit.
Warning
Keep your hands, clothing and tools well clear of the radiator fan at all times; this fan starts automatically without warning and could cause serious injury or damage.
Important
Check the cooling circuit for possible leaks.
Top up the coolant through the expansion reservoir filler to bring the level up to the max. Mark.
Tighten the cap (1) of the expansion reservoir.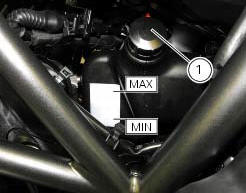 To the specified intervals in the "scheduled maintenance chart" (sect. 4 - 2) Check the coolant level contained in the expansion reservoir, on the right side of the vehicle. The coolant level mu ...
Warning Brake fluid is corrosive and will damage paintwork. Avoid contact with eyes and skin. In the case of accidental contact, wash the affected area thoroughly with plenty of running water. Ch ...
Other materials:
Maintenance indicator
This function indicates that the vehicle is about to or has travelled a distance for which an authorised ducati service centre should be contacted to have the general maintenance or oil change performed. Maintenance table First warning - oil service 1000 km The first warning is activated a ...
Throttle valve position sensor
Introduction The throttle valve position sensor (tps) of the diavel is mounted on the throttle body. The sensor is integrated into the throttle valve actuator motor, which turns the spindle of the vertical cylinder throttle valve directly. The sensor sends information to the engine con ...
Adjusting the steering head bearings
Excessive handlebar play or shaking forks in the steering head indicate that the play in the steering head bearings requires adjustment. Proceed as follows: loosen the clamp screw (1) that holds the steering tube to the steering head. Slacken the clamp screws (2) securing the steering head ...