Ducati Diavel Service Manual: Checking the coolant level
To the specified intervals in the "scheduled maintenance chart" (sect. 4 - 2) Check the coolant level contained in the expansion reservoir, on the right side of the vehicle.
The coolant level must be between the max. And min marks on the tank.
If the level is low, top up with the recommended coolant.
Remove the filler cap (1) and top up with new coolant to the specified level.
Refit the plug (1).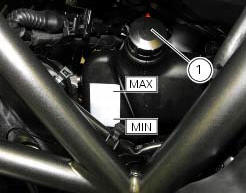 For optimal operating conditions (coolant mixture starting to freeze at -20 C), the recommended fluid antifreeze should be mixed with water in the following percentages: antifreeze: 35 to 40% of the volume; water: 65 to 60% of the volume.
Important
Very hard water with a high mineral salt content can damage the engine.
Increase the amount of antifreeze to up to 55% volume in the case of very cold climates.
Important
Solutions with less than 30% of antifreeze will not provide sufficient protection against corrosion.
The air filter must be replaced at the intervals described in the "scheduled maintenance chart" (sect. 4 - 2). Work on the vehicle right side, loosen screws (1) that secure the intake duct (2 ...
Warning This operation must only be carried out when the engine is cold. Attempting to change the coolant with the engine hot could lead to burns from hot coolant or scalding steam. Place a con ...
Other materials:
Refitting the shock absorber support
If you had removed them, apply recommended grease on the threads of the adjusters (4) and the ring nuts (3) having care not to have grease on the surface (c) of the adjusters. Tighten the adjusters on the ring nut side opposite to that featuring flats until bringing the surfaces as close as ...
Removal of the cylinder heads
Using the tool code 88713.2676, Undo the nuts (21) on the cylinder head stud bolts. Remove the cylinder head nuts (21) and special washers (22). Remove the cylinder head assembly by lifting it off the engine studs. Repeat the same procedure for the other cylinder head. ...
Anti-pollution system and auto-adaptive strategy
Efficacy of the catalytic converter and oxygen sensors To comply with current emissions legislation, the diavel is equipped with a trivalent catalytic converter, which oxidises co (carbon monoxide) and hc (unburnt hydrocarbons) and reduces nox (nitrogen oxides). The image shows the exhaus ...