Ducati Diavel Service Manual: Checking the coolant level
To the specified intervals in the "scheduled maintenance chart" (sect. 4 - 2) Check the coolant level contained in the expansion reservoir, on the right side of the vehicle.
The coolant level must be between the max. And min marks on the tank.
If the level is low, top up with the recommended coolant.
Remove the filler cap (1) and top up with new coolant to the specified level.
Refit the plug (1).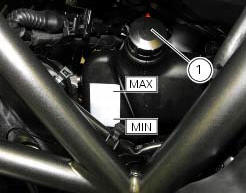 For optimal operating conditions (coolant mixture starting to freeze at -20 C), the recommended fluid antifreeze should be mixed with water in the following percentages: antifreeze: 35 to 40% of the volume; water: 65 to 60% of the volume.
Important
Very hard water with a high mineral salt content can damage the engine.
Increase the amount of antifreeze to up to 55% volume in the case of very cold climates.
Important
Solutions with less than 30% of antifreeze will not provide sufficient protection against corrosion.
The air filter must be replaced at the intervals described in the "scheduled maintenance chart" (sect. 4 - 2). Work on the vehicle right side, loosen screws (1) that secure the intake duct (2 ...
Warning This operation must only be carried out when the engine is cold. Attempting to change the coolant with the engine hot could lead to burns from hot coolant or scalding steam. Place a con ...
Other materials:
Wiring diagram colour codes
B blue Bk black Bn brown G green Gr grey Lb light blue O orange P pink R red V violet W white Y yellow Rear left fuse box (1) key Rear right fuse box (2) key ...
Tips for use on the track
We recommend level 8 be used for a couple of full laps (to allow the tyres to warm up) in order to get used to the system. Then try levels 7, 6, etc., In succession until you identify the dtc intervention level that suits you best (always try each level for at least two laps to allow the tyres t ...
Refitting the rear wheel
Lubricate the wheel shaft threaded end with prescribed grease. Insert the wheel shaft by matching (a) with pins (b). Install spacer (3) with the conical surface faced to the wheel conical surface, washer (2), apply prescribed grease to nut (1) and insert it by hand (1). Tighten the ...