Ducati Diavel Service Manual: Checking the coolant level
To the specified intervals in the "scheduled maintenance chart" (sect. 4 - 2) Check the coolant level contained in the expansion reservoir, on the right side of the vehicle.
The coolant level must be between the max. And min marks on the tank.
If the level is low, top up with the recommended coolant.
Remove the filler cap (1) and top up with new coolant to the specified level.
Refit the plug (1).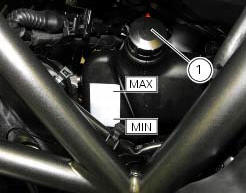 For optimal operating conditions (coolant mixture starting to freeze at -20 C), the recommended fluid antifreeze should be mixed with water in the following percentages: antifreeze: 35 to 40% of the volume; water: 65 to 60% of the volume.
Important
Very hard water with a high mineral salt content can damage the engine.
Increase the amount of antifreeze to up to 55% volume in the case of very cold climates.
Important
Solutions with less than 30% of antifreeze will not provide sufficient protection against corrosion.
The air filter must be replaced at the intervals described in the "scheduled maintenance chart" (sect. 4 - 2). Work on the vehicle right side, loosen screws (1) that secure the intake duct (2 ...
Warning This operation must only be carried out when the engine is cold. Attempting to change the coolant with the engine hot could lead to burns from hot coolant or scalding steam. Place a con ...
Other materials:
Removing of the rear wheel
Place the motorcycle on the rear service stand and engage the 1st gear. Remove the clip (6). Using a suitable socket wrench, loosen the wheel nut (1). Fully unscrew the nut (1), then remove the washer (2) and the spacer (3). Remove the rear wheel from the motorcycle. ...
The hands free module
Introduction The hands free module incorporates the control unit communicating with the other nodes on the motorcycle, the on/off button, the microswitches detecting full lock steering angle (for enabling steering lock engagement) and the steering lock. The module is sealed and its individu ...
Pre-ride checks
Warning failure to carry out these checks before riding, may lead to motorcycle damage and injury to rider and passenger. Before riding, perform a thorough check-up on your bike as follows: Fuel level in the tank Check the fuel level in the tank. Fill tank if needed (page 140). Engine oil le ...