Ducati Diavel Service Manual: Checking protection and safety device components
Checking the side stand switch
Remove the switch (1) from the side stand undoing screw (2) and disconnect the main wiring connector from the switch (see paragraph "routing of wiring on frame", sect. 6 - 1).
Use an analogue or digital multimeter (sect. 6 - 11, Using a multimeter to check the electrical systems) to check switch operation (see table).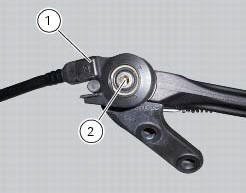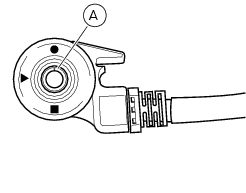 Note
The same test may be carried out using the "dds" tester (sect. 6 - 11, Diagnostic instruments).

0 = Open contact
X = closed contact
Refit switch (1) to side stand and tighten the screw (2) to a torque of 5 nm +/-10 (sect. 3 - 3, Frame torque settings).
The main fuse box (1) and the secondary one (2) are located in the tool tray; to reach the fuse box remove the seat as specified under sect. 5 - 3 "Removal of the seat". The fuses are accessed b ...
Other materials:
Removal of the clutch transmission unit
Warning The manufacturer of the clutch transmission unit (15) advises against servicing of its internal parts due to the safetycritical nature of this component. Incorrect overhaul of these critical safety components can endanger rider and passenger safety. The only components that shoul ...
Removing the electrical components support
Remove the following elements located inside the electrical components support: The battery fixing bracket (4) and the battery (14) as specified under section 6 - 2, battery; The voltage regulator (3) as specified under section 6 - 2,rectifier-regulator; The solenoid starter (18) ...
Bleeding of the abs hydraulic system
If some "sponginess" is detected on the brake control, due to air bubbles in the system, bleed the system, as indicated in sect. 4 - 3, Changing the brake fluid. Before bleeding a brake pump, move back the calliper pistons, as indicated in (sect. 4 - 3, Changing the brake fluid) to Drain in ...