Ducati Diavel Service Manual: Checking the fuses
The main fuse box (1) and the secondary one (2) are located in the tool tray; to reach the fuse box remove the seat as specified under sect. 5 - 3 "Removal of the seat".
The fuses are accessed by removing the cover, which shows the ampere ratings and mounting locations.
For ampere ratings, refer to the chapter "routing of wiring on frame", sect. 6 - 1.
Important
Before replacing a damaged fuse with a new one of the same rating, identify the cause of the problem.
A blown fuse can be identified by the breakage of inner filament (a).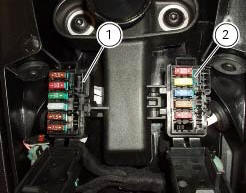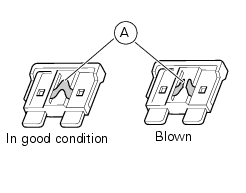 Important
Switch the ignition key to off before replacing a fuse to avoid possible short circuits.
Warning
Never use a fuse with a rating other than the specified value. Failure to observe this rule may damage the electric system or even cause fire.
Besides the fuses inside the box, the motorcycle is also provided with one 30 a fuse (3), located near the voltage regulator (in the electrical components compartment) that protects the electronic rectifier (sect. 6 - 2, Rectifierregulator).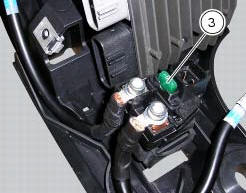 Checking the side stand switch Remove the switch (1) from the side stand undoing screw (2) and disconnect the main wiring connector from the switch (see paragraph "routing of wiring on frame", sec ...
Other materials:
Replacing the tank flange and fuel sensor
Loosen the screws (19) securing the fuel tank flange (20). Remove the flange (20) from the tank (20). Recover the seal (21). Undo and remove the two fixing screws (g) and move the protection (f). Before reassembly, carefully remove any deposits or scale from all parts. Note The flang ...
General maintenance indications
Useful tips Ducati recommends that you follow the instructions below in order to prevent problems and obtain the best end result: When diagnosing faults, primary consideration should always be given to what the customer reports about motorcycle operation since this information can highli ...
Water radiators
Clip nut Spacer Vibration damper mount Screw Screw Spacer Vibration damper mount Clip nut Bush Spacer Rear sprocket Screw Water radiator (right) Screw Screw Air deflector (right) Special screw Electro-fan Screw Vibration damper mount Screw Plug Half ...