Ducati Diavel Service Manual: Checking the battery charging system
To check the current flow of the recharging circuit, use the "dds" diagnosis instrument, which is equipped with an inductive clamp-type amperemeter: refer to chapter "testing the battery charging system", sect. 6 - 11 With the dds diagnosis instrument you can determine the engine rpm required for the alternator to produce sufficient current to charge the battery, feed the injection/ignition system and all the electrical equipment on the motorcycle. When applied to a cable, the clamp-type amperemeter detects the magnetic field generated by the current passing through that cable.
The tester performs an automatic calibration routine using its own transducer. If the measured current is a positive quantity, it means that generator is feeding all electric items and charging battery at the same time. A negative value means that charging system is not powering the loads and a significant amount of current must be supplied by the battery, which is discharging at the time of the measurement.
Or it is possible to use a multimeter (sect. 6 -11, Diagnostic instruments); connect the multimeter probes to the battery terminals, select the dc scale on the instrument and check for the presence of 14.5 V+/-0.5 At an engine speed of 3000 rpm.
Important
If polarity is reversed when clamping the ammeter onto the cable, the sign of the readings will also be reversed, giving rise to incorrect diagnosis.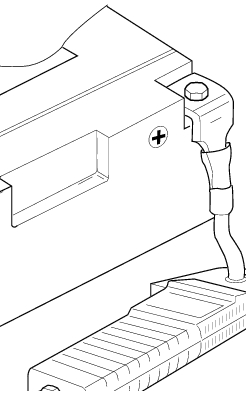 Examine the label on the battery showing the check intervals in order to determine when to test the voltage. Charge the battery if the open circuit voltage is lower than 12.8 V. Leaving the b ...
Other materials:
Engine speed-timing sensor
Introduction The engine control system of the diavel is equipped with an inductive sensor that allows the ecu to determine the speed and timing phase of the engine. The sensor faces a phonic wheel with 48 teeth minus 2. The engine speed-timing sensor is an inductive sensor and faces a 48 ...
Key-on/key-off using the red key on the handlebar with the active key
A key-on can be performed by pressing the red key (6) on the handlebar in the hands free on/off position and in the presence of the active key (3, fig. 77). Note The active key (3, fig. 77) Has a range of approx. 1.5 M, therefore it must be located within this range. Key-off can be performed ...
Starter motor
Power: 0.7 Kw/12 v Direction of rotation: counter clockwise viewed from power take-off side. The starter motor is highly compact and reliable and therefore rarely gives any type of problem. In case of troubles, ensure that the starter motor cable terminal is properly tightened under the n ...