Ducati Diavel Service Manual: Recharging the battery
Examine the label on the battery showing the check intervals in order to determine when to test the voltage.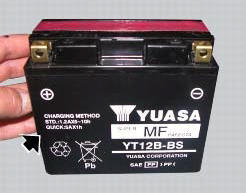 Charge the battery if the open circuit voltage is lower than 12.8 V. Leaving the battery discharged for more than one month could damage it. Check the battery charge with a voltmeter.
Always check the condition of the battery before recharging and 1 to 2 hours afterwards.
Important
Pay careful attention to recharging times. Stop charging immediately if the battery becomes too hot to the touch. Leave to cool before resuming charging.
Use only constant-voltage battery chargers.
Check that battery terminals are properly connected to the battery charger.
To charge the battery, proceed as follows.

Use fast charging in emergencies only.
Storing the battery
If the battery voltage is less than or equal to 11.5 V, it must be recharged.
Connect the battery charger to the battery.
Use a voltage of 16-17 v.
If the ammeter shows no change, increase the voltage to the maximum of 25 v.
Charge for 5 minutes.
If the ammeter shows a change, return the voltage to 16-17 v; otherwise replace the battery.
To check the current flow of the recharging circuit, use the "dds" diagnosis instrument, which is equipped with an inductive clamp-type amperemeter: refer to chapter "testing the battery charging ...
Warning Before carrying out any operations on the battery, keep in mind the safety standards (sect.1 - 3, General safety rules). The electrolyte in the battery is toxic and can cause burns if it ...
Other materials:
Low beam lights not working
Location of connections and components (A) injection relay; (b) etv relay (throttle valve operating engine); (c) radiator fan relay; (d) hands free relay. Fuses located at the rear left of the vehicle. (1) 10A dashboard; (2) 5a engine control unit; (3) 15a key-sense; (4) 20a injecti ...
Overhaul of the crankcase halves
Carefully examine the engine crankcase halves. Check that the surfaces of the crankcase halves are perfectly flat using a reference surface. Check that the bearings (1) and (18), and the bushings (2) and (17) are in optimum conditions. Note that the main bearings must always be changed in p ...
Fuel system circuit
The fuel system circuit consists of: An electric pump, driven by the injection relay, which is in turn controlled by the ecu (engine control unit) A fuel filter A pressure regulator Two injectors (one per cylinder, located downstream of throttle valve) The plastic mounting shown in t ...