Ducati Diavel Service Manual: Recharging the battery
Examine the label on the battery showing the check intervals in order to determine when to test the voltage.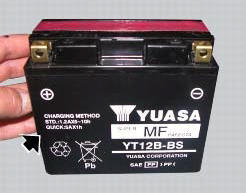 Charge the battery if the open circuit voltage is lower than 12.8 V. Leaving the battery discharged for more than one month could damage it. Check the battery charge with a voltmeter.
Always check the condition of the battery before recharging and 1 to 2 hours afterwards.
Important
Pay careful attention to recharging times. Stop charging immediately if the battery becomes too hot to the touch. Leave to cool before resuming charging.
Use only constant-voltage battery chargers.
Check that battery terminals are properly connected to the battery charger.
To charge the battery, proceed as follows.

Use fast charging in emergencies only.
Storing the battery
If the battery voltage is less than or equal to 11.5 V, it must be recharged.
Connect the battery charger to the battery.
Use a voltage of 16-17 v.
If the ammeter shows no change, increase the voltage to the maximum of 25 v.
Charge for 5 minutes.
If the ammeter shows a change, return the voltage to 16-17 v; otherwise replace the battery.
To check the current flow of the recharging circuit, use the "dds" diagnosis instrument, which is equipped with an inductive clamp-type amperemeter: refer to chapter "testing the battery charging ...
Warning Before carrying out any operations on the battery, keep in mind the safety standards (sect.1 - 3, General safety rules). The electrolyte in the battery is toxic and can cause burns if it ...
Other materials:
Check the engine oil pressure
Note The on-screen icons used during this procedure are explained in a table at the end of this section. To measure the pressure of the lubrication circuit, use the engine oil pressure test point (19) as described below. Disconnect the wiring connector (f) of pressure switch (1) and rem ...
How to reset the pin code
The pin code can be reset with the dds, i.E. It can be brought to the same condition it was in when the bike came out the factory. It is possible to complete the procedure with the relevant pin code reset function. Once the pin code has been reset it will be necessary to store a new one. In ...
Stored lap display function
This function displays the stored laps. To access the function it is necessary to view the "setting" menu page 48, using button (1, fig. 14) ?"" or (2, fig. 14) ?" " select the "lap" function and press the reset button (12, fig. 12) To go to next pag ...