Ducati Diavel Service Manual: Recharging the battery
Examine the label on the battery showing the check intervals in order to determine when to test the voltage.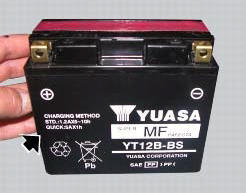 Charge the battery if the open circuit voltage is lower than 12.8 V. Leaving the battery discharged for more than one month could damage it. Check the battery charge with a voltmeter.
Always check the condition of the battery before recharging and 1 to 2 hours afterwards.
Important
Pay careful attention to recharging times. Stop charging immediately if the battery becomes too hot to the touch. Leave to cool before resuming charging.
Use only constant-voltage battery chargers.
Check that battery terminals are properly connected to the battery charger.
To charge the battery, proceed as follows.

Use fast charging in emergencies only.
Storing the battery
If the battery voltage is less than or equal to 11.5 V, it must be recharged.
Connect the battery charger to the battery.
Use a voltage of 16-17 v.
If the ammeter shows no change, increase the voltage to the maximum of 25 v.
Charge for 5 minutes.
If the ammeter shows a change, return the voltage to 16-17 v; otherwise replace the battery.
To check the current flow of the recharging circuit, use the "dds" diagnosis instrument, which is equipped with an inductive clamp-type amperemeter: refer to chapter "testing the battery charging ...
Warning Before carrying out any operations on the battery, keep in mind the safety standards (sect.1 - 3, General safety rules). The electrolyte in the battery is toxic and can cause burns if it ...
Other materials:
The hands free module
Introduction The hands free module incorporates the control unit communicating with the other nodes on the motorcycle, the on/off button, the microswitches detecting full lock steering angle (for enabling steering lock engagement) and the steering lock. The module is sealed and its individu ...
Checking the fuses
The main fuse box (1) and the secondary one (2) are located in the tool tray; to reach the fuse box remove the seat as specified under sect. 5 - 3 "Removal of the seat". The fuses are accessed by removing the cover, which shows the ampere ratings and mounting locations. For ampere ratings ...
Turn indicators (automatic reset)
The instrument panel controls the automatic reset of the turn indicators. After activating one of the two turn indicators, they can be deactivated using the reset button (12, fig. 12). If the turn indicator is not "reset" manually, the instrument panel will automatically switch it ...