Ducati Diavel Service Manual: Recharging the battery
Examine the label on the battery showing the check intervals in order to determine when to test the voltage.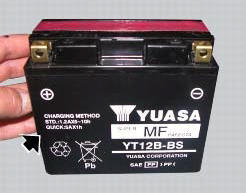 Charge the battery if the open circuit voltage is lower than 12.8 V. Leaving the battery discharged for more than one month could damage it. Check the battery charge with a voltmeter.
Always check the condition of the battery before recharging and 1 to 2 hours afterwards.
Important
Pay careful attention to recharging times. Stop charging immediately if the battery becomes too hot to the touch. Leave to cool before resuming charging.
Use only constant-voltage battery chargers.
Check that battery terminals are properly connected to the battery charger.
To charge the battery, proceed as follows.

Use fast charging in emergencies only.
Storing the battery
If the battery voltage is less than or equal to 11.5 V, it must be recharged.
Connect the battery charger to the battery.
Use a voltage of 16-17 v.
If the ammeter shows no change, increase the voltage to the maximum of 25 v.
Charge for 5 minutes.
If the ammeter shows a change, return the voltage to 16-17 v; otherwise replace the battery.
To check the current flow of the recharging circuit, use the "dds" diagnosis instrument, which is equipped with an inductive clamp-type amperemeter: refer to chapter "testing the battery charging ...
Warning Before carrying out any operations on the battery, keep in mind the safety standards (sect.1 - 3, General safety rules). The electrolyte in the battery is toxic and can cause burns if it ...
Other materials:
Refitting the rear-view mirrors
Start the screws (2) in their thread on the rear-view mirrors (1), inserting the washers (4) as shown in the picture. Insert the rear-view mirrors (1) in the u-bolts (3). Tighten the screws (2) to a torque of 25 nm +/-10% (sect. 3 - 3, Frame torque settings). Warning The left rear-view ...
Reassembly of the oil pump
Check that the circlip (3) and tongue (13) are present on the pump. Fit the pump drive gear (12) on to the oil pump and secure it by installing the circlip (6) in its groove. Insert the by-pass valve pump (17), the spring (16) and screw the plug (14). Tighten the plug (14) to a torque of ...
Flexible wiring/hoses positioning
The routing of the abs wiring has been optimised to ensure the minimum obstruction. Each section is designed to prevent interference with parts that might damage wires or cause operating failures when riding. Table a Table b Table c ...