Ducati Diavel Service Manual: Checking the idle speed
Check that the bike is provided with electronic control unit, oem intake and exhaust systems, otherwise fit original components.
Connect the inserts of the exhaust gas analyser code 88713.1010 To the outlets on the exhaust pipes, using the fittings (1).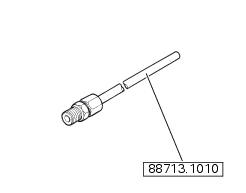 Warning
Make sure that the throttle body pulley is completely against the anti-stitching screw.
Make sure that the throttle cable free play is correctly adjusted
Note The on-screen icons used during this procedure are explained in a table at the end of this section. Note This operation, which is performed using the dds diagnosis instrument, has the adva ...
Start the engine; Switch on the dds and check that it does not signal any error (otherwise consult the relevant paragraph of this manual to reset the error and proceed with the idle check); ...
Other materials:
Warranty
In your own interest, and in order to guarantee product reliability, you are strongly advised to refer to a ducati dealer or authorised service centre for servicing that requires any particular technical expertise. Our highly skilled staff have the tools required to perform any servicing job ...
Refitting the rear wheel
Lubricate the wheel shaft threaded end with prescribed grease. Insert the wheel shaft by matching (a) with pins (b). Install spacer (3) with the conical surface faced to the wheel conical surface, washer (2), apply prescribed grease to nut (1) and insert it by hand (1). Tighten the ...
Removal of the front brake master cylinder
Warning The brake master cylinder manufacturer advises against servicing the brake master cylinder due to the safety critical nature of this component. Incorrect overhaul of these critical safety components can endanger rider and passenger safety. Maintenance operations on these units are l ...