Ducati Diavel Service Manual: Checking the idle speed
Check that the bike is provided with electronic control unit, oem intake and exhaust systems, otherwise fit original components.
Connect the inserts of the exhaust gas analyser code 88713.1010 To the outlets on the exhaust pipes, using the fittings (1).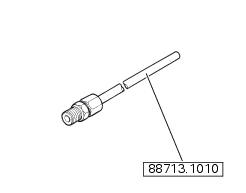 Warning
Make sure that the throttle body pulley is completely against the anti-stitching screw.
Make sure that the throttle cable free play is correctly adjusted
Note The on-screen icons used during this procedure are explained in a table at the end of this section. Note This operation, which is performed using the dds diagnosis instrument, has the adva ...
Start the engine; Switch on the dds and check that it does not signal any error (otherwise consult the relevant paragraph of this manual to reset the error and proceed with the idle check); ...
Other materials:
Chain lubrication
The chain fitted on your motorcycle has o-rings that keep dirt out of and lubricant inside the sliding parts. So as not to damage these seals when cleaning the chain, use special solvents and avoid aggressive washing with highpressure steam cleaners. After cleaning, blow the chain dry with ...
General safety rules
Carbon monoxide When a maintenance operation must be performed with the engine running, maker sure that the working area is wellventilated. Never run the engine in an enclosed space. Warning Exhaust fumes contain carbon monoxide, which is a poisonous gas that can cause unconsciousness or e ...
Draining the clutch hydraulic circuit
Warning Clutch fluid will damage painted surfaces if spilled on them. It is also very harmful if it comes into contact with the skin or with the eyes; in the case of accidental contact, wash the affected area thoroughly with plenty of running water. Remove the dust cap to expose the bleed val ...