Ducati Diavel Owners Manual: Coolant temperature
This function indicates coolant indication state.
The temperature unit of measure can be selected (C or f).
The reading is indicated as follows:
If the reading is between - 39C and +39C "lo" is shown flashing on the instrument panel (steady);
If the reading is between +40C and +120C it appears on the instrument panel (steady);
If reading is +121 C or higher, "hi" is shown flashing on the information panel.

Note
In the event of a sensor "error", a string of flashing dashes ("- - -") is shown and the "engine/vehicle diagnosis - eobd" light (7, fig. 4) Comes on.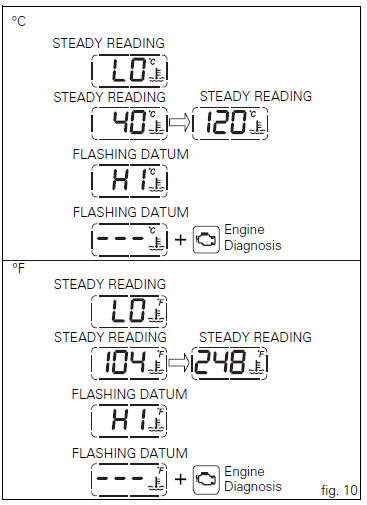 This function shows the time. Time is always displayed as follows: Am from 0:00 to 11:59 Pm from 12:00 to 11:59 If battery power is suddenly cut off (battery off), when battery power is restore ...
Instrument panel background colour is set automatically according to exterior lighting conditions. When sensor detects "poor lighting" (night), it switches to black background mode; vic ...
Other materials:
Injection and ignition
Introduction Ignition is via a single stick coil per cylinder installed in the spark plug well. Each thermal unit is supplied by a single injector, placed under the throttle valve. The amount of fuel injected and the ignition advances are determined by the control unit specifically for each c ...
Backlighting setting function for the instrument panel on Handlebar - dashboard 2
This function allows backlighting setting of the instrument panel on handlebar. To access the function it is necessary to view the "setting" menu page 48, using button (1, fig. 14) ?" " or (2, fig. 14) ?" " select the "back light" function and press ...
Fairings
Rh front half-fairing Clip Screw Right-hand support Screw Screw Rh air inlet Lh air inlet Screw Clip Left-hand support Lh front half-fairing Lh tank fairing Screw Nylon washer Special screw Washer Spacer Spring Rubber pad Rh tank fairing Tank fairing ...