Ducati Diavel Owners Manual: Coolant temperature
This function indicates coolant indication state.
The temperature unit of measure can be selected (C or f).
The reading is indicated as follows:
If the reading is between - 39C and +39C "lo" is shown flashing on the instrument panel (steady);
If the reading is between +40C and +120C it appears on the instrument panel (steady);
If reading is +121 C or higher, "hi" is shown flashing on the information panel.

Note
In the event of a sensor "error", a string of flashing dashes ("- - -") is shown and the "engine/vehicle diagnosis - eobd" light (7, fig. 4) Comes on.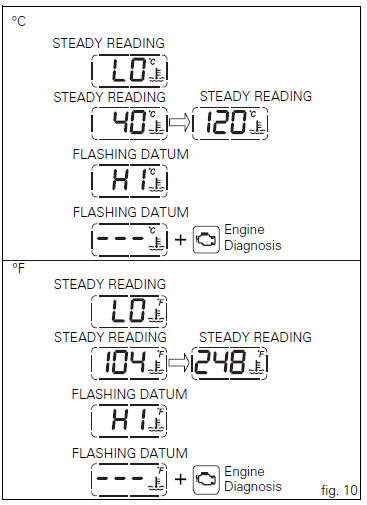 This function shows the time. Time is always displayed as follows: Am from 0:00 to 11:59 Pm from 12:00 to 11:59 If battery power is suddenly cut off (battery off), when battery power is restore ...
Instrument panel background colour is set automatically according to exterior lighting conditions. When sensor detects "poor lighting" (night), it switches to black background mode; vic ...
Other materials:
Indication of range reached for service
When service coupon threshold is achieved, upon every key-on the system displays the indication of the type of intervention that is required (oil service or desmo service). The (red) warning is activated as a large icon for 10 seconds upon every key-on (1) then as a small warning that remai ...
Overhaul of the connecting rods
Make the following dimensional checks on the connecting rods: Clearance with gudgeon pin on assembly. In the event of excessive wear (sect. 3 - 1.1, Crankshaft), replace the connecting rod. The small end bushing must be in good condition and firmly driven into its seat. Check for para ...
Reassembly of the crankcase halves
The crankcase halves must be in good condition and perfectly clean. The mating surfaces must be perfectly flat and free from burrs. Overhauling the alternator-side crankcase half The following parts must be present on the internal side of the crankcase half: Gearbox secondary shaft bearin ...