Ducati Diavel Owners Manual: Coolant temperature
This function indicates coolant indication state.
The temperature unit of measure can be selected (C or f).
The reading is indicated as follows:
If the reading is between - 39C and +39C "lo" is shown flashing on the instrument panel (steady);
If the reading is between +40C and +120C it appears on the instrument panel (steady);
If reading is +121 C or higher, "hi" is shown flashing on the information panel.

Note
In the event of a sensor "error", a string of flashing dashes ("- - -") is shown and the "engine/vehicle diagnosis - eobd" light (7, fig. 4) Comes on.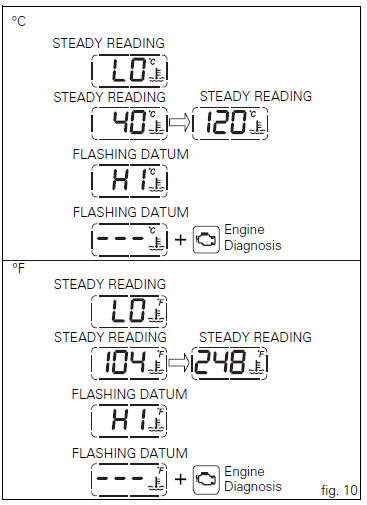 This function shows the time. Time is always displayed as follows: Am from 0:00 to 11:59 Pm from 12:00 to 11:59 If battery power is suddenly cut off (battery off), when battery power is restore ...
Instrument panel background colour is set automatically according to exterior lighting conditions. When sensor detects "poor lighting" (night), it switches to black background mode; vic ...
Other materials:
Checking the frame
Check the dimensions of the frame against the dimensions shown here to determine whether it needs to be realigned or renewed. Important Damaged frames must be changed, not repaired. Any work carried out on the frame can give rise to potential danger, infringing the requirements of ec directi ...
Indicator cons. - Instantaneous fuel consumption
This function indicates the "instantaneous" fuel consumption. The calculation is made considering the quantity of fuel used and the distance travelled during the last second. The datum is expressed in "l/100" (litres / 100 km); it is possible to change the units of measurem ...
Refitting the cylinder heads pulleys/fixed tensioners
Check that the keyway on the end of the camshaft is in good condition and without burrs. Fit a woodruff key (b) in the keyway of each camshaft. Fit the pulley (11) on the camshaft, inserting the woodruff key in the in the slot (c) in the pulley. Apply the recommended grease to the t ...