Ducati Diavel Owners Manual: Coolant temperature
This function indicates coolant indication state.
The temperature unit of measure can be selected (C or f).
The reading is indicated as follows:
If the reading is between - 39C and +39C "lo" is shown flashing on the instrument panel (steady);
If the reading is between +40C and +120C it appears on the instrument panel (steady);
If reading is +121 C or higher, "hi" is shown flashing on the information panel.

Note
In the event of a sensor "error", a string of flashing dashes ("- - -") is shown and the "engine/vehicle diagnosis - eobd" light (7, fig. 4) Comes on.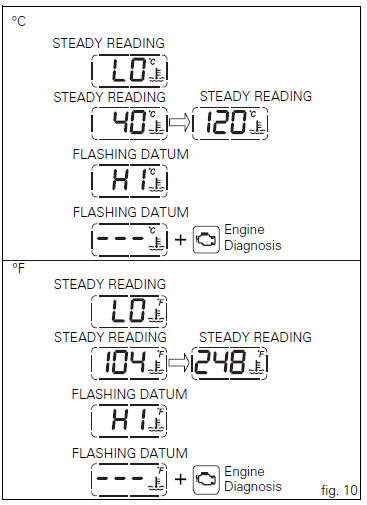 This function shows the time. Time is always displayed as follows: Am from 0:00 to 11:59 Pm from 12:00 to 11:59 If battery power is suddenly cut off (battery off), when battery power is restore ...
Instrument panel background colour is set automatically according to exterior lighting conditions. When sensor detects "poor lighting" (night), it switches to black background mode; vic ...
Other materials:
The battery charging circuit and power distribution
On the diavel, the +15v (key on power) voltage does not come from a conventional ignition key, but from pin 30 of the hands free relay. This relay is switched to closed state by the hands free unit when the latter enables power on for the ignition and engine. The hands free relay receives +30v ...
External components
Oil breather valve O-ring Sealing washer Gear position sensor Cylinder barrel/head stud Nipple By-pass spring Plug Plug Aluminium gasket Nut Lock washer Timing gear pair Key Key O-ring Screw Locating dowel Starter idler gear Washer Gear shaft O-ring ...
Throttle valve operation engine
Introduction The electric motor actuating the throttle valve for the vertical cylinder is mounted on the throttle body of the diavel, while a link rod connects the vertical cylinder throttle valve to the horizontal cylinder throttle valve. In the electric motor, the throttle valve position se ...