Ducati Diavel Service Manual: Dashboard
Note
The dashboard is supplied as a single component; its internal components cannot be renewed separately.
Important
Whenever the dashboard is renewed, the ignition key programming procedure must be repeated.
Loosen the nuts (2) to remove the master dashboard (1) from its seat and disconnect the connector (a) of the main wiring.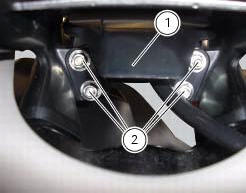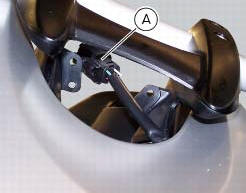 To remove the slave dashboard (3) remove the front tank fairing as indicated in sect. 5 - 2, "Removal of the fuel tank fairings".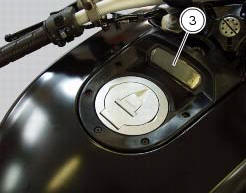 Refitting is the reverse of removal; be sure to check that the dashboard is mounted on its support with the screws (4) tightened to a torque of 3 nm +/- 10% (sect. 3 - 3, Frame torque settings).
Check the presence of clips (5) and stud bolts (6) with washers (7). The stud bolts (6) must be tightened to a torque of 2 nm +/- 10% (sect. 3 - 3, Frame torque settings).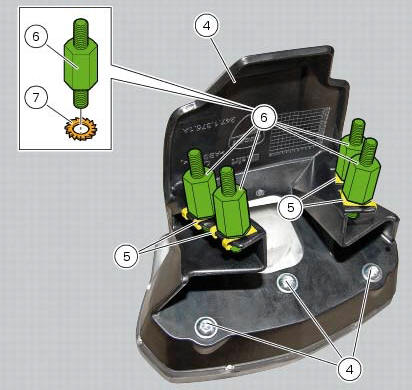 Tighten the nuts (2) to a torque of 3 nm +/-10% (sect. 3 - 3, Frame torque settings).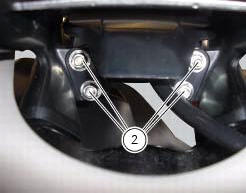 The vehicle is equipped with two dashboards: an lcd (1) located on the handlebar containing the key indications (speed, rpm, engine coolant temperature, and clock) and a tft colour display (2) loca ...
Other materials:
Warning indication (alarms/signals)
The instrument panel activates in real-time some warnings / malfunction that are not dangerous for the correct operation of the vehicle. At key-on (at the end of the check) one or more "warnings" are displayed if they are active. When a "warning" is triggered, the indica ...
Cylinder compression test
Note The on-screen icons used during this procedure are explained in a table at the end of this section. Engine performance is directly correlated to the pressure that can be measured in the combustion chambers of the two cylinders. Pressure which is too high/low or an excessive difference be ...
Removal of the expansion tank
Loosen the clamp (6), open the hose guide (a) and slide the hose (7) out of the radiator. Open clamps (14) and release the hoses that pass through them. Loosen the screws (16). Remove the tank (12) with its hoses (7) and (20) and the support (15). Loosen the clamp (19) to r ...