Ducati Diavel Service Manual: Dashboard
Note
The dashboard is supplied as a single component; its internal components cannot be renewed separately.
Important
Whenever the dashboard is renewed, the ignition key programming procedure must be repeated.
Loosen the nuts (2) to remove the master dashboard (1) from its seat and disconnect the connector (a) of the main wiring.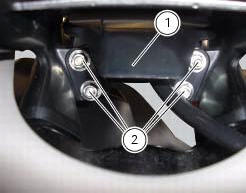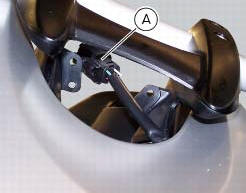 To remove the slave dashboard (3) remove the front tank fairing as indicated in sect. 5 - 2, "Removal of the fuel tank fairings".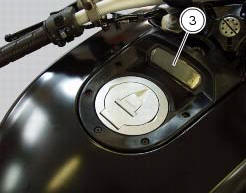 Refitting is the reverse of removal; be sure to check that the dashboard is mounted on its support with the screws (4) tightened to a torque of 3 nm +/- 10% (sect. 3 - 3, Frame torque settings).
Check the presence of clips (5) and stud bolts (6) with washers (7). The stud bolts (6) must be tightened to a torque of 2 nm +/- 10% (sect. 3 - 3, Frame torque settings).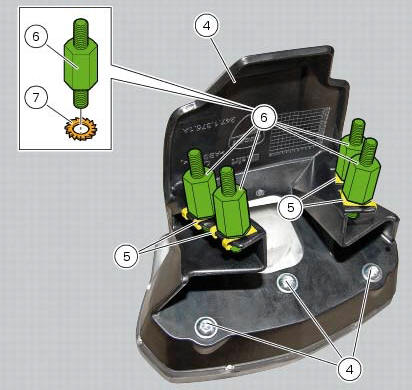 Tighten the nuts (2) to a torque of 3 nm +/-10% (sect. 3 - 3, Frame torque settings).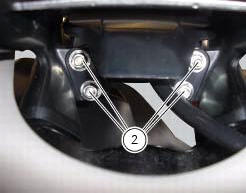 The vehicle is equipped with two dashboards: an lcd (1) located on the handlebar containing the key indications (speed, rpm, engine coolant temperature, and clock) and a tft colour display (2) loca ...
Other materials:
Description of the clutch assembly
The clutch is disengaged by a drive unit consisting of a thrust piston (c) accommodated inside a small cap mounted to the generator cover. This piston (c) pushes a pushrod (b), which runs through gearbox primary shaft and operates the Pressure plate (4) located on top of the clutch plate pack ...
Key-on/key-off using the red key on the handlebar with the passive key
A key-on can be performed by pressing the red button (6) on the handlebar in the hands free on/off position and in the presence of the passive key (4, fig. 77). Note The passive key (4, fig. 77) Has a range of a few cm, therefore the key (4, fig. 77) Must be positioned near the antenna (2). R ...
External components
Oil breather valve O-ring Sealing washer Gear position sensor Cylinder barrel/head stud Nipple By-pass spring Plug Plug Aluminium gasket Nut Lock washer Timing gear pair Key Key O-ring Screw Locating dowel Starter idler gear Washer Gear shaft O-ring ...