Ducati Diavel Owners Manual: Adjusting throttle control free play
The throttle twistgrip must have free play of 1.5×2.0 Mm in all steering positions, measured on the outer edge of the twistgrip. If necessary, adjust it using the adjusters (1 and 2, fig. 135) Located on the headstock on the right-hand side of the vehicle.
Adjuster (1) is for throttle opening, and adjuster (2) is for throttle closing.
Slip the rubber gaiters off the adjusters and loosen the counter nuts (3). Adjust both adjusters by the same amount: turn clockwise to increase free play and anticlockwise to reduce free play. When finished, tighten the counter nuts (3) and refit the rubber gaiters to the adjusters.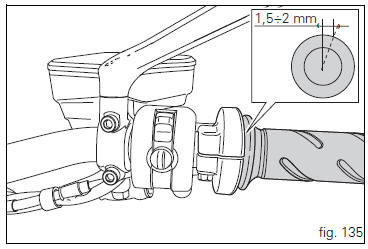 Check the outer sheath of the throttle control and cold start lever cables for damage at regular intervals. The outer plastic cover should not be flattened or cracked. Operate the controls to make ...
Before charging the battery, it is recommended to remove it from the motorcycle. Important The battery is housed in the cowling, always contact a ducati dealer or an authorised service centre for ...
Other materials:
Overhauling the front forks
Note It is advisable to loosen the top cap (14) when the fork is still fitted to the motorcycle. Note The specific tools for the revision of the fork, are described in sect. 3 - 4, Specific tools for the frame. Loosen the spring preload adjuster before unscrewing the plug (14). Unscrew th ...
Accelerator position sensor (throttle grip)
Introduction An accelerator position sensor (aps) is mounted on the throttle body of the diavel, which measures the degree of aperture of the throttle grip. The throttle grip is connected to the sensor via two metal cables The sensor transmits information to the ecu relative to the "torque ...
Removal of the front wheel
Support the bike so that the front wheel is raised from the ground. Remove the front brake calliper (b) by unscrewing the two screws (a) securing the calliper to the fork leg; do not disconnect the calliper from the hose. Warning Do not operate the brake lever when the callipers are ...