Ducati Diavel Owners Manual: Adjusting throttle control free play
The throttle twistgrip must have free play of 1.5×2.0 Mm in all steering positions, measured on the outer edge of the twistgrip. If necessary, adjust it using the adjusters (1 and 2, fig. 135) Located on the headstock on the right-hand side of the vehicle.
Adjuster (1) is for throttle opening, and adjuster (2) is for throttle closing.
Slip the rubber gaiters off the adjusters and loosen the counter nuts (3). Adjust both adjusters by the same amount: turn clockwise to increase free play and anticlockwise to reduce free play. When finished, tighten the counter nuts (3) and refit the rubber gaiters to the adjusters.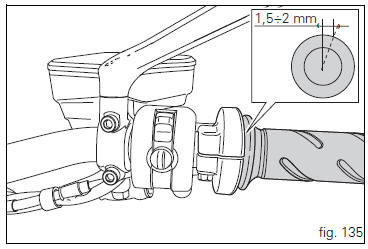 Check the outer sheath of the throttle control and cold start lever cables for damage at regular intervals. The outer plastic cover should not be flattened or cracked. Operate the controls to make ...
Before charging the battery, it is recommended to remove it from the motorcycle. Important The battery is housed in the cowling, always contact a ducati dealer or an authorised service centre for ...
Other materials:
Air temperature sensor
Introduction The engine control system on the diavel uses a sensor that measures air temperature. This sensor has a resistance of ntc type (negative temperature coefficient), that reduces its own value when the temperature increases. The air temperature sensor allows the engine control unit t ...
Reassembling the clutch
Position the spacer (13). Fit the flat ring (11) and the belleville washer (10) on the clutch center (12), so that the convex side faces the clutch drum. Locate the belleville washer (8). Apply the prescribed grease to the thread of the gearbox primary shaft and the mating surfac ...
Recovery procedure in the event of hands free system fault
If the hands free system can no longer communicate with the other control units over the can network (with the dashboard or engine on), the following icon is shown on the tank dashboard: The following image shows the icon appearing on the tank dashboard: this indicates that the hands free sy ...