Ducati Diavel Owners Manual: Adjusting throttle control free play
The throttle twistgrip must have free play of 1.5×2.0 Mm in all steering positions, measured on the outer edge of the twistgrip. If necessary, adjust it using the adjusters (1 and 2, fig. 135) Located on the headstock on the right-hand side of the vehicle.
Adjuster (1) is for throttle opening, and adjuster (2) is for throttle closing.
Slip the rubber gaiters off the adjusters and loosen the counter nuts (3). Adjust both adjusters by the same amount: turn clockwise to increase free play and anticlockwise to reduce free play. When finished, tighten the counter nuts (3) and refit the rubber gaiters to the adjusters.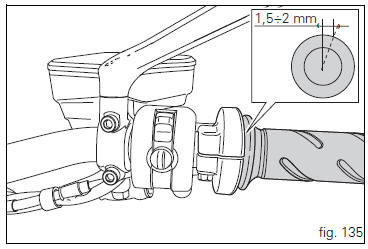 Check the outer sheath of the throttle control and cold start lever cables for damage at regular intervals. The outer plastic cover should not be flattened or cracked. Operate the controls to make ...
Before charging the battery, it is recommended to remove it from the motorcycle. Important The battery is housed in the cowling, always contact a ducati dealer or an authorised service centre for ...
Other materials:
Indicator cons. Avg - average fuel consumption
This function indicates the "average" fuel consumption. The calculation is made considering the quantity of fuel used and the km travelled since the last trip 1 reset. When trip 1 is reset, the value is set to zero and the first available value is shown on the display 10 seconds after the re ...
Dashboard
Note The dashboard is supplied as a single component; its internal components cannot be renewed separately. Important Whenever the dashboard is renewed, the ignition key programming procedure must be repeated. Loosen the nuts (2) to remove the master dashboard (1) from its seat and disconn ...
Separation of the crankcase halves
Use two screwdrivers to remove the circlip (29) from the timing belt driveshaft shaft (30) on the clutch-side crankcase half. Note Take care to avoid scoring the surface of the shaft while removing the circlip. Unscrew the crankcase half screws on the chain side. Unscrew ...