Ducati Diavel Owners Manual: Adjusting throttle control free play
The throttle twistgrip must have free play of 1.5×2.0 Mm in all steering positions, measured on the outer edge of the twistgrip. If necessary, adjust it using the adjusters (1 and 2, fig. 135) Located on the headstock on the right-hand side of the vehicle.
Adjuster (1) is for throttle opening, and adjuster (2) is for throttle closing.
Slip the rubber gaiters off the adjusters and loosen the counter nuts (3). Adjust both adjusters by the same amount: turn clockwise to increase free play and anticlockwise to reduce free play. When finished, tighten the counter nuts (3) and refit the rubber gaiters to the adjusters.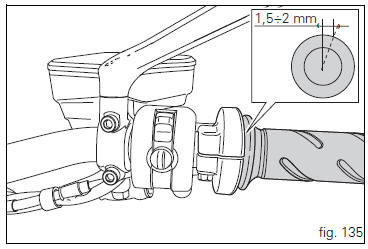 Check the outer sheath of the throttle control and cold start lever cables for damage at regular intervals. The outer plastic cover should not be flattened or cracked. Operate the controls to make ...
Before charging the battery, it is recommended to remove it from the motorcycle. Important The battery is housed in the cowling, always contact a ducati dealer or an authorised service centre for ...
Other materials:
Removal of the clutch
Note For clarity, the figures show the engine removed from the frame. Undo the fixing screws (1) and remove the ring (2) and the springs (3) from the pressure plate (4). Slide the pressure plate (4) paying attention to the circlips (6). Remove the clutch control pin (14) and the ...
Reassembly of belly fairing
Position the oil cooler shield (7) inserting the tab (a) into the slit (b) in the electrical components support (s). Note On refitting, make sure that the tab (c) remains positioned under the retainers (d) of the shield (7). Fit clips (11) on bracket (13) and orient them as shown in the f ...
Refitting the crankshaft/connecting rod assembly
Install the connecting rod assembly (6) and (2) in the crankcase, carry out the shimming and crankcase half reassembly procedure as described in sect. 9 - 9.2, Reassembly of the crankcase halves. Important Make sure that the connecting rods (2) are correctly positioned in the cylinders. Incor ...