Ducati Diavel Owners Manual: Adjusting throttle control free play
The throttle twistgrip must have free play of 1.5×2.0 Mm in all steering positions, measured on the outer edge of the twistgrip. If necessary, adjust it using the adjusters (1 and 2, fig. 135) Located on the headstock on the right-hand side of the vehicle.
Adjuster (1) is for throttle opening, and adjuster (2) is for throttle closing.
Slip the rubber gaiters off the adjusters and loosen the counter nuts (3). Adjust both adjusters by the same amount: turn clockwise to increase free play and anticlockwise to reduce free play. When finished, tighten the counter nuts (3) and refit the rubber gaiters to the adjusters.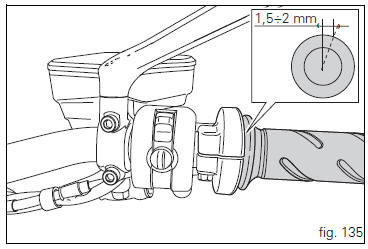 Check the outer sheath of the throttle control and cold start lever cables for damage at regular intervals. The outer plastic cover should not be flattened or cracked. Operate the controls to make ...
Before charging the battery, it is recommended to remove it from the motorcycle. Important The battery is housed in the cowling, always contact a ducati dealer or an authorised service centre for ...
Other materials:
Ducati limited warranty on emission control system
Ducati north america, inc., 10443 Bandley drive cupertino, california, 95014 warrants that each new 1998 and later ducati motorcycle, that includes as standard equipment a headlight, tail-light and stoplight, and is street legal: a) is designed, built and equipped so as to conform at the time o ...
Stop light not working
Fault codes Dds: stop light diagnosis -> stop light error (generic stop light malfunction indication). Dashboard: the error "stop light" is shown on the service display. The eobd warning light activates. Wiring diagram Db dashboard connection, bbs bbs unit connection, a front brake ...
Checking valve clearances
To check the valves clearance, it is necessary to have access to the cylinder head covers and then remove the components listed below. Unscrew the two fixing screws (1) of the cover (2) according to the crankshaft. Fit the tool handgrip 88713.0123 In the holes of the generator cover t ...