Ducati Diavel Service Manual: Dashboard diagnosis
This function identifies any abnormal vehicle behaviours.
The dashboard activates any abnormal vehicle behaviours in real time (errors).
At key-on (at the end of the check) one or more "errors" are displayed in red (only if they are active).
When an "error" is triggered, the indication (red) remains well visible (1) for 10 seconds then becomes smaller (2).
If there are multiple errors, they will scroll automatically every 3 seconds. The "engine/vehicle diagnosis - eobd" light on dashboard located on handlebar always turns on when one or more errors are activated.
The table below shows the errors that can be displayed.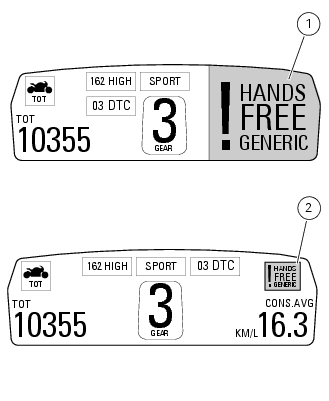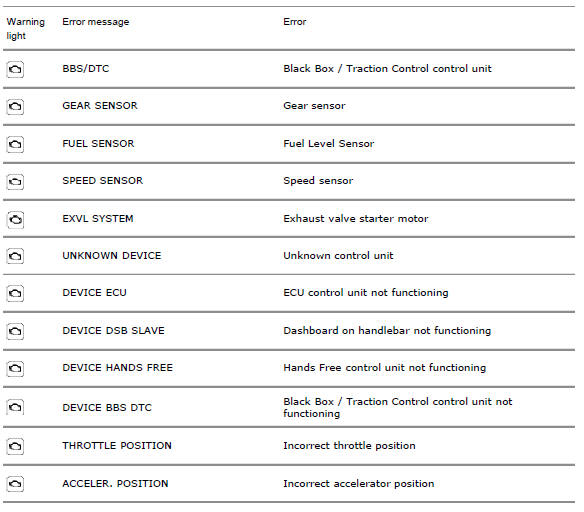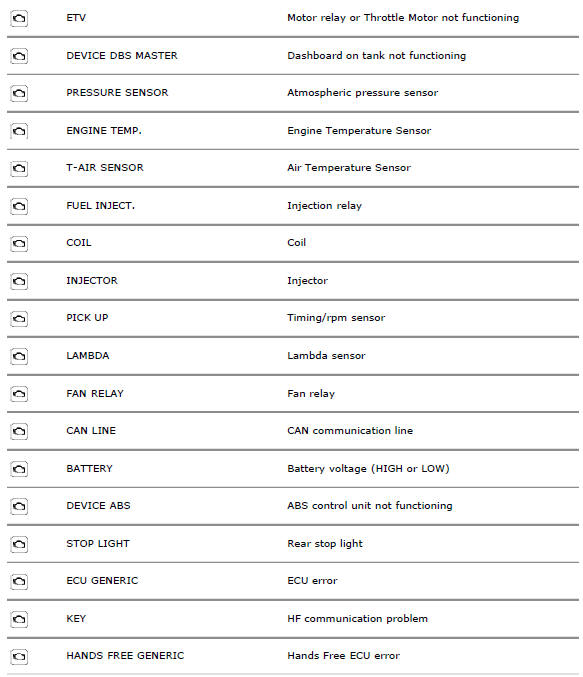 The activation of this (amber yellow) "warning" indicates that the hands free system was not able to extract the steering lock. Note In this case, we recommend switching the vehicle off and on (k ...
This menu is used to enable/disable and set some motorcycle functions. To access the "setting menu" press and hold button (2) "t" for 3 seconds. Note When within this menu no other function can b ...
Other materials:
Check engine oil level
Check the engine oil level through the sight glass (1) on the right-hand side of the oil sump. Stop the engine and allow a few minutes for the oil to settle to a steady level. Oil level must be checked with the vehicle perfectly upright and the engine cold. The oil must be between the m ...
Refuelling
Never overfill the tank when refuelling. The fuel level should always be below the rim of the filler recess. Warning Use low-lead fuel with 95 octane rating at origin minimum (see "top-ups" table, page 173). Check that no fuel is trapped in the filler cap recess. ...
Disassembly of the oil pump
Hold the oil pump (1) in a vice taking care not to damage the drive gear (12). Warning Make sure that vice jaws are faced with soft material. Remove the plug (14) and extract the spring (16) and by-pass valve (17). Check the condition of the above components. Remove the circlip (6) ...