Ducati Diavel Service Manual: Removal of the primary drive gear
Withdraw the clutch housing (1) complete with driven gear of the primary pair (a).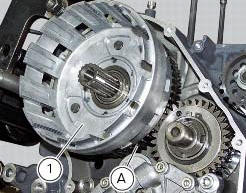 Remove the inner spacer (2).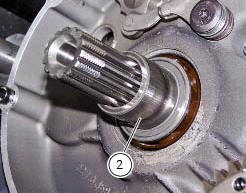 Remove the oil pump (d) (sect. 9 - 2.1, Removal of the oil pump).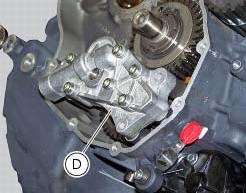 Lock the primary pinion (b) with the holding tool 88713.3417 And loosen the threaded ring nut (3) using the bush part no. 88713.3406.
Remove the nut (3) and safety washer (4).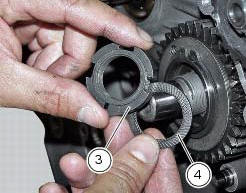 Remove the complete primary drive gear (b) using a commercial puller and placing a brass or aluminium pad between the end of the crankshaft and the puller screw.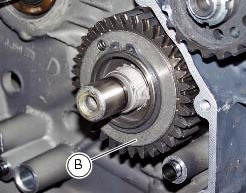 Remove the spacer (c).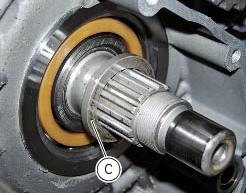 Clutch drum/primary drive gears Spacer Threaded ring nut Lock washer Spare parts catalogue Diavel abs clutch Diavel abs connecting rods Diavel carbon abs clutch Diavel carbon ab ...
Fully degrease the crankshaft splined end and the corresponding spline on the primary drive gear. Position the spacer (c) onto the crankshaft. Fit the driving gear (b) onto the crankshaft wi ...
Other materials:
Rectifier-regulator
The rectifier (1) is placed in the electrical components compartment. The rectifier/regulator consists of an aluminium casing containing the diodes that rectify the current produced by the alternator. It also contains an electronic device that regulates the current supplied by the alternator ...
Removal of the gearbox assembly
Withdraw the selector fork shafts (30). Move the forks (28) and (29) to disengage them from the slots in the selector drum (14). Withdraw the selector drum (16) taking care not to lose shims (31) and (27) mounted on the shaft. Note that the positions of the shims must not be inverte ...
Engine speed-timing sensor
Introduction The engine control system of the diavel is equipped with an inductive sensor that allows the ecu to determine the speed and timing phase of the engine. The sensor faces a phonic wheel with 48 teeth minus 2. The engine speed-timing sensor is an inductive sensor and faces a 48 ...