Ducati Diavel Service Manual: Setting menu
This menu is used to enable/disable and set some motorcycle functions.
To access the "setting menu" press and hold button (2) "t" for 3 seconds.
Note
When within this menu no other function can be displayed.
Important
For safety reasons, the setting menu can only be accessed when motorcycle speed is lower than or equal to 20 km/h. If this menu is open and the speed of the motorcycle exceeds 20 km/h, the dashboard automatically exits the menu and returns to the "main" display.
The setting menu contains the following "items":
Riding mode
Menu 2
Back light
Rpm
Pin code
Lap
Battery
Clock
Set units
Abs
Exit
To quit the setting menu, use button (1) "s" or button (2) "t" to select the "exit" indication and press the reset button (3).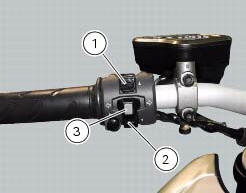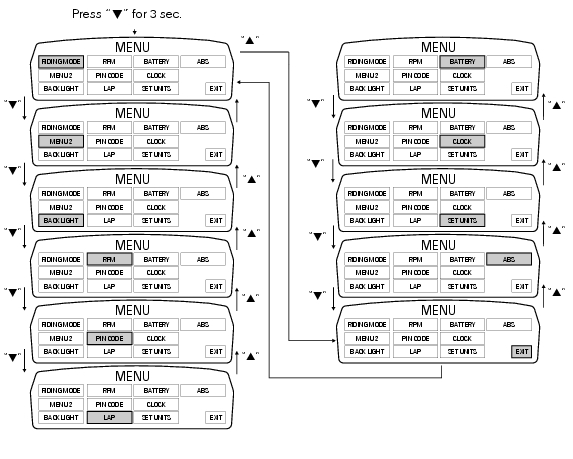 This function identifies any abnormal vehicle behaviours. The dashboard activates any abnormal vehicle behaviours in real time (errors). At key-on (at the end of the check) one or more "errors" ...
This function customises each riding style. To access the function it is necessary to view the ""setting" menu", using buttons (1) "s" or (2) "t" select the "riding mode" function and press the ...
Other materials:
Reassembling the electrical components support
Check the presence of clips (1), (9) and (24) on the support (5). Check the presence of rubber pads (6) and (8) and of cable grommet (7). Check that the voltage regulator (3) and the solenoid starter (18) are in place on the support (5) with their wiring as shown. The horn (22) mus ...
Overhaul of cylinder head components
Cylinder heads Remove any carbon deposits from the combustion chamber and its ducts. Remove any scale from the coolant ducts. Check for cracking and inspect the sealing surfaces for scoring, ridges or other damage. Check that the cylinder barrel mating surfaces of the cylinder head are ...
Rectifier-regulator
The rectifier (1) is placed in the electrical components compartment. The rectifier/regulator consists of an aluminium casing containing the diodes that rectify the current produced by the alternator. It also contains an electronic device that regulates the current supplied by the alternator ...