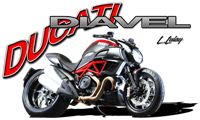 Ducati Diavel
Free Service and Repair manuals
Ducati Diavel Service Manual: Dds diagnosis instrument
The main functions of the dds diagnosis instrument can be summarised as follows:
Retrieval of errors (faults) of the ignition-injection system stored in the engine control unit memory and their subsequent deletion, if required.
Reading of engine parameters (rpm, coolant and air temperature, atmospheric pressure, throttle opening, battery voltage, injection times and ignition advance, etc.).
Active diagnostics. Activation of ignition-injection system transducers to test functionality and control signals (fuel pump, ignition coils, rev counter, injectors, etc.). With this function it is also possible to enter the code to override the immobilizer.
Road test. Allows the technician to store engine parameters recorded within a previously specified engine speed range interval. The resulting parameters can then be analysed and displayed once they have been acquired.
With specific sensors connected, the dds diagnosis instrument can read electrical voltages, current, temperature, timing belt tension, and pressure values (lubrication and fuel supply circuits for example).
2019 | www.dudiavel.com |