Ducati Diavel Owners Manual: Distance travelled on fuel reserve: trip fuel
This function shows the distance travelled on fuel reserve (in km or miles depending on the specific application).
When the fuel light comes on, the display automatically switches to the "trip fuel" indicator.
Trip fuel reading remains stored even after key-off until the vehicle is refuelled.
Count is interrupted automatically as soon as fuel is topped up to above minimum level.
When the reading exceeds 9999.9, It is reset and the count restarts automatically.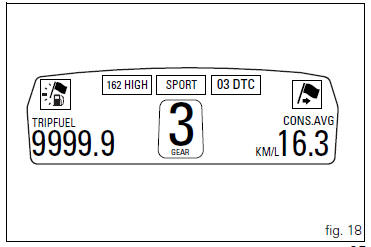 This function shows the distance travelled since the trip meter was last reset (in km or miles depending on the specific application). Holding the button (1, fig. 14) ? pressed for 3 seconds w ...
This function indicates the "average" fuel consumption. The calculation is made considering the quantity of fuel used and the km travelled since the last trip 1 reset. When trip 1 is res ...
Other materials:
Alternator
It is equipped with a 12 v, 430 w generator, consisting of a fixed element (stator, a) located on the generator cover and of a movable element (rotor, b) fixed to the crankshaft. Note To check the battery charging system for faults, use the dds diagnosis instrument and follow the instruct ...
Instrument panel diagnosis
This function identifies any abnormal vehicle behaviours. The instrument panel activates any abnormal vehicle behaviours in real time (errors). At key-on (at the end of the check) one or more "errors" are displayed in red (only if they are active). When an "error" is t ...
Inspection of the gear selector drum
Use a gauge to measure the clearance between fork pin and the slot on the selector drum. If the service limit is exceeded, determine which part must be replaced by comparing these dimensions with those of new components (sect. 3 - 1.1, Gearbox). Also check the wear on the drum support pin ...