Ducati Diavel Owners Manual: Indicator cons. Avg - average fuel consumption
This function indicates the "average" fuel consumption.
The calculation is made considering the quantity of fuel used and the km travelled since the last trip 1 reset. When trip 1 is reset, the value is set to zero and the first available value is shown on the display 10 seconds after the reset. Dashes "- -.-" Are shown on the display during the first 10 seconds when the value is not yet available.
The datum is expressed in "l/100" (litres / 100 km); it is possible to change the units of measurement for "consumption" (both average and instantaneous together) from l/100 to km/l through the "set units" function of the setting menu.
The active calculation phase occurs when the engine is running and the vehicle is stopped (moments when the vehicle is not moving and the engine is off are not considered).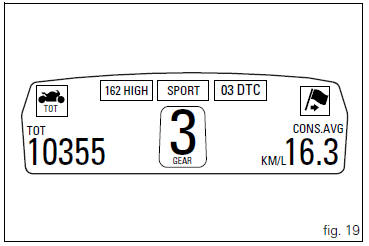 This function shows the distance travelled on fuel reserve (in km or miles depending on the specific application). When the fuel light comes on, the display automatically switches to the "tr ...
This function indicates the "instantaneous" fuel consumption. The calculation is made considering the quantity of fuel used and the distance travelled during the last second. The datum i ...
Other materials:
Tips for use on the track
We recommend level 8 be used for a couple of full laps (to allow the tyres to warm up) in order to get used to the system. Then try levels 7, 6, etc., In succession until you identify the dtc intervention level that suits you best (always try each level for at least two laps to allow the tyres t ...
Removal of the rear brake calliper
Important The brake manufacturer advises against any servicing of the internal components of brake callipers or the master cylinder. Incorrect overhaul of these critical safety components can endanger rider and passenger safety. Before removing the parts in question, you must first carry ou ...
Headlight aim
The motorcycle must be perfectly upright with the tires inflated to the correct pressure and with a rider seated, perfectly perpendicular to the longitudinal axis. Position the motorcycle 10 metres from a wall or a screen. On the wall or surface, draw a horizontal line at the same height fr ...