Ducati Diavel Owners Manual: Front brake lever
Pull the lever (1, fig. 94) Towards the twistgrip to operate the front brake. The system is hydraulically assisted and you only need to pull the lever gently.
The control lever (1, fig. 94) Features a dial adjuster (2, fig. 94) For lever distance from the twistgrip on handlebar adjustment.
The lever distance can be adjusted through 10 clicks of the dial (2, fig. 94). Turn clockwise to increase lever distance from the twistgrip. Turn the adjuster counter clockwise to decrease lever distance.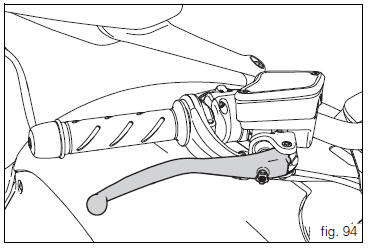 The twistgrip (1, fig. 93) On the right handlebar opens the throttles. When released, it will spring back to the initial position (idling speed). ...
Push down the pedal (1, fig. 95) To operate the rear brake. The system is hydraulically controlled. ...
Other materials:
Removal of the swingarm
Before removing the parts in question, you must first carry out the following operations: Remove the rear wheel eccentric hub as described in chapter "removal of the rear wheel eccentric hub and rear wheel shaft" of this section. Loosen screws (7) and remove the hose grommets (13), (15) ...
Routing of wiring on frame
The routing of the wiring has been optimised to ensure the minimum obstruction. Each section is designed to prevent interference with parts that might damage wires or cause operating failures when riding. The plates on the following pages show the origins ("0" points) for correct re-routin ...
Dds diagnosis instrument
The main functions of the dds diagnosis instrument can be summarised as follows: Retrieval of errors (faults) of the ignition-injection system stored in the engine control unit memory and their subsequent deletion, if required. Reading of engine parameters (rpm, coolant and air temperat ...