Ducati Diavel Owners Manual: Front brake lever
Pull the lever (1, fig. 94) Towards the twistgrip to operate the front brake. The system is hydraulically assisted and you only need to pull the lever gently.
The control lever (1, fig. 94) Features a dial adjuster (2, fig. 94) For lever distance from the twistgrip on handlebar adjustment.
The lever distance can be adjusted through 10 clicks of the dial (2, fig. 94). Turn clockwise to increase lever distance from the twistgrip. Turn the adjuster counter clockwise to decrease lever distance.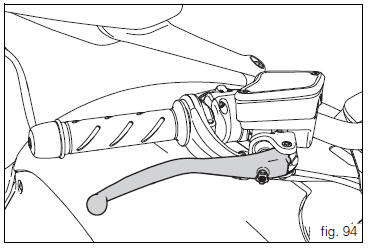 The twistgrip (1, fig. 93) On the right handlebar opens the throttles. When released, it will spring back to the initial position (idling speed). ...
Push down the pedal (1, fig. 95) To operate the rear brake. The system is hydraulically controlled. ...
Other materials:
Topping up the electrolyte
Warning Before carrying out any operations on the battery, keep in mind the safety standards (sect.1 - 3, General safety rules). The electrolyte in the battery is toxic and can cause burns if it comes into contact with the skin because it contains sulphuric acid. Wear protective clothing, a ...
Renewal of the headlight
Disconnect the headlight connectors (a) from the main wiring (refer to the tables of paragraph "routing of wiring on frame", sect. 6 - 1). Loosen nuts (2) that fix the front optical unit to the bottom yoke, and recover the washers (3). Remove the complete front optical unit by sliding ...
Steering angle adjustment
Loosen the nuts (17) and adjuster screws (16) on both sides of the bottom yoke. Use a 6 to 6.5 Mm spacer (a) fitted to the fork outer tube, or use a gauge. Turn the front forks to the right until the spacer (a) is seated against the frame top tube. Tighten the adjuster screw (16) to ...