Ducati Diavel Owners Manual: Front brake lever
Pull the lever (1, fig. 94) Towards the twistgrip to operate the front brake. The system is hydraulically assisted and you only need to pull the lever gently.
The control lever (1, fig. 94) Features a dial adjuster (2, fig. 94) For lever distance from the twistgrip on handlebar adjustment.
The lever distance can be adjusted through 10 clicks of the dial (2, fig. 94). Turn clockwise to increase lever distance from the twistgrip. Turn the adjuster counter clockwise to decrease lever distance.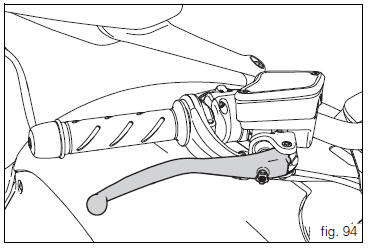 The twistgrip (1, fig. 93) On the right handlebar opens the throttles. When released, it will spring back to the initial position (idling speed). ...
Push down the pedal (1, fig. 95) To operate the rear brake. The system is hydraulically controlled. ...
Other materials:
Injection and ignition
Introduction Ignition is via a single stick coil per cylinder installed in the spark plug well. Each thermal unit is supplied by a single injector, placed under the throttle valve. The amount of fuel injected and the ignition advances are determined by the control unit specifically for each c ...
Communication antenna
Introduction The communication antenna enables the hands free system to detect and communicate with the active or passive key. The active key is detectable within a range of 1.5 Metres, whereas the passive key (or active key with flat battery) can only be detected if placed in contact with ...
On-board computers and the can line
The following on-board computers make up the electrical system of the diavel and are connected with each other via the can line (or network): Master dashboard Slave dashboard Hands free (facilitated keyless start system) Ecu (engine control unit) Bbs (black box system or central elect ...