Ducati Diavel Service Manual: How to start the engine
With the motorcycle off and the dashboard on, the on/off switch is turned to "run off"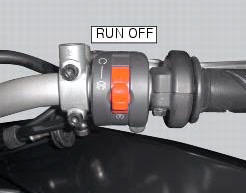 With the motorcycle and dashboard on, the on/off switch is turned to "run off".
To start the engine, simply push the on/off switch up to "run on" and press the black start button.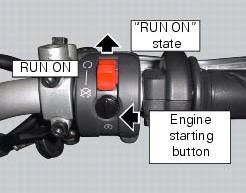 The dashboard may switched on either from the on/off switch on the handlebar or from the button on the hands free system. With the engine off, the on/off switch is turned to "run off". With ...
If no keyboard is detected, the dashboard does not switch on. Ensure that the active key is within the operating range of 1.5 Metres and that the key battery is charged. If the state of charge of t ...
Other materials:
Overhauling the rear swingarm
Inside the swingarm (8), in correspondence with the pivot point on the frame, there is a pair of ball bearings (10) and a spacer (11) on the rh side, and a pair of roller bearings (6), with sealing rings (5), on the lh side. To change the bearings, proceed as follows. Remove the shims ( ...
Removal of the evaporative emissions canister
Loosen the screws (9) securing the plate (8) to the tank. Slightly pull the plate (8) with the canister (13), remove the clamps (3) and (12) and connect hoses (7) and (14). Release the retainers (b) of the plate (8) to remove it from the canister (13). Disconnect the hose ...
General safety rules
Carbon monoxide When a maintenance operation must be performed with the engine running, maker sure that the working area is wellventilated. Never run the engine in an enclosed space. Warning Exhaust fumes contain carbon monoxide, which is a poisonous gas that can cause unconsciousness or e ...