Ducati Diavel Service Manual: Inspecting the final drive
To check the wear of the final drive, visually check the pinion (14) and sprocket (17). If the teeth are found to worn as shown in the figure (dotted line), the sprocket must be renewed.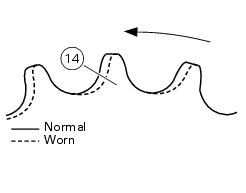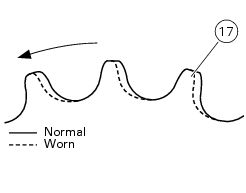 To check the amount of wear on the chain (8), keep the chain taut and measure 16 links.
If the length (l) is greater than 256.5 Mm, the chain should be replaced.
Important
The sprocket (17), engine pinion (14) and chain (8) must all be replaced together as a set.