Ducati Diavel Owners Manual: Keys (fig. 62)
The owner receives a set of keys comprising:
1 Active key (1, fig. 62)
1 Passive key (2, fig. 62)
It contains the code used by the "hands free" system for the key-on, in different modes.
The active key (1, fig. 63) Is the one that is normally used: press button (a, fig. 63) To fully open the metal part, i.E.
Position (b, fig. 63). Holding depressed button (a, fig. 63) You can move the metal part and set it to the middle position (c, fig. 63); Once in place, release button to lock.
The metal part returns inside the grip by pushing it in.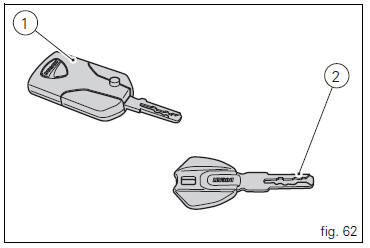 The key contains a battery that must be replaced when the low key battery "warning" is displayed as soon as the instrument panel is turned on (fig. 64).

Note
In this case, replace the battery as soon as possible (page 88).
When the charge level goes below a certain limit, the key can only work in passive mode, like the passive key: in this case, the instrument panel will not display any message.

Warning
Do not ride with the key (1 or 2, fig. 62) Inserted in the lock of the tank cap or in the seat lock as it could come out and represent a potential danger. Furthermore, if bumped, the key mechanism and the integrated circuit could be damaged.
Also riding in poor weather conditions with the key inserted could cause damage to its integrated circuit.
Do not leave the key on the motorcycle when washing it as it could be damaged, not being watertight.
For additional antitheft protection, the motorcycle is equipped with an immobilizer, an electronic system that locks the engine automatically whenever the ignition switch is turned off. The grip ...
Only use 3 volt cr 2032 lithium ion batteries. Note The keys do not need to be reprogrammed after replacing the battery. Remove the metal part of the battery. Use a large sized coin to pry ope ...
Other materials:
Carrying the maximum load allowed
Your motorcycle is designed for travelling over long distances with a full load in complete safety. Even weight distribution is critical to preserving these safety features and avoiding trouble when performing sudden manoeuvres or riding on bumpy roads. Warning Do not exceed the total permi ...
External components
Oil breather valve O-ring Sealing washer Gear position sensor Cylinder barrel/head stud Nipple By-pass spring Plug Plug Aluminium gasket Nut Lock washer Timing gear pair Key Key O-ring Screw Locating dowel Starter idler gear Washer Gear shaft O-ring ...
Removal of the fuel tank filler cap
Remove tank covers (sect. 5 - 2, Removal of the fuel tank fairings). Remove hoses (8) and (15) from the filler cap assembly (10). Open the filler cap. Unscrew the outer screws (17) securing the ring nut to the filler cap recess. Remove the filler cap assembly (10). ...