Ducati Diavel Owners Manual: Instrument panel diagnosis
This function identifies any abnormal vehicle behaviours.
The instrument panel activates any abnormal vehicle behaviours in real time (errors).
At key-on (at the end of the check) one or more "errors" are displayed in red (only if they are active).
When an "error" is triggered, the indication (red) remains well visible for 10 seconds (1, fig. 41) Then becomes smaller (2, fig. 41).
If there are multiple errors, they will scroll automatically every 3 seconds. The "engine/vehicle diagnosis - eobd" light on instrument panel located on handlebar (7, fig. 4) Always turns on when one or more errors are activated.
The table below shows the errors that can be displayed.

Warning
When one or more errors are displayed, always contact a ducati dealer or authorised service centre.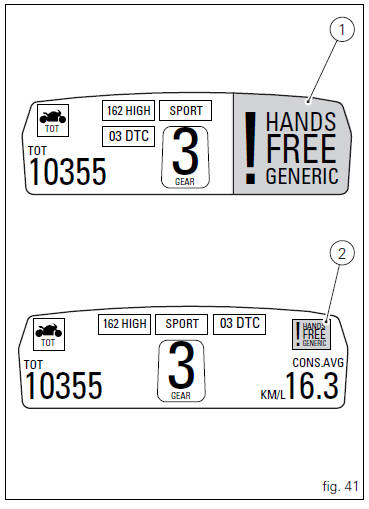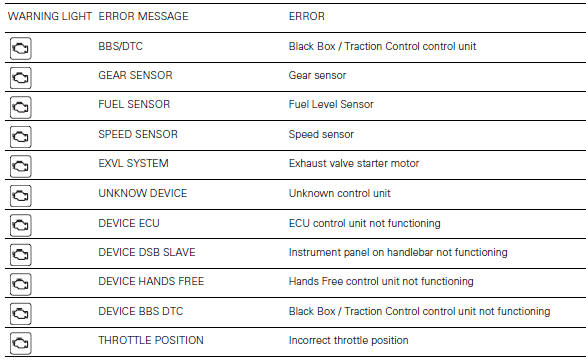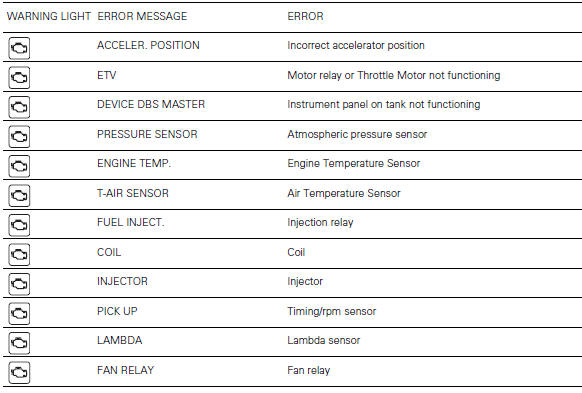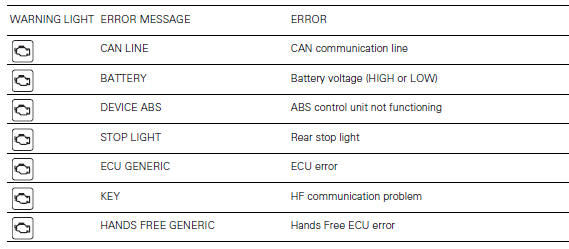 The activation of this (amber yellow) "warning" indicates that the hands free system was not able to extract the steering lock. Warning In this case, ducati recommends turning the vehic ...
This menu is used to enable/disable and set some motorcycle functions. To access the "setting menu" press the button (2, fig. 14) ? for 3 seconds. Note When within this menu no ...
Other materials:
Engine speed-timing sensor
Introduction The engine control system of the diavel is equipped with an inductive sensor that allows the ecu to determine the speed and timing phase of the engine. The sensor faces a phonic wheel with 48 teeth minus 2. The engine speed-timing sensor is an inductive sensor and faces a 48 ...
Removing the water radiators
Loosen the screws (p) that retain the supports (s) of the front splashguard to the air ducts (24) and (26). Loosen the screws (30), to separate the two internal air ducts (24) and (26). Disconnect the wiring connectors of the main wiring loom (c) from both fans. Disconne ...
Indication of range reached for service
When service coupon threshold is achieved, upon every key-on the system displays the indication of the type of intervention that is required (oil service or desmo service). The (red) warning is activated as a large icon for 10 seconds upon every key-on (1) then as a small warning that remai ...