Ducati Diavel Owners Manual: Key-on/key-off using the pin code (immobilizer release)
Key-on can be performed by pressing the button (7) on the hands free lock (1, fig. 77) Without the presence of the keys (3, fig. 77) And (4, fig. 77) And entering the pin code on the dashboard.
Key-off can be performed by pressing the button (6) on the handlebar / hands free key (7) / engine off no key.
After each key-off, at the next key-on if the key is not present the pin code must be entered.
The pin code is entered by the customer when receiving the motorcycle.
The function is not enabled without the pin code.
When the hands free button is pressed (7) the instrument panel activates the backlighting and the circular display to be able to enter the four digit pin code. Entering the correct pin turns on the instrument panel and enables engine starting.
The pin must be entered within 120 sec, after which a key- off occurs automatically.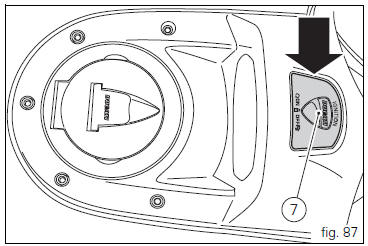 Key-on can be performed by pressing the button (7) on the hands free lock and with the presence of the passive key (4, fig. 77). Note The passive key (4, fig. 77) Has a range of a few cm, theref ...
This function turns on the motorcycle "temporarily" in the case of hf (hands free) system "malfunctions". To activate the function, press the "emergency" hands free ...
Other materials:
Oxygen sensors
Introduction An on-off type oxygen sensor (in normal operating conditions, the voltage generated by the sensors switches between a value close to 1v and a value close to 0v) is mounted on each of the exhaust manifold of the diavel. Each oxygen sensor has its own internal heater, which recei ...
Recharging the battery
Examine the label on the battery showing the check intervals in order to determine when to test the voltage. Charge the battery if the open circuit voltage is lower than 12.8 V. Leaving the battery discharged for more than one month could damage it. Check the battery charge with a voltmete ...
Appropriate diagnosis tools
97900.0211 Dds (ducati diagnosis system) without cables 97900.0227 Power cable and diagnosis 97900.0222 Power cable and diagnosis 1060838 (measurement module) 97900.0218 Vacuum sensor 552.1.039.1A Pressure sensor 97900.0220 Pressure/vacuum tube 97900.0221 Union ...