Ducati Diavel Owners Manual: Key-on/key-off using the pin code (immobilizer release)
Key-on can be performed by pressing the button (7) on the hands free lock (1, fig. 77) Without the presence of the keys (3, fig. 77) And (4, fig. 77) And entering the pin code on the dashboard.
Key-off can be performed by pressing the button (6) on the handlebar / hands free key (7) / engine off no key.
After each key-off, at the next key-on if the key is not present the pin code must be entered.
The pin code is entered by the customer when receiving the motorcycle.
The function is not enabled without the pin code.
When the hands free button is pressed (7) the instrument panel activates the backlighting and the circular display to be able to enter the four digit pin code. Entering the correct pin turns on the instrument panel and enables engine starting.
The pin must be entered within 120 sec, after which a key- off occurs automatically.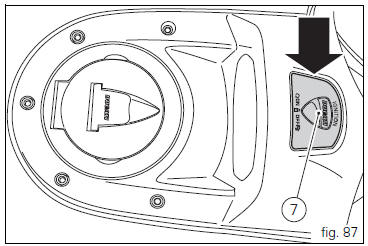 Key-on can be performed by pressing the button (7) on the hands free lock and with the presence of the passive key (4, fig. 77). Note The passive key (4, fig. 77) Has a range of a few cm, theref ...
This function turns on the motorcycle "temporarily" in the case of hf (hands free) system "malfunctions". To activate the function, press the "emergency" hands free ...
Other materials:
Engine on/off
Warning Before starting the engine, become familiar with the controls you will need to use when riding (page 99). Warning Never start or run the engine indoors. Exhaust gases are toxic and may lead to loss of consciousness or even death within a short time. In the presence of the active or ...
Inspection of the gear selector forks
Visually inspect the gear selector forks. Bent forks must be renewed as they may lead to difficulties in gear changing or may suddenly disengage when under load. Use a feeler gauge to check the clearance of each fork in its gear groove. If the service limit has been exceeded, check whether ...
Throttle valve actuator motor relay
Introduction The throttle valve actuator motor is powered by the engine control unit. The engine control unit receives the necessary power from a specific relay. Component assembling position A injection relay; b etv relay (throttle valve actuator motor), c radiator fan relay, d engine c ...