Ducati Diavel Owners Manual: Key-on/key-off using the pin code (immobilizer release)
Key-on can be performed by pressing the button (7) on the hands free lock (1, fig. 77) Without the presence of the keys (3, fig. 77) And (4, fig. 77) And entering the pin code on the dashboard.
Key-off can be performed by pressing the button (6) on the handlebar / hands free key (7) / engine off no key.
After each key-off, at the next key-on if the key is not present the pin code must be entered.
The pin code is entered by the customer when receiving the motorcycle.
The function is not enabled without the pin code.
When the hands free button is pressed (7) the instrument panel activates the backlighting and the circular display to be able to enter the four digit pin code. Entering the correct pin turns on the instrument panel and enables engine starting.
The pin must be entered within 120 sec, after which a key- off occurs automatically.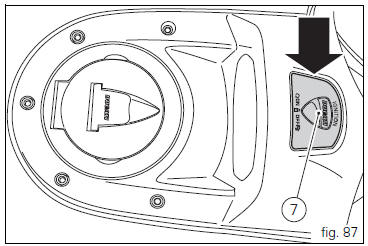 Key-on can be performed by pressing the button (7) on the hands free lock and with the presence of the passive key (4, fig. 77). Note The passive key (4, fig. 77) Has a range of a few cm, theref ...
This function turns on the motorcycle "temporarily" in the case of hf (hands free) system "malfunctions". To activate the function, press the "emergency" hands free ...
Other materials:
Stored lap erase function
This function erases the stored laps. To access the function it is necessary to view the "setting" menu", using buttons (1) "s" or (2) "t" select the "lap" function and press the reset button (3) to enter the following page. Use button (1) "s" or (2) "t" to select "lap data" indication and ...
How to reset the pin code
The pin code can be reset with the dds, i.E. It can be brought to the same condition it was in when the bike came out the factory. It is possible to complete the procedure with the relevant pin code reset function. Once the pin code has been reset it will be necessary to store a new one. In ...
Menu 2 on/off function
This function turns off and back on the menu 2. If menu 2 is disabled, the functions for average fuel consumption (cons.Avg), instantaneous fuel consumption (cons.), Average speed (speed avg), trip time (trip time) and air temperature (air) will no longer be displayed in the "main screen ...