Ducati Diavel Service Manual: Removal of the intake manifold and coolant union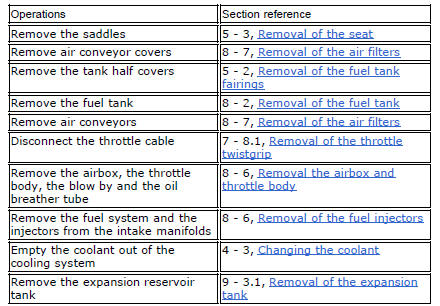 Loosen the clips (f) and remove the hoses (t).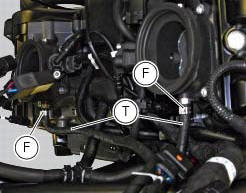 Remove the manifolds (25) undoing the screws (21).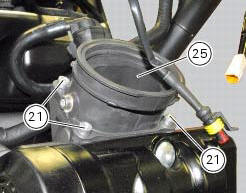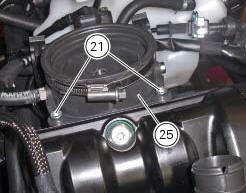 Loosen the clamp (a) and remove the hose (b). Remove the union (12) and recover the seal (24).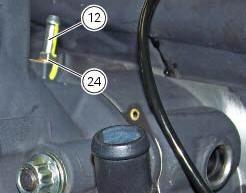 If the stud bolts (2) were removed, apply the recommended threadlocker to the short end of the stud bolts (2), i.E. The end that is to be screwed into the cylinder head. Tighten the stud bolts (2) ...
Apply prescribed threadlocker to the fitting (12), start it with seal (24) and tighten it to a torque of 2.5 Nm (min. 2 Nm - max. 3 Nm) (sect. 3 - 3, Frame torque settings). Install the pipe (b) ...
Other materials:
Disassembly of structural components and the frame
Before carrying out dimensional checks on the frame, you must remove all the superstructures fitted, referring to the removal procedures outlined in the sections of this manual. The rear subframes (2) and (3) are structural components of the frame (1). Both serve to support motorcycle super ...
Checking drive chain tension
Important Have chain tension adjusted by a ducati dealer or authorised service centre. Make the rear wheel turn until you find the position where chain is tightest. Set the vehicle on the side stand. Push down the chain at the point of measurement and release. Measure the distance betwee ...
Reassembly of the timing pulleys
Fit the pulley (11) on the flange (24), aligning the timing mark (d) on the pulley with the timing mark on the (e) on the flange. Install the washer (23) up against the pulley, aligning the timing notch (f) with the timing marks on the pulley and the flange. Insert the three screws (22) ...