Ducati Diavel Service Manual: Low battery level
The activation of this (amber yellow) "warning" indicates that the status of the battery vehicle is low.
It is activated when the battery voltage is ¼ 11.0 Volt.
Note
In this case, ducati recommends charging the battery as soon as possible with the specific device, as it is possible that the vehicle will not start.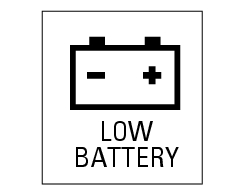 The dashboard activates in real-time some warnings / malfunction that are not dangerous for the correct operation of the vehicle. At key-on (at the end of the check) one or more "warnings" are d ...
The activation of this (amber yellow) "warning" indicates that dtc (ducati traction control) has been turned off. Note In this case, ducati recommends being very careful when riding as the vehic ...
Other materials:
Electrical components support
Clip Screw Voltage regulator Battery fixing bracket Battery support Vibration damper mount Hose clip Vibration damper mount Clip Washer Screw Cover Cable grommet Battery Battery mat Screw Bracket Solenoid starter Spring washer Spacer Screw Horn Scre ...
Reassembly of the connecting rods
Before starting, check that the crankshaft main bearing journals and big-end journals are free of burrs or evident signs of machining: if necessary, clean the surfaces with very fine emery cloth and oil. Check that the grooves are in perfect condition with no signs of forcing. Clean the cra ...
Refitting the cylinder heads pulleys/fixed tensioners
Check that the keyway on the end of the camshaft is in good condition and without burrs. Fit a woodruff key (b) in the keyway of each camshaft. Fit the pulley (11) on the camshaft, inserting the woodruff key in the in the slot (c) in the pulley. Apply the recommended grease to the t ...