Ducati Diavel Service Manual: Warning indication (alarms/signals)
The dashboard activates in real-time some warnings / malfunction that are not dangerous for the correct operation of the vehicle.
At key-on (at the end of the check) one or more "warnings" are displayed if they are active.
When a "warning" is triggered, the indication (amber yellow) remains well visible (1) for 10 seconds then becomes smaller (2).
If there are multiple indicators, they will scroll automatically every 3 seconds.
Note
No signal lights turn on if one or more "warnings" are activated.
The following "warnings" could be displayed: "low" battery level (low battery); traction control "deactivated" (dtc off); hands free key (hf) "not recognised"; "low" hands free key (hf) battery level; "high" engine coolant temperature (high temp); steering release error - steering still locked (unlock error).
With one or more "warnings" active, the user may access other functions by pushing button (2) "t".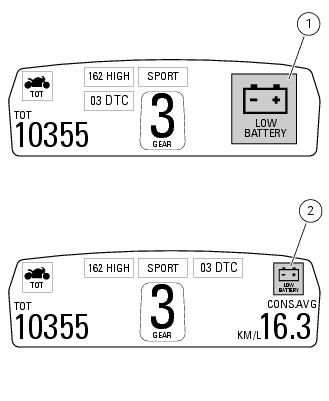 When service coupon threshold is achieved, upon every key-on the system displays the indication of the type of intervention that is required (oil service or desmo service). The (red) warning is ...
The activation of this (amber yellow) "warning" indicates that the status of the battery vehicle is low. It is activated when the battery voltage is ¼ 11.0 Volt. Note In this case, ducati ...
Other materials:
Ground connection locations
The negative cable, which is normally connected to the negative pole of the battery, is fastened to the crankcase. From here, the cable branches off and splits up within the electrical system to carry the ground connection to the different elements in the system. The image shows the ground ...
Reassembling the electrical components support
Check the presence of clips (1), (9) and (24) on the support (5). Check the presence of rubber pads (6) and (8) and of cable grommet (7). Check that the voltage regulator (3) and the solenoid starter (18) are in place on the support (5) with their wiring as shown. The horn (22) mus ...
Limitations
This emission control system warranty shall not cover any of the following: Repair or replacement required as a result of Accident, Misuse, Repairs improperly performed or replacements improperly installed, Use of replacement parts or accessories not conforming to ducati specifi ...