Ducati Diavel Service Manual: Warning indication (alarms/signals)
The dashboard activates in real-time some warnings / malfunction that are not dangerous for the correct operation of the vehicle.
At key-on (at the end of the check) one or more "warnings" are displayed if they are active.
When a "warning" is triggered, the indication (amber yellow) remains well visible (1) for 10 seconds then becomes smaller (2).
If there are multiple indicators, they will scroll automatically every 3 seconds.
Note
No signal lights turn on if one or more "warnings" are activated.
The following "warnings" could be displayed: "low" battery level (low battery); traction control "deactivated" (dtc off); hands free key (hf) "not recognised"; "low" hands free key (hf) battery level; "high" engine coolant temperature (high temp); steering release error - steering still locked (unlock error).
With one or more "warnings" active, the user may access other functions by pushing button (2) "t".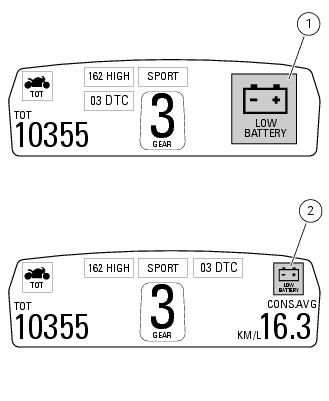 When service coupon threshold is achieved, upon every key-on the system displays the indication of the type of intervention that is required (oil service or desmo service). The (red) warning is ...
The activation of this (amber yellow) "warning" indicates that the status of the battery vehicle is low. It is activated when the battery voltage is ¼ 11.0 Volt. Note In this case, ducati ...
Other materials:
Oxygen sensors
Introduction An on-off type oxygen sensor (in normal operating conditions, the voltage generated by the sensors switches between a value close to 1v and a value close to 0v) is mounted on each of the exhaust manifold of the diavel. Each oxygen sensor has its own internal heater, which recei ...
Lcd unit functions
Speedometer. Gives road speed. Rev counter. Indicates engine revs per minute. Clock. Water temperature indicator. Indicates engine coolant temperature. Important Stop riding if the temperature reaches the maximum value, otherwise the engine might be damaged. ...
Airbox - throttle body
Airbox O-ring Injector Throttle body assembly Screw Clamp Intake manifold Screw Pressure sensor Screw Clamp Hose Sealing washer Intake manifold Sealing washer Screw Screw Spacer Bracket Rubber pad Clamp Hose Clamp Union Washer Hose Cable gro ...