Ducati Diavel Service Manual: Gearbox shafts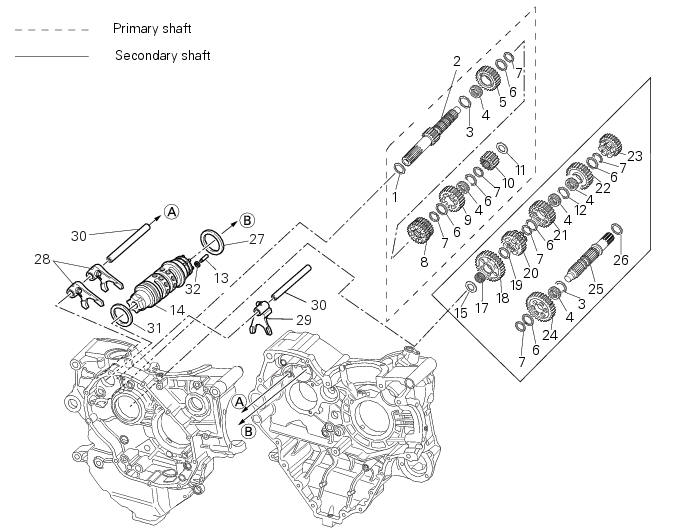 Shim, thickness 1
Gearbox primary shaft
Shim, thickness 0.5
Needle roller bearing
5Th speed driving gear
Splined washer, thickness 0.5
Circlip
3Rd- 4th speed driving gear
6Th speed driving gear
2Nd speed driving gear
Shim, thickness 1.8
Splined washer, thickness 0.5
Special needle roller (square cross-section)
Selector drum
Shim washer
Selector drum assembly
Needle roller bearing
1St speed driven gear
Shim, thickness 1
5Th speed driven gear
4Th speed driven gear
3Rd speed driven gear
6Th speed driven gear
2Nd speed driven gear
Gearbox secondary shaft
Shim washer
Shim, thickness 1
1St, 4th- 2nd, 3rd speed selector fork
5Th, 6th speed selector fork
Selector fork shaft
Shim, thickness 1
Needle roller retaining circlip (square cross-section)
Spare parts catalogue
Diavel abs gearchange control
Diavel abs gearbox
Diavel carbon abs gearchange control
Diavel carbon abs gearbox
Important
Bold reference numbers in this section identify parts not shown in the figures alongside the text, but which can be found in the exploded view diagram.
Position the gearbox drum selector fork in the centre of the gear rollers. Position the gear selector lever (21) together with control shaft, spring and plate into the chain-side crankcase half. ...
Withdraw the selector fork shafts (30). Move the forks (28) and (29) to disengage them from the slots in the selector drum (14). Withdraw the selector drum (16) taking care not to lose s ...
Other materials:
Oxygen sensors
Introduction An on-off type oxygen sensor (in normal operating conditions, the voltage generated by the sensors switches between a value close to 1v and a value close to 0v) is mounted on each of the exhaust manifold of the diavel. Each oxygen sensor has its own internal heater, which recei ...
Digital rpm indication function
This function displays the number of rpms for improved accuracy when setting idle rpm. To access the function it is necessary to view the ""setting" menu", using buttons (1) "s" or (2) "t" select the "rpm" function and press the reset button (3) to confirm. The display shows the numerical v ...
Fuel system circuit
The fuel system circuit consists of: An electric pump, driven by the injection relay, which is in turn controlled by the ecu (engine control unit) A fuel filter A pressure regulator Two injectors (one per cylinder, located downstream of throttle valve) The plastic mounting shown in t ...