Ducati Diavel Service Manual: Gearbox shafts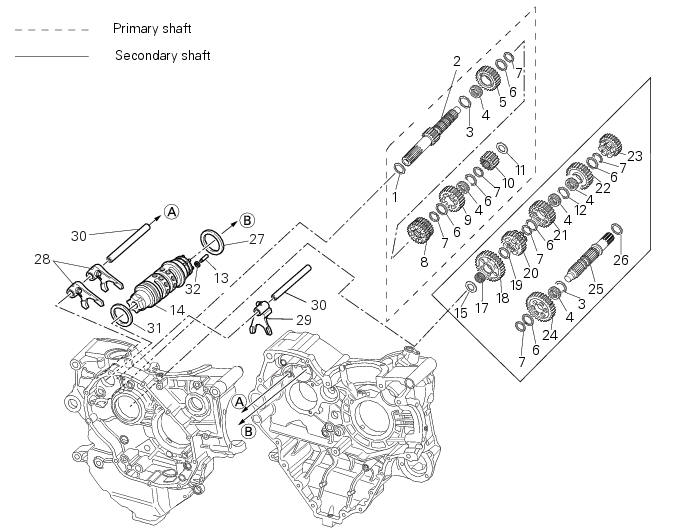 Shim, thickness 1
Gearbox primary shaft
Shim, thickness 0.5
Needle roller bearing
5Th speed driving gear
Splined washer, thickness 0.5
Circlip
3Rd- 4th speed driving gear
6Th speed driving gear
2Nd speed driving gear
Shim, thickness 1.8
Splined washer, thickness 0.5
Special needle roller (square cross-section)
Selector drum
Shim washer
Selector drum assembly
Needle roller bearing
1St speed driven gear
Shim, thickness 1
5Th speed driven gear
4Th speed driven gear
3Rd speed driven gear
6Th speed driven gear
2Nd speed driven gear
Gearbox secondary shaft
Shim washer
Shim, thickness 1
1St, 4th- 2nd, 3rd speed selector fork
5Th, 6th speed selector fork
Selector fork shaft
Shim, thickness 1
Needle roller retaining circlip (square cross-section)
Spare parts catalogue
Diavel abs gearchange control
Diavel abs gearbox
Diavel carbon abs gearchange control
Diavel carbon abs gearbox
Important
Bold reference numbers in this section identify parts not shown in the figures alongside the text, but which can be found in the exploded view diagram.
Position the gearbox drum selector fork in the centre of the gear rollers. Position the gear selector lever (21) together with control shaft, spring and plate into the chain-side crankcase half. ...
Withdraw the selector fork shafts (30). Move the forks (28) and (29) to disengage them from the slots in the selector drum (14). Withdraw the selector drum (16) taking care not to lose s ...
Other materials:
Refitting the steering head components
Important The steering tube bearings (6) are identical but in no case may their components be swapped around during reassembly. Clean all contact surfaces and lubricate with the recommended grease. To fit the external rings (c) of the bearings (6) to the steering tube, use the tool with par ...
Stands
Side stand Side stand switch Screw Plate Screw Inner spring Outer spring Nut Rotation pivot Screw Screw Screw Nut Clearance adjuster Spare parts catalogue Diavel abs stand Diavel carbon abs stand Important Bold reference numbers in this section identify part ...
Hydraulic clutch control
Special screw Sealing washer Clutch master cylinder Clutch hydraulic pipe (metal braid) Screw Spare stand Washer Microswitch Pin Bleed valve Screw Roller O-ring Clutch control rod Clutch lever Dust cap Bleed valve Special screw Sealing washer Boot Plug ...