Ducati Diavel Service Manual: Reassembly of the control unit
Insert the control unit (4) into the protecting sheath (5) and position it on the airbox.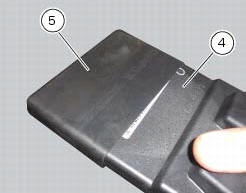 Position the relay supporting bracket (2) by starting and tightening the screws (1) to a torque of 6 nm +/- 10% (sect. 3 - 3, Frame torque settings), and connect the control unit connectors (3).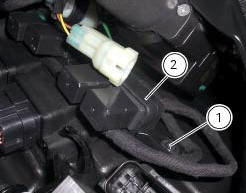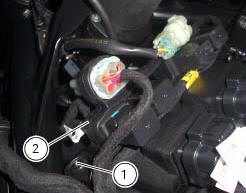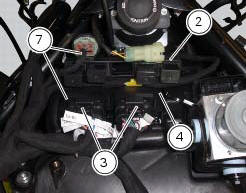 Loosen the screws (1) and remove the relay supporting bracket (2), disconnect the connectors (3) and remove the control unit (4) from the vehicle. ...
The fuel system circuit consists of: An electric pump, driven by the injection relay, which is in turn controlled by the ecu (engine control unit) A fuel filter A pressure regulator Two i ...
Other materials:
Storing the bike away
If the motorcycle is to be left unridden over long periods, it is advisable to carry out the following operations before storing it away: clean the motorcycle; empty the fuel tank; pour a few drops of engine oil into the cylinders through the spark plug bores, then turn the engine over by hand ...
Removal of the rear brake disc
Remove the rear eccentric hub (sec. 7 - 13, Removal of the rear wheel eccentric hub and rear wheel shaft). Undo and remove the four fixing screws (13) of the brake disk to the wheel axle and remove the rear brake disk (14). Loosen the four screws (24) and remove the rear phonic wheel (25). ...
General cleaning
To preserve the finish of metal parts and paintwork, wash and clean your motorcycle at regular intervals, anyway according to the road conditions you ride in. Use specific products, where possible biodegradable. Avoid aggressive detergents or solvents. Use only water and neutral soap to clean ...