Ducati Diavel Service Manual: Reassembly of the control unit
Insert the control unit (4) into the protecting sheath (5) and position it on the airbox.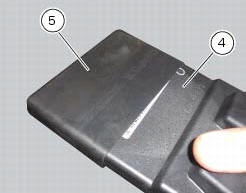 Position the relay supporting bracket (2) by starting and tightening the screws (1) to a torque of 6 nm +/- 10% (sect. 3 - 3, Frame torque settings), and connect the control unit connectors (3).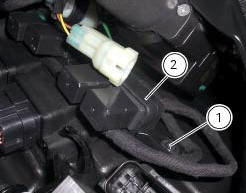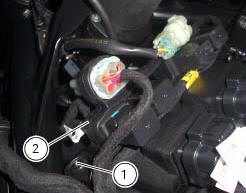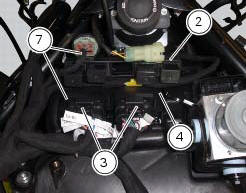 Loosen the screws (1) and remove the relay supporting bracket (2), disconnect the connectors (3) and remove the control unit (4) from the vehicle. ...
The fuel system circuit consists of: An electric pump, driven by the injection relay, which is in turn controlled by the ecu (engine control unit) A fuel filter A pressure regulator Two i ...
Other materials:
Absolute pressure sensors
Introduction The engine control system of the diavel is equipped with two absolute pressure sensors, with one connected to the intake duct of each cylinder (map 1 cylinder 1 - horizontal - map 2 cylinder 2 - vertical). They are used by the control unit to determine the quantity of fuel to be ...
How to start the engine
With the motorcycle off and the dashboard on, the on/off switch is turned to "run off" With the motorcycle and dashboard on, the on/off switch is turned to "run off". To start the engine, simply push the on/off switch up to "run on" and press the black start button. ...
Adjusting the chain tension
Make the rear wheel turn until you find the position where chain is tightest. Set the vehicle on the side stand. Push down the chain at the point of measurement and release. Measure the distance between the "aperture" upper profile and pin centre. The read distance must be: 9 to 11 mm. ...