Ducati Diavel Service Manual: Refitting the front wheel
When all the necessary inspections have been completed, refit the wheel as follows.
Fit the spacers (3) and (9) to the seal rings on the sides of the wheel hub.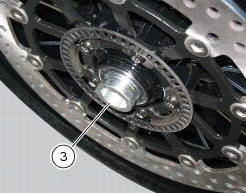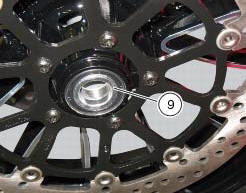 Install the complete wheel between the fork legs.
Lubricate the shank and thread of the wheel axle (10).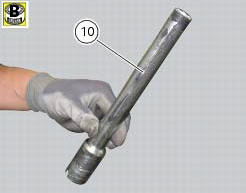 Take the pin (10) fully into the wheel hub.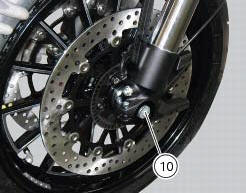 Fit the washer (2) on the end of the axle.
Grease the thread and the underside of the head of the axle lock nut (1), then screw it on.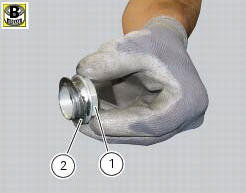 Tighten the nut (1) to the torque of 63 nm +/- 5% (sect. 3 - 3, Frame torque settings).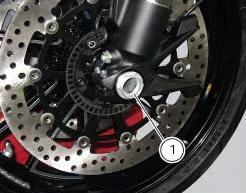 Grease the threads and undersides of the heads of screws (a).
Tighten the two retaining screws (a) of the brake callipers (b) to a torque of 2 nm +/- 10%. (Sect. 3 - 3, Frame torque settings) operate the front brake lever two or three times.
Hold the lever pulled towards the handgrip and simultaneously tighten the screws (a) to a torque of 44 nm +/- 5%(sect. 3 - 3, Frame torque settings).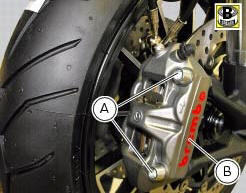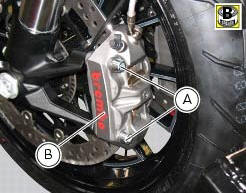 Before tightening the screws (8), lower the bike to the ground and push up and down on the handlebar to load the suspension; so the fork legs will become properly seated onto the wheel shaft.
Tighten the screws (8) to a torque of 10 nm +/- 5% (sect. 3 - 3, Frame torque settings), proceeding in a 1-2-1 sequence.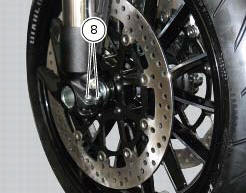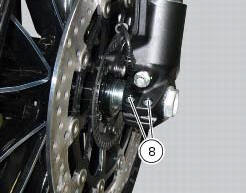 Wheel bearings Before checking the dimensions, check the wear on wheel bearings. Check for wear by hand after cleaning and degreasing the bearings in their seats. Turn the inner race. Check ...
Right-hand wheel nut Washer Spacer Valve Wheel Circlip Spare parts catalogue Diavel abs front and rear wheels Diavel carbon abs front and rear wheels Important Bold reference ...
Other materials:
Engine torque settings
*Dynamic safety-critical point; tightening torque must be within nm +/-5%. Note For product specifications and symbols, refer to paragraph "product specifications" (sect. 1 - 2). ...
Start procedure with pin code (no keys)
The motorcycle may be started without keys with a special procedure using the dashboard and the switches on the handlebar. Note This procedure is only possible if the pin code has been enabled previously. For security reasons, the pin code is disabled by default when the vehicle leaves the f ...
Vehicle pre-delivery
Transport packaging integrity check (if required); Removal from the transport packaging (if required); Motorcycle integrity check; Check of the supplied kit completeness (refer to the parts list supplied together with the bike packaging); Only if the bike is supplied in a crate: handle ...