Ducati Diavel Service Manual: Refitting the front wheel
When all the necessary inspections have been completed, refit the wheel as follows.
Fit the spacers (3) and (9) to the seal rings on the sides of the wheel hub.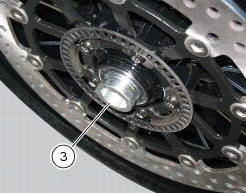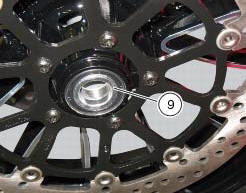 Install the complete wheel between the fork legs.
Lubricate the shank and thread of the wheel axle (10).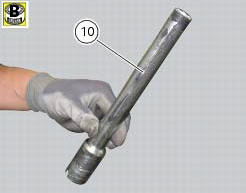 Take the pin (10) fully into the wheel hub.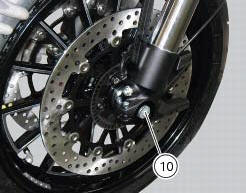 Fit the washer (2) on the end of the axle.
Grease the thread and the underside of the head of the axle lock nut (1), then screw it on.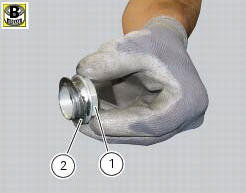 Tighten the nut (1) to the torque of 63 nm +/- 5% (sect. 3 - 3, Frame torque settings).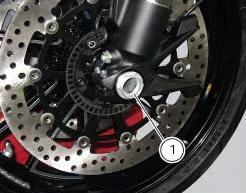 Grease the threads and undersides of the heads of screws (a).
Tighten the two retaining screws (a) of the brake callipers (b) to a torque of 2 nm +/- 10%. (Sect. 3 - 3, Frame torque settings) operate the front brake lever two or three times.
Hold the lever pulled towards the handgrip and simultaneously tighten the screws (a) to a torque of 44 nm +/- 5%(sect. 3 - 3, Frame torque settings).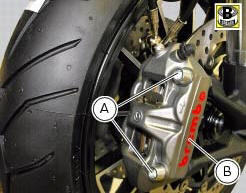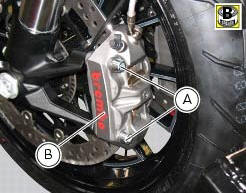 Before tightening the screws (8), lower the bike to the ground and push up and down on the handlebar to load the suspension; so the fork legs will become properly seated onto the wheel shaft.
Tighten the screws (8) to a torque of 10 nm +/- 5% (sect. 3 - 3, Frame torque settings), proceeding in a 1-2-1 sequence.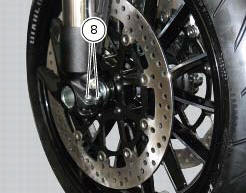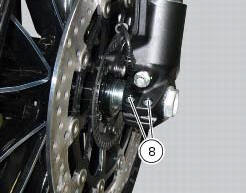 Wheel bearings Before checking the dimensions, check the wear on wheel bearings. Check for wear by hand after cleaning and degreasing the bearings in their seats. Turn the inner race. Check ...
Right-hand wheel nut Washer Spacer Valve Wheel Circlip Spare parts catalogue Diavel abs front and rear wheels Diavel carbon abs front and rear wheels Important Bold reference ...
Other materials:
Primary drive gears
Clutch drum/primary drive gears Spacer Threaded ring nut Lock washer Spare parts catalogue Diavel abs clutch Diavel abs connecting rods Diavel carbon abs clutch Diavel carbon abs connecting rods Important Bold reference numbers in this section identify parts not shown in th ...
Indicator speed avg - average speed
This function shows the average speed of the motorcycle. The calculation is made considering the distance and time travelled since the last trip 1 reset. When trip 1 is reset, the value is set to zero and the first available value is shown on the display 10 seconds after the reset. Dashes &quo ...
Ignition coils
Introduction The engine control system of the diavel includes two ignition coils: one for the horizontal cylinder and one for the vertical cylinder. These coils are installed directly in the spark plug wells. A diode is installed on the secondary winding inside the coil, which prevents the un ...