Ducati Diavel Service Manual: Removal of the front brake system

Note
For the abs front braking system, also refer to sect. 7 - 5, Abs system operating information, sect. 7 - 6, System components, sect. 7 - 7, Abs components maintenance.
Undo the special screw (3), collect the sealing washers (4), and release the front brake master cylinder assembly (1) from the pipe.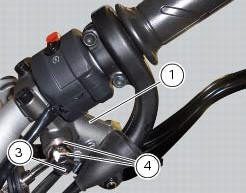 Tighten the screw (16) and slide the front brake pipe (13) from the bracket (17) on the yoke base.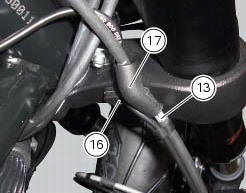 Loosen screw (c) to remove front brake hose (20) and the abs sensor cable (a) from hose clip (b).
Warning
While removing the front brake hose, if you damage the hose clip (b) you shall renew it (sect. 5 - 4, Removal of the front mudguard).
If hose is not fastened by hose clip (b), it might interfere with tyre under braking and provoke accidents.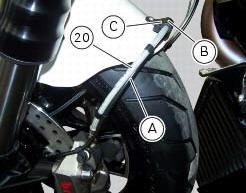 Unscrew the two fixing screws (21) of the left front brake calliper (9) to the fork leg.
Repeat the operation for the right brake calliper (18).
Undo the special screws (19) and (25) and collect, from both callipers, the sealing washers (4).
Detach the front brake callipers from the pipe (13) and (20).
Removal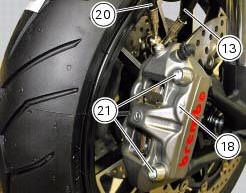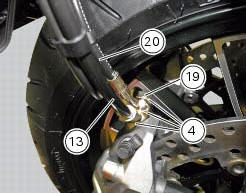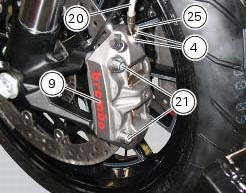 Warning Brake fluid is corrosive and will damage paintwork. Avoid contact with eyes and skin. In case of accidental contact, wash the affected area with abundant running water and consult a doctor ...
The front brake discs consist of an inner carrier, which is mounted to the wheel, and an outer rotor. Both parts must be changed together as a pair. Remove the front wheel (sect. 7 - 1, Removal ...
Other materials:
Horn not working
Fault codes Dds: horn diagnosis -> short circuit to ground (s.C. Gnd). Dashboard: the error "claxon" (horn) is shown on the service display. The eobd warning light activates. Wiring diagram Db dashboard connection, s horn button. 5 Blue/white - b/w, 1 red/blue - r/b, db 19 purple/bl ...
Instrument panel on tank
Menu 1 (tot, trip1, trip2, trip fuel). Menu 2 (cons.Avg., Cons., Speed avg, air and trip time) if active. Gear / neutral indication. Icon referred to the function below from menu 1. Indication of engine setting for the currently set riding style. Currently set riding style (riding m ...
Checking the fuses
The main fuse box (1) and the secondary one (2) are located in the tool tray; to reach the fuse box remove the seat as specified under sect. 5 - 3 "Removal of the seat". The fuses are accessed by removing the cover, which shows the ampere ratings and mounting locations. For ampere ratings ...