Ducati Diavel Service Manual: Removal of the front brake system

Note
For the abs front braking system, also refer to sect. 7 - 5, Abs system operating information, sect. 7 - 6, System components, sect. 7 - 7, Abs components maintenance.
Undo the special screw (3), collect the sealing washers (4), and release the front brake master cylinder assembly (1) from the pipe.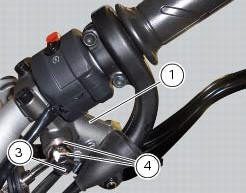 Tighten the screw (16) and slide the front brake pipe (13) from the bracket (17) on the yoke base.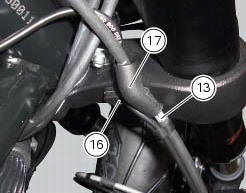 Loosen screw (c) to remove front brake hose (20) and the abs sensor cable (a) from hose clip (b).
Warning
While removing the front brake hose, if you damage the hose clip (b) you shall renew it (sect. 5 - 4, Removal of the front mudguard).
If hose is not fastened by hose clip (b), it might interfere with tyre under braking and provoke accidents.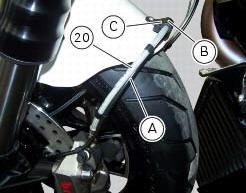 Unscrew the two fixing screws (21) of the left front brake calliper (9) to the fork leg.
Repeat the operation for the right brake calliper (18).
Undo the special screws (19) and (25) and collect, from both callipers, the sealing washers (4).
Detach the front brake callipers from the pipe (13) and (20).
Removal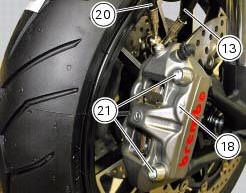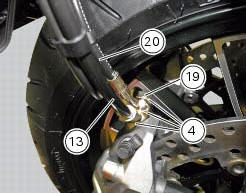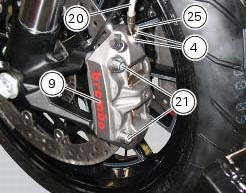 Warning Brake fluid is corrosive and will damage paintwork. Avoid contact with eyes and skin. In case of accidental contact, wash the affected area with abundant running water and consult a doctor ...
The front brake discs consist of an inner carrier, which is mounted to the wheel, and an outer rotor. Both parts must be changed together as a pair. Remove the front wheel (sect. 7 - 1, Removal ...
Other materials:
Fuel pressure test
Note The on-screen icons used during this procedure are explained in a table at the end of this section. Undo the screws (2) and remove the flange cover (1). Remove one of the two pipes of the fuel system (3). Use the fuel pressure pipe (4) part no. 590.1.189.1A by connecting one e ...
Headlight control
This function allows you to reduce current consumption from the battery, by automatically managing headlight switchingoff. At key-on, the high beam and low beam lights are off. When the engine is started, the low beam lights turn on automatically; from this moment, "normal" operati ...
Refitting the cylinder head assemblies
Warning To prevent oil leaks past the contact area between cylinders and crankcase, each time the head is removed, cylinder and piston must be removed as well to clean the mating faces of crankcase and cylinder and restore the spoiled gaskets and o-rings and apply again liquid sealant (sect. ...