Ducati Diavel Service Manual: Removal of the front brake system

Note
For the abs front braking system, also refer to sect. 7 - 5, Abs system operating information, sect. 7 - 6, System components, sect. 7 - 7, Abs components maintenance.
Undo the special screw (3), collect the sealing washers (4), and release the front brake master cylinder assembly (1) from the pipe.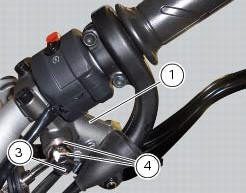 Tighten the screw (16) and slide the front brake pipe (13) from the bracket (17) on the yoke base.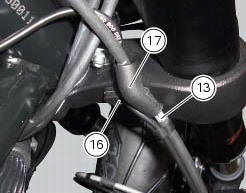 Loosen screw (c) to remove front brake hose (20) and the abs sensor cable (a) from hose clip (b).
Warning
While removing the front brake hose, if you damage the hose clip (b) you shall renew it (sect. 5 - 4, Removal of the front mudguard).
If hose is not fastened by hose clip (b), it might interfere with tyre under braking and provoke accidents.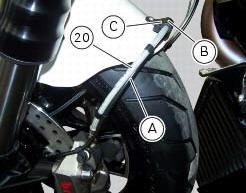 Unscrew the two fixing screws (21) of the left front brake calliper (9) to the fork leg.
Repeat the operation for the right brake calliper (18).
Undo the special screws (19) and (25) and collect, from both callipers, the sealing washers (4).
Detach the front brake callipers from the pipe (13) and (20).
Removal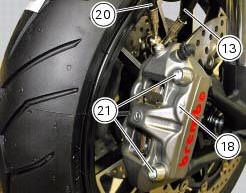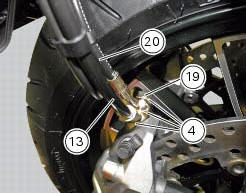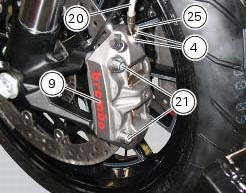 Warning Brake fluid is corrosive and will damage paintwork. Avoid contact with eyes and skin. In case of accidental contact, wash the affected area with abundant running water and consult a doctor ...
The front brake discs consist of an inner carrier, which is mounted to the wheel, and an outer rotor. Both parts must be changed together as a pair. Remove the front wheel (sect. 7 - 1, Removal ...
Other materials:
Operating principle and characteristics of the ride-by-wire system
The engine control system of the diavel uses a ride-by-wire system with motorised throttle valves. This eliminates all direct connection with metal cables between the throttle grip and the throttle valves themselves. Cables are used to rotate the aps potentiometer, which generates an electric ...
Recovery procedure in the event of hands free system fault
If the hands free system can no longer communicate with the other control units over the can network (with the dashboard or engine on), the following icon is shown on the tank dashboard: The following image shows the icon appearing on the tank dashboard: this indicates that the hands free sy ...
Removal of the timing gears
Slide out driving gear (a) of timing gear pair (13) and remove the woodruff key (14). Relieve the staking on the lock washer (12) of the nut (11). Restrain the driven timing gear by inserting a pin in one of the holes, and unscrew the nut (11). Remove the nut (11), washer (12) ...