Ducati Diavel Service Manual: Removal of the front brake system

Note
For the abs front braking system, also refer to sect. 7 - 5, Abs system operating information, sect. 7 - 6, System components, sect. 7 - 7, Abs components maintenance.
Undo the special screw (3), collect the sealing washers (4), and release the front brake master cylinder assembly (1) from the pipe.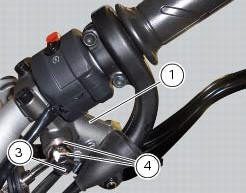 Tighten the screw (16) and slide the front brake pipe (13) from the bracket (17) on the yoke base.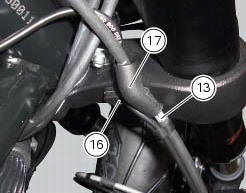 Loosen screw (c) to remove front brake hose (20) and the abs sensor cable (a) from hose clip (b).
Warning
While removing the front brake hose, if you damage the hose clip (b) you shall renew it (sect. 5 - 4, Removal of the front mudguard).
If hose is not fastened by hose clip (b), it might interfere with tyre under braking and provoke accidents.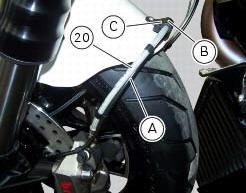 Unscrew the two fixing screws (21) of the left front brake calliper (9) to the fork leg.
Repeat the operation for the right brake calliper (18).
Undo the special screws (19) and (25) and collect, from both callipers, the sealing washers (4).
Detach the front brake callipers from the pipe (13) and (20).
Removal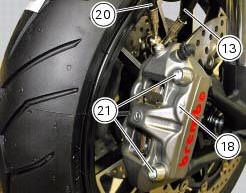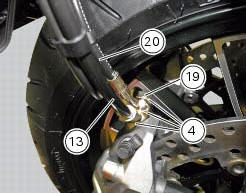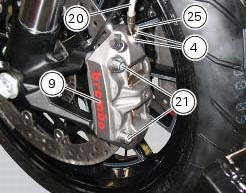 Warning Brake fluid is corrosive and will damage paintwork. Avoid contact with eyes and skin. In case of accidental contact, wash the affected area with abundant running water and consult a doctor ...
The front brake discs consist of an inner carrier, which is mounted to the wheel, and an outer rotor. Both parts must be changed together as a pair. Remove the front wheel (sect. 7 - 1, Removal ...
Other materials:
General cleaning
To preserve the finish of metal parts and paintwork, wash and clean your motorcycle at regular intervals, anyway according to the road conditions you ride in. Use specific products, where possible biodegradable. Avoid aggressive detergents or solvents. Use only water and neutral soap to clean ...
Tester power supply
The dds (1) part number 97900.0215 Can be powered from the vehicle as follows: From the mains power supply: by connecting the power supply connector (n) to the network power supply (2) part no. 97900.0224; From the motorcycle: connecting the corresponding cables (see paragraph ...
Low hands free key (hf) battery level
The activation of this (amber yellow) "warning" indicates that the hands free system has detected that the battery that permits the active key (a) to communicate and turn the vehicle on is almost discharged. Note In this case replace as soon as possible the battery as indicated in sect. 6 - ...