Ducati Diavel Service Manual: Removal of the generator cover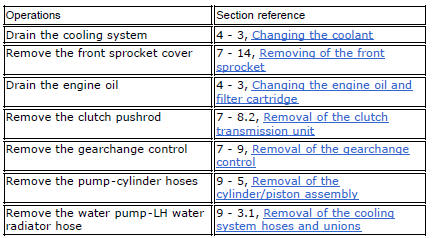 Note
This operation is described for an engine removed from the frame since all reassembly procedures are easier with the engine on the bench.
Disconnect the connector (a) from the generator cable.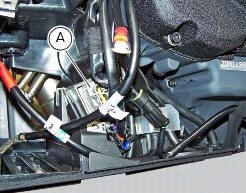 Unscrew the two retaining screws (7) of the centre cap (6) over the end of the crankshaft.
Loosen the screws (1) and (12) securing the generator cover (13).
Use tool number 88713.1749 And fix it to the holes (a) of the previously removed screws (7).
Turn the tool shaft slowly to separate the cover (13) from the lh crankcase half.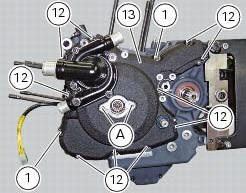 There is a seal (4) on the cover (13) in correspondence with the gearchange lever shaft that may be damaged when removing the generator cover.
Always check the condition of this sealing ring and renew it if damaged.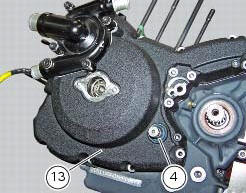 Screw Alternator stator Plug Sealing ring O-ring Cover Screw Aluminium gasket Screw Bracket Locating bush Screw generator cover Flange Flanged nut Plane washer F ...
Undo the three stator retaining screws (25) and the two retaining screws (9) of the two cable grommet bracket (10) from inside the generator cover. Remove the stator (2) and the cable grommet br ...
Other materials:
Removing of the rear wheel
Place the motorcycle on the rear service stand and engage the 1st gear. Remove the clip (6). Using a suitable socket wrench, loosen the wheel nut (1). Fully unscrew the nut (1), then remove the washer (2) and the spacer (3). Remove the rear wheel from the motorcycle. ...
Removal of the front forks
Before removing the front forks, it is first necessary to remove the following parts: Loosen the clamp screws (1) holding the fork legs to the steering head (3). Loosen the clamp screws (2) and (26) securing the fork legs to the bottom yoke (4). Withdraw the fork legs (5) and (6) downwar ...
Removal of the clutch-side crankcase cover
Unscrew the screws (2), (3) and (5) securing the clutch-side crankcase cover (1). Tap around the edge of the cover with a plastic mallet to detach it from the crankcase half. Remove the clutch cover (1) paying attention to the centring bushing (12). Check the condition of the cent ...