Ducati Diavel Service Manual: Removal of the generator cover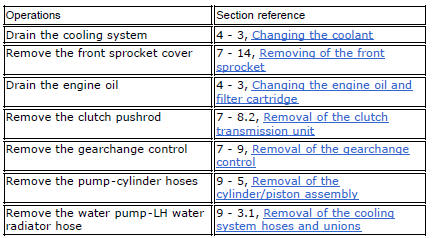 Note
This operation is described for an engine removed from the frame since all reassembly procedures are easier with the engine on the bench.
Disconnect the connector (a) from the generator cable.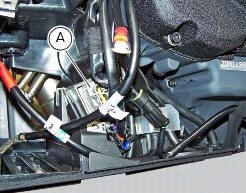 Unscrew the two retaining screws (7) of the centre cap (6) over the end of the crankshaft.
Loosen the screws (1) and (12) securing the generator cover (13).
Use tool number 88713.1749 And fix it to the holes (a) of the previously removed screws (7).
Turn the tool shaft slowly to separate the cover (13) from the lh crankcase half.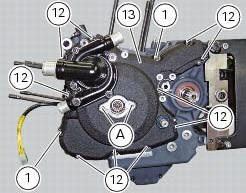 There is a seal (4) on the cover (13) in correspondence with the gearchange lever shaft that may be damaged when removing the generator cover.
Always check the condition of this sealing ring and renew it if damaged.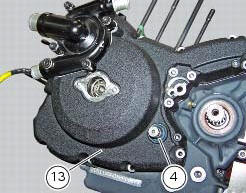 Screw Alternator stator Plug Sealing ring O-ring Cover Screw Aluminium gasket Screw Bracket Locating bush Screw generator cover Flange Flanged nut Plane washer F ...
Undo the three stator retaining screws (25) and the two retaining screws (9) of the two cable grommet bracket (10) from inside the generator cover. Remove the stator (2) and the cable grommet br ...
Other materials:
Tubeless tyres
Front tyre pressure: 2.50 Bar (rider only) - 2.6 Bar (with passenger and/or bags) rear tyre pressure: 2.50 Bar (rider only) - 2.6 Bar (with passenger and/or bags) as tyre pressures are affected by changes in temperature and altitude; check and adjust them whenever you are riding in areas where ...
Throttle valve actuator motor relay
Introduction The throttle valve actuator motor is powered by the engine control unit. The engine control unit receives the necessary power from a specific relay. Component assembling position A injection relay; b etv relay (throttle valve actuator motor), c radiator fan relay, d engine c ...
Reassembling the electrical components support
Check the presence of clips (1), (9) and (24) on the support (5). Check the presence of rubber pads (6) and (8) and of cable grommet (7). Check that the voltage regulator (3) and the solenoid starter (18) are in place on the support (5) with their wiring as shown. The horn (22) mus ...