Ducati Diavel Service Manual: Description of the clutch assembly
The clutch is disengaged by a drive unit consisting of a thrust piston (c) accommodated inside a small cap mounted to the generator cover. This piston (c) pushes a pushrod (b), which runs through gearbox primary shaft and operates the Pressure plate (4) located on top of the clutch plate pack (9).
Drive is transmitted from the crankshaft to the gearbox primary shaft by a gear integrated with the clutch housing/primary drive gear pair (a).
Accommodated in the clutch housing is a set of drive and driven plates (9). When the clutch is operated, the driven plates push away a drum (12) which is splined onto the gearbox primary shaft.
Before working on the internal clutch parts, check that the clutch operates correctly. Then deal with the problem in a systematic manner.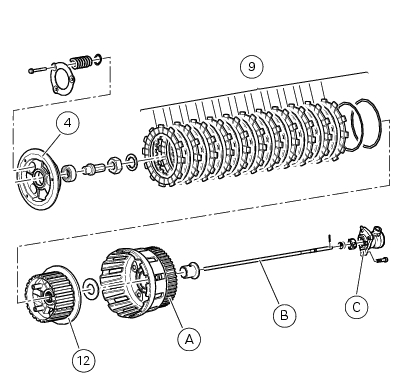 The following is a list of possible causes of clutch malfunctions.
A clutch which does not disengage may be caused by:
Excessive play of the control lever;
Distorted clutch plates;
Incorrect spring tension;
Faulty clutch release mechanism;
Excessive wear of the hub or clutch drum.
A clutch which slips may be caused by:
Insufficient play of the control lever;
Insufficient play of the control lever;
Weakened springs;
Faulty clutch release mechanism;
Excessive wear of the hub or clutch drum.
A noisy clutch may be caused by:
Excessive backlash between the primary drive gears;
Damaged primary drive gear teeth;
Excessive play between friction plate tabs and the clutch drum;
Worn gear/clutch drum bearings;
The presence of metal particles (filings) on the gear teeth.
Screw Ring Clutch spring Pressure plate Bearing Circlips Nut Belleville washer Clutch plates Belleville washer Flat ring Clutch centre Spacer Clutch lifter Spare pa ...
Note For clarity, the figures show the engine removed from the frame. Undo the fixing screws (1) and remove the ring (2) and the springs (3) from the pressure plate (4). Slide the pre ...
Other materials:
Removal of the rear brake calliper
Important The brake manufacturer advises against any servicing of the internal components of brake callipers or the master cylinder. Incorrect overhaul of these critical safety components can endanger rider and passenger safety. Before removing the parts in question, you must first carry ou ...
Electrical components support
Clip Screw Voltage regulator Battery fixing bracket Battery support Vibration damper mount Hose clip Vibration damper mount Clip Washer Screw Cover Cable grommet Battery Battery mat Screw Bracket Solenoid starter Spring washer Spacer Screw Horn Scre ...
Coolant expansion tank
Plug Screw Fuel filler flange Clip nut Clamp Hose clip Valve/tank hose Clamp Screw Spacer Rubber mounting Expansion reservoir Filler cap Hose clip Support Screw Washer Screw Hose clip Breather hose Clamp Pump/radiator sleeve Radiator/radiator sleeve ...