Ducati Diavel Service Manual: Description of the clutch assembly
The clutch is disengaged by a drive unit consisting of a thrust piston (c) accommodated inside a small cap mounted to the generator cover. This piston (c) pushes a pushrod (b), which runs through gearbox primary shaft and operates the Pressure plate (4) located on top of the clutch plate pack (9).
Drive is transmitted from the crankshaft to the gearbox primary shaft by a gear integrated with the clutch housing/primary drive gear pair (a).
Accommodated in the clutch housing is a set of drive and driven plates (9). When the clutch is operated, the driven plates push away a drum (12) which is splined onto the gearbox primary shaft.
Before working on the internal clutch parts, check that the clutch operates correctly. Then deal with the problem in a systematic manner.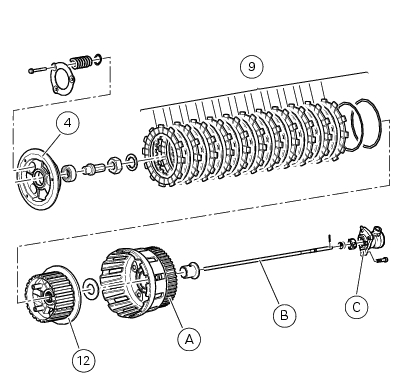 The following is a list of possible causes of clutch malfunctions.
A clutch which does not disengage may be caused by:
Excessive play of the control lever;
Distorted clutch plates;
Incorrect spring tension;
Faulty clutch release mechanism;
Excessive wear of the hub or clutch drum.
A clutch which slips may be caused by:
Insufficient play of the control lever;
Insufficient play of the control lever;
Weakened springs;
Faulty clutch release mechanism;
Excessive wear of the hub or clutch drum.
A noisy clutch may be caused by:
Excessive backlash between the primary drive gears;
Damaged primary drive gear teeth;
Excessive play between friction plate tabs and the clutch drum;
Worn gear/clutch drum bearings;
The presence of metal particles (filings) on the gear teeth.
Screw Ring Clutch spring Pressure plate Bearing Circlips Nut Belleville washer Clutch plates Belleville washer Flat ring Clutch centre Spacer Clutch lifter Spare pa ...
Note For clarity, the figures show the engine removed from the frame. Undo the fixing screws (1) and remove the ring (2) and the springs (3) from the pressure plate (4). Slide the pre ...
Other materials:
Battery voltage indicator (battery)
This function describes the battery voltage indicator. To access the function it is necessary to view the "setting" menu page 48, using button (1, fig. 14) ?"" or (2, fig. 14) ?" " select the "battery" function and press the reset button (12, fig. 12 ...
Disassembly of the rear brake control
The brake master cylinder is supplied only as a complete unit; internal components cannot be replaced. To disassemble the master cylinder's outer parts, follow the indications given in the exploded view at the beginning of this section. If the bush (10) inside the brake pedal (6) needs to ...
Belly fairing
Rh belly fairing Lh belly fairing Special screw Nylon washer Screw Central belly fairing Oil cooler shield Special screw Clip Washer Clip Screw Bracket Screw Spare parts catalogue Diavel abs belly fairing Diavel carbon abs belly fairing Important Bold refere ...