Ducati Diavel Service Manual: Disassembly of the generator cover
Undo the three stator retaining screws (25) and the two retaining screws (9) of the two cable grommet bracket (10) from inside the generator cover.
Remove the stator (2) and the cable grommet bracket (10).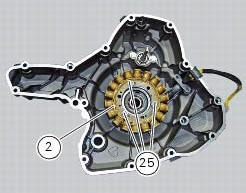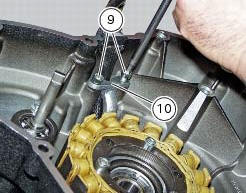 The generator-side crankcase cover is fitted with a bearing (27), held in place by circlip (23), which is located on the end of the crankshaft.
Remove the circlip (23) with circlip pliers.
Remove the bearing (27) using a universal puller.
Be careful when fitting the new bearing (27) to ensure it is positioned with the shielded side facing away from the cover.
Secure the bearing with the circlip (23), ensuring that it is correctly fitted in its seat in the generator cover (13).
Remove the water pump components as described in sect. 9 - 3.3, Removal of the water pump.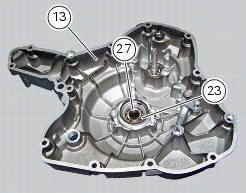 Note This operation is described for an engine removed from the frame since all reassembly procedures are easier with the engine on the bench. Disconnect the connector (a) from the generator ...
Use the tool 88713.3367 Fixed to the m10 side stand fixing holes (d). Secure the tool to the flywheel with the screws (e). Unscrew the alternator-flywheel retaining nut (15). Warning While uns ...
Other materials:
Reassembly of the oil pump
Check that the circlip (3) and tongue (13) are present on the pump. Fit the pump drive gear (12) on to the oil pump and secure it by installing the circlip (6) in its groove. Insert the by-pass valve pump (17), the spring (16) and screw the plug (14). Tighten the plug (14) to a torque of ...
Removing the frame and the lateral footrests
Loosen the two special screws (6) to separate the frame (1) from the lateral brackets (2) and (3). On the left side of the vehicle block retaining pins (9) and loosen the nuts (8) on the right side at the same time. Slide out the retaining pins (9) and remove the frame (1) from the lateral ...
Refitting the cylinder head assemblies
Warning To prevent oil leaks past the contact area between cylinders and crankcase, each time the head is removed, cylinder and piston must be removed as well to clean the mating faces of crankcase and cylinder and restore the spoiled gaskets and o-rings and apply again liquid sealant (sect. ...