Ducati Diavel Service Manual: Refitting the primary drive gears and checking backlash
Fully degrease the crankshaft splined end and the corresponding spline on the primary drive gear.
Position the spacer (c) onto the crankshaft.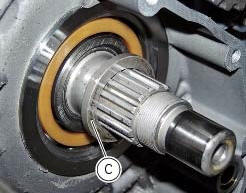 Fit the driving gear (b) onto the crankshaft with the oil pump drive sprocket facing the crankcase.
Temporarily secure the gear with the washer (4) and nut (3).
Important
If fitting a new primary driving gear (b), check the backlash.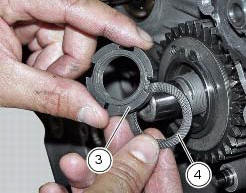 To check the clearance, temporarily fit the clutch bell (1) complete with the primary driven gear (a) on the gearbox primary shaft. Fix a dial gauge to the engine crankcase, positioning the stylus against a gear tooth.
Turn the driven gear (a) to mesh the teeth and check that clearance ranges between 0.05 And 0.07 Mm.
Repeat the check at 16 different points of the driven gear.
If the measured values are outside the permissible tolerance limits, try changing the position of driven gear (a) on the primary shaft, leaving the driving gear (b) on the crankshaft. If still outside tolerance values, renew the whole primary drive gear pair.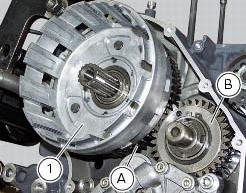 After checking backlash, fit the bush 88713.3406 On a torque wrench, lock the pinion (b) with the holding tool 88713.3417.
Position the washer (4) and the ring nut (3). Use the special tool 88713.3406 To tighten the ring nut (3) to a torque of 190 nm (min. 171 Nm - max. 209 Nm) (sect. 3 - 3, Engine torque settings).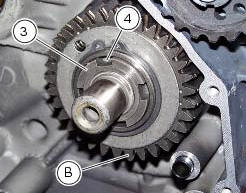 Refit the oil pump (d) and check the clearance between the oil pump gear and primary drive gear on the crankshaft (sect. 9 - 2.1, Refitting the oil pump).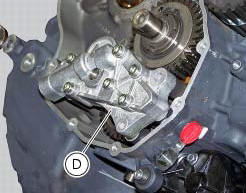 Thoroughly degrease the mating surfaces of the clutch bell (1).
Fit the spacer (2) onto the primary shaft. Fit the clutch housing (1) along with the driven gear (a).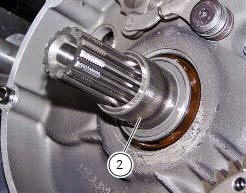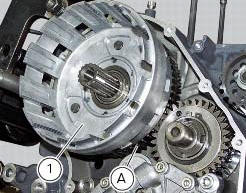 Withdraw the clutch housing (1) complete with driven gear of the primary pair (a). Remove the inner spacer (2). Remove the oil pump (d) (sect. 9 - 2.1, Removal of the oil pump). L ...
Other materials:
Transmission
Wet clutch controlled by the lever on left-hand side of the handlebar. Transmission from engine to gearbox primary shaft via spur gears. Front chain sprocket/clutch gearwheel ratio: 33/61 6-speed gearbox with constant mesh gears, gear change pedal on left side of motorcycle. Gearbox ou ...
Cylinder compression test
Note The on-screen icons used during this procedure are explained in a table at the end of this section. Engine performance is directly correlated to the pressure that can be measured in the combustion chambers of the two cylinders. Pressure which is too high/low or an excessive difference be ...
Topping up the electrolyte
Warning Before carrying out any operations on the battery, keep in mind the safety standards (sect.1 - 3, General safety rules). The electrolyte in the battery is toxic and can cause burns if it comes into contact with the skin because it contains sulphuric acid. Wear protective clothing, a ...