Ducati Diavel Owners Manual: Warning indication (alarms/signals)
The instrument panel activates in real-time some warnings / malfunction that are not dangerous for the correct operation of the vehicle.
At key-on (at the end of the check) one or more "warnings" are displayed if they are active.
When a "warning" is triggered, the indication (amber yellow) remains well visible for 10 seconds (1, fig. 34) Then becomes smaller (2, fig. 34).
If there are multiple indicators, they will scroll automatically every 3 seconds.

Note
No signal lights turn on if one or more "warnings" are activated.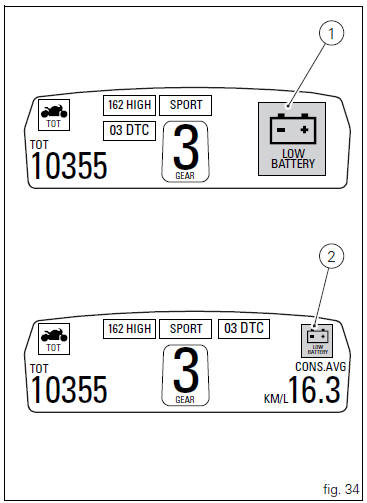 The following "warnings" could be displayed:
"Low" battery level (low battery);
Traction control "deactivated" (dtc off);
Hands free key (hf) "not recognised";
"Low " hands free key (hf) battery level;
"High" engine coolant temperature (high temp);
Steering release error - steering still locked (unlock error).
When one or more "warnings" are active, it is possible to go to other functions by pushing button (2, fig. 14)

h.
When service coupon threshold is achieved, upon every key- on the system displays the indication of the type of intervention that is required (oil service or desmo service). The (red) warning is ...
The activation of this (amber yellow) "warning" indicates that the status of the battery vehicle is low. It is activated when the battery voltage is . 11.0 Volt. Note In this case, du ...
Other materials:
Removing of the front sprocket
Undo the screws (11) and remove the chain cover (10). Loosen the chain (sect. 4 - 3, Adjusting the chain tension). Remove the chain with the tool code 88713.1344. The tool is composed of a holder (a), punch (b), body (c) and two wrenches (d) and (e). Fit the link to be opened into th ...
Changing the engine oil and filter cartridge
Note This operation has to be carried out with hot engine (but turned off) because the oil in these conditions is more fluid and its evacuation is faster and complete. Remove the drain plug (3) with seal (a) from the oil sump and allow the oil to drain off. Warning Dispose of oil and/or fil ...
Vehicle speed indicator
this function displays vehicle speed (km/h or mph depending on the set measurement system). the instrument panel receives information about the actual speed and displays the number increased by 5%. maximum speed displayed is 299 km/h (186 mph). over 299 km/h (186 mph) a series of dashes w ...