Ducati Diavel Owners Manual: Warning indication (alarms/signals)
The instrument panel activates in real-time some warnings / malfunction that are not dangerous for the correct operation of the vehicle.
At key-on (at the end of the check) one or more "warnings" are displayed if they are active.
When a "warning" is triggered, the indication (amber yellow) remains well visible for 10 seconds (1, fig. 34) Then becomes smaller (2, fig. 34).
If there are multiple indicators, they will scroll automatically every 3 seconds.

Note
No signal lights turn on if one or more "warnings" are activated.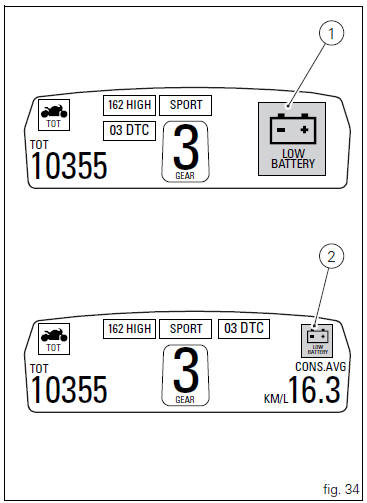 The following "warnings" could be displayed:
"Low" battery level (low battery);
Traction control "deactivated" (dtc off);
Hands free key (hf) "not recognised";
"Low " hands free key (hf) battery level;
"High" engine coolant temperature (high temp);
Steering release error - steering still locked (unlock error).
When one or more "warnings" are active, it is possible to go to other functions by pushing button (2, fig. 14)

h.
When service coupon threshold is achieved, upon every key- on the system displays the indication of the type of intervention that is required (oil service or desmo service). The (red) warning is ...
The activation of this (amber yellow) "warning" indicates that the status of the battery vehicle is low. It is activated when the battery voltage is . 11.0 Volt. Note In this case, du ...
Other materials:
Riding safety
The points given below are applicable for every day motorcycle use and shoud be carefully observed for safe and effective vehicle operation. A motorcycle does not provide the impact protection of an automobile, so defensive riding in addition to wearing protective apparel is extremely importa ...
Throttle valve operation engine
Introduction The electric motor actuating the throttle valve for the vertical cylinder is mounted on the throttle body of the diavel, while a link rod connects the vertical cylinder throttle valve to the horizontal cylinder throttle valve. In the electric motor, the throttle valve position se ...
Engine speed-timing sensor
Introduction The engine control system of the diavel is equipped with an inductive sensor that allows the ecu to determine the speed and timing phase of the engine. The sensor faces a phonic wheel with 48 teeth minus 2. The engine speed-timing sensor is an inductive sensor and faces a 48 ...