Ducati Diavel Owners Manual: Warning indication (alarms/signals)
The instrument panel activates in real-time some warnings / malfunction that are not dangerous for the correct operation of the vehicle.
At key-on (at the end of the check) one or more "warnings" are displayed if they are active.
When a "warning" is triggered, the indication (amber yellow) remains well visible for 10 seconds (1, fig. 34) Then becomes smaller (2, fig. 34).
If there are multiple indicators, they will scroll automatically every 3 seconds.

Note
No signal lights turn on if one or more "warnings" are activated.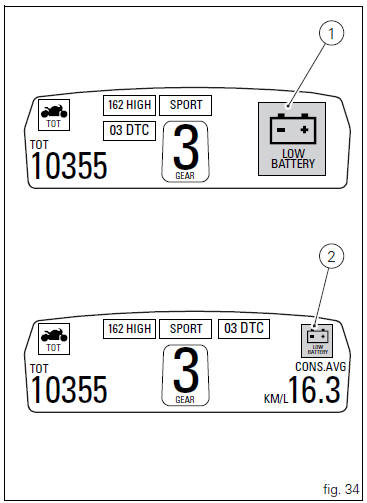 The following "warnings" could be displayed:
"Low" battery level (low battery);
Traction control "deactivated" (dtc off);
Hands free key (hf) "not recognised";
"Low " hands free key (hf) battery level;
"High" engine coolant temperature (high temp);
Steering release error - steering still locked (unlock error).
When one or more "warnings" are active, it is possible to go to other functions by pushing button (2, fig. 14)

h.