Ducati Diavel Service Manual: Removing of the rear brake control
Warning
The brake master cylinder manufacturer advises against servicing the brake master cylinder due to the safety critical nature of this component.
Incorrect overhaul can endanger the rider and passenger.
Maintenance operations on these units are limited to renewal of the following parts: control lever, fluid reservoir assembly and relative fasteners and master cylinder fasteners.

Note
For the abs front braking system, also refer to sect. 7 - 5, Abs system operating information, sect. 7 - 6, System components, sect. 7 - 7, Abs components maintenance.
Slide the adjusting rod (18) out of the rear brake master cylinder (16).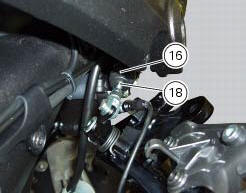 Loosen the special screw (22) from the master cylinder (16); slide out the hose (7) and recover the sealing washers (23).
Loosen the rear brake master cylinder (16) retaining screws (19) and remove it from the vehicle.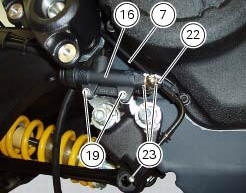 Undo the fixing pin (9) of the brake lever (6), collecting the spring (4).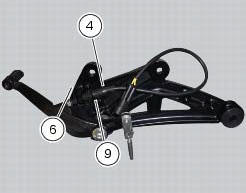 Remove the brake lever (6) and collect the pin (9), the washer (3), the bush (10) and the o-ring (11).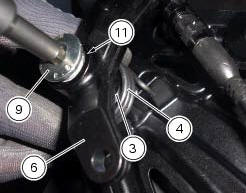 Rear speed sensor (abs) Screw Washer Spring Brake switch (rear) Brake lever (rear) Rear pump - control unit pipe Sealing washer Pin Bush O-ring Screw screw Rear brake ...
The brake master cylinder is supplied only as a complete unit; internal components cannot be replaced. To disassemble the master cylinder's outer parts, follow the indications given in the expl ...
Other materials:
Reassembly of rear shock absorber - rocker arm - linkage assembly
Once the needle roller bearings (9) have been removed from the rocker arm (18), upon reassembly fit a new needle roller bearing (9) on drift part no. 88713.1071 And lubricate with recommended grease. Support the rocker arm and drive the needle roller bearings into the rocker arm bore until t ...
Removal of the fuel tank filler cap
Remove tank covers (sect. 5 - 2, Removal of the fuel tank fairings). Remove hoses (8) and (15) from the filler cap assembly (10). Open the filler cap. Unscrew the outer screws (17) securing the ring nut to the filler cap recess. Remove the filler cap assembly (10). ...
Replacing of the rear sprocket
Lock the wheel axle rotation. Remove the clip (1). Loosen the locking nut (2) with a socket wrench. Fully unscrew the nut (2) and remove the washer (3) and the flange (5) with the sprocket (17). Collect the spacer (9). Using a mallet, tap the flange (5) with the cush drive dampe ...