Ducati Diavel Service Manual: Removing of the rear brake control
Warning
The brake master cylinder manufacturer advises against servicing the brake master cylinder due to the safety critical nature of this component.
Incorrect overhaul can endanger the rider and passenger.
Maintenance operations on these units are limited to renewal of the following parts: control lever, fluid reservoir assembly and relative fasteners and master cylinder fasteners.

Note
For the abs front braking system, also refer to sect. 7 - 5, Abs system operating information, sect. 7 - 6, System components, sect. 7 - 7, Abs components maintenance.
Slide the adjusting rod (18) out of the rear brake master cylinder (16).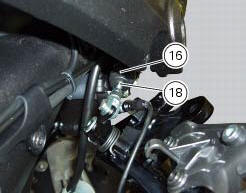 Loosen the special screw (22) from the master cylinder (16); slide out the hose (7) and recover the sealing washers (23).
Loosen the rear brake master cylinder (16) retaining screws (19) and remove it from the vehicle.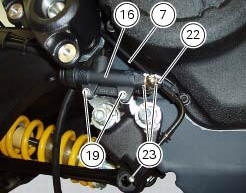 Undo the fixing pin (9) of the brake lever (6), collecting the spring (4).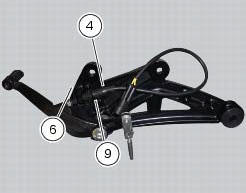 Remove the brake lever (6) and collect the pin (9), the washer (3), the bush (10) and the o-ring (11).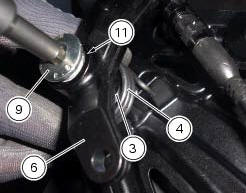 Rear speed sensor (abs) Screw Washer Spring Brake switch (rear) Brake lever (rear) Rear pump - control unit pipe Sealing washer Pin Bush O-ring Screw screw Rear brake ...
The brake master cylinder is supplied only as a complete unit; internal components cannot be replaced. To disassemble the master cylinder's outer parts, follow the indications given in the expl ...
Other materials:
Passive key
Introduction The passive key (1) is used when the active key is not working correctly or is not available. The passive key works as a transponder, and must therefore be placed physically onto the antenna to work. The mechanical part (2) of the key is used to open the seat or the tank plug ...
Vehicle pre-delivery
Transport packaging integrity check (if required); Removal from the transport packaging (if required); Motorcycle integrity check; Check of the supplied kit completeness (refer to the parts list supplied together with the bike packaging); Only if the bike is supplied in a crate: handle ...
Refitting the fuel tank fairings
Make sure that the following components are fitted on the tank fairing (22): Spacers (18); Seals (20). Fit the clips (19) to the central cover (22) at the positions shown, inserting the tabs (h) into the slots (l). Apply threadlocker to the screws (14). Place the tank fairing (22) ...