Ducati Diavel Service Manual: Removing of the rear brake control
Warning
The brake master cylinder manufacturer advises against servicing the brake master cylinder due to the safety critical nature of this component.
Incorrect overhaul can endanger the rider and passenger.
Maintenance operations on these units are limited to renewal of the following parts: control lever, fluid reservoir assembly and relative fasteners and master cylinder fasteners.

Note
For the abs front braking system, also refer to sect. 7 - 5, Abs system operating information, sect. 7 - 6, System components, sect. 7 - 7, Abs components maintenance.
Slide the adjusting rod (18) out of the rear brake master cylinder (16).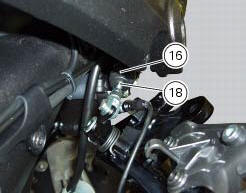 Loosen the special screw (22) from the master cylinder (16); slide out the hose (7) and recover the sealing washers (23).
Loosen the rear brake master cylinder (16) retaining screws (19) and remove it from the vehicle.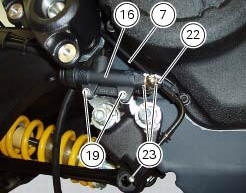 Undo the fixing pin (9) of the brake lever (6), collecting the spring (4).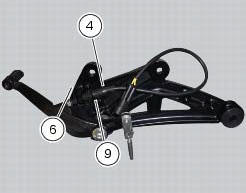 Remove the brake lever (6) and collect the pin (9), the washer (3), the bush (10) and the o-ring (11).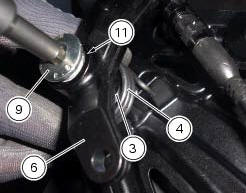 Rear speed sensor (abs) Screw Washer Spring Brake switch (rear) Brake lever (rear) Rear pump - control unit pipe Sealing washer Pin Bush O-ring Screw screw Rear brake ...
The brake master cylinder is supplied only as a complete unit; internal components cannot be replaced. To disassemble the master cylinder's outer parts, follow the indications given in the expl ...
Other materials:
Moving off
Disengage the clutch by squeezing the clutch lever. Push down the gear change lever firmly with the tip of your foot to engage first gear. Raise the engine revs by turning the throttle twistgrip while gradually releasing the clutch lever. The motorcycle will start moving. Release the ...
Fuel system circuit
The fuel system circuit consists of: An electric pump, driven by the injection relay, which is in turn controlled by the ecu (engine control unit) A fuel filter A pressure regulator Two injectors (one per cylinder, located downstream of throttle valve) The plastic mounting shown in t ...
Running lights not working
Fault codes Dds: no fault code displayed. Dashboard: no fault code displayed. Location of connections and components (A) low / high beam and parking light connections rear running light and stop light connection. Pin numbering of wiring harness side bbs unit connection. Checks The ...