Ducati Diavel Service Manual: Rear brake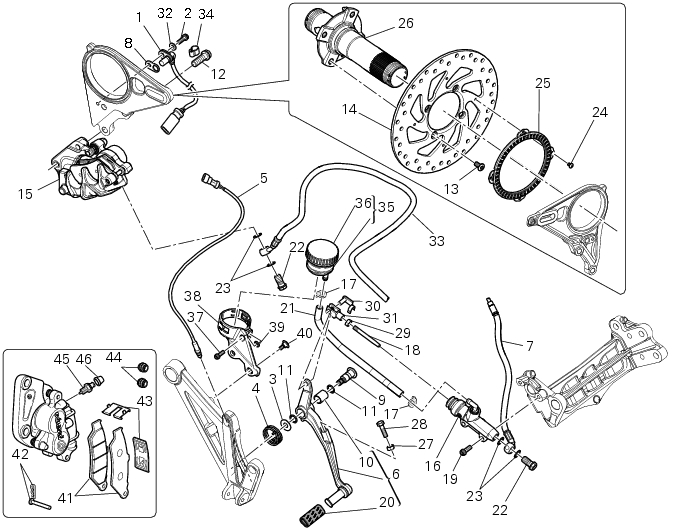 Rear speed sensor (abs)
Screw
Washer
Spring
Brake switch (rear)
Brake lever (rear)
Rear pump - control unit pipe
Sealing washer
Pin
Bush
O-ring
Screw
screw
Rear brake disc
Rear brake calliper
Rear brake master cylinder
Hose clip
Pushrod
Screw
Rubber pad
Hose
Special screw
Sealing washer
Screw
Phonic wheel
Rear wheel shaft
Nut
Screw
Nut
Quick-release fastener
Fork
Washer
Control unit - rear calliper pipe
Cable grommet
Fluid reservoir assembly
Plug
Screw
Support
Spacer
Screw
Pair of brake pads
Spare clip pins
Clip spring
Boot
Bleed valve
Dust cap
Spare parts catalogue
Diavel abs rear brake
Diavel abs antilock braking system (abs)
Diavel abs rear wheel axle
Diavel carbon abs rear brake
Diavel carbon abs antilock braking system (abs)
Diavel carbon abs rear wheel axle
Important
Bold reference numbers in this section identify parts not shown in the figures alongside the text, but which can be found in the exploded view diagram.
While refitting the system, pay special attention to the orientation of the pipe couplings (24) on the pump and the pipes (13) and (20) on the callipers (9) and (18). Warning If incorrectly posit ...
Warning The brake master cylinder manufacturer advises against servicing the brake master cylinder due to the safety critical nature of this component. Incorrect overhaul can endanger the rider ...
Other materials:
Reassembly of structural components and the frame
Check for the nuts with clips (8). Apply recommended grease on the threads of the adjusters (4) and the ring nuts (5) having care not to have grease on the surface (c) of the adjusters. Tighten the adjusters on the ring nut side opposite to that featuring flats until bringing the surfac ...
Changing bulbs
Changing the headlight bulbs Before replacing a burnt out light bulb, ensure that the replacement bulb has the same voltage and power rating as specified for the lighting device in question (sect. 3 - 1.1, Lights/instrument panel). Warning The halogen light bulbs in the headlight become hot ...
External components
Oil breather valve O-ring Sealing washer Gear position sensor Cylinder barrel/head stud Nipple By-pass spring Plug Plug Aluminium gasket Nut Lock washer Timing gear pair Key Key O-ring Screw Locating dowel Starter idler gear Washer Gear shaft O-ring ...