Ducati Diavel Service Manual: Disassembly of the rear brake control
The brake master cylinder is supplied only as a complete unit; internal components cannot be replaced.
To disassemble the master cylinder's outer parts, follow the indications given in the exploded view at the beginning of this section.
If the bush (10) inside the brake pedal (6) needs to be replaced, grease the external surface and fit the new bush using a press to insert it. The bush must be placed at 2 mm from the pedal external face.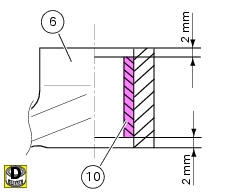 To disassemble the various parts of the system, refer to the exploded view at the beginning of this chapter.
Warning
After performing an operation on the rear brake control, check the brake pedal position following the instructions detailed in sect. 4 - 3, Adjusting the position of the gear change and rear brake pedals.
Warning The brake master cylinder manufacturer advises against servicing the brake master cylinder due to the safety critical nature of this component. Incorrect overhaul can endanger the rider ...
If the pushrod (18), clip (30) and fork (31) assembly has been dismantled, reassemble it by screwing the nut (29) onto the rod (18) and then screw the rod into the fork (31) to obtain the measureme ...
Other materials:
Refitting the flywheel-alternator assembly
Fit the roller cage unit (20) with washer (18) and internal ring (19), applying prescribed grease on the washer (18). Install the roller cage assembly (20) with the washer (18) and inner race (19). Install the flywheel assembly (v) with the gear (21), aligning the notches as shown in ...
Transmission
Wet clutch controlled by the lever on left-hand side of the handlebar. Transmission from engine to gearbox primary shaft via spur gears. Front chain sprocket/clutch gearwheel ratio: 33/61 6-speed gearbox with constant mesh gears, gear change pedal on left side of motorcycle. Gearbox ou ...
Removal of the licence plate holder
Disconnect connector (5) of the number plate holder wiring from the main one. Release the number plate holder light cable from the ties and the cable grommets as indicated in sect- 7 - 6, flexible wiring/hoses positioning, since the cable is together with the rear abs sensor cable. ...