Ducati Diavel Service Manual: Disassembly of the rear brake control
The brake master cylinder is supplied only as a complete unit; internal components cannot be replaced.
To disassemble the master cylinder's outer parts, follow the indications given in the exploded view at the beginning of this section.
If the bush (10) inside the brake pedal (6) needs to be replaced, grease the external surface and fit the new bush using a press to insert it. The bush must be placed at 2 mm from the pedal external face.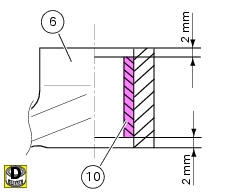 To disassemble the various parts of the system, refer to the exploded view at the beginning of this chapter.
Warning
After performing an operation on the rear brake control, check the brake pedal position following the instructions detailed in sect. 4 - 3, Adjusting the position of the gear change and rear brake pedals.
Warning The brake master cylinder manufacturer advises against servicing the brake master cylinder due to the safety critical nature of this component. Incorrect overhaul can endanger the rider ...
If the pushrod (18), clip (30) and fork (31) assembly has been dismantled, reassemble it by screwing the nut (29) onto the rod (18) and then screw the rod into the fork (31) to obtain the measureme ...
Other materials:
Adjusting the rear shock absorber
The adjuster (1) located on the lower connection holding the shock absorber to the swingarm adjusts the damping during the rebound phase (return). The knob (2), located on the left side of the motorcycle, adjusts the preload of the shock absorber external spring. Turn the adjuster (1) clock ...
Digital rpm indication function
This function displays the number of rpms for improved accuracy when setting idle rpm. To access the function it is necessary to view the "setting" menu page 48, using button (1, fig. 14) ?" " or (2, fig. 14) ?" " select the "rpm" function and press ...
Helmet cable
Note Helmet cable (2, fig. 104) Can be found inside the tool kit, see "tool kit and accessories" on page 141. Pass the cable through the helmet and insert the end of the cable in the pin (3, fig. 104). Leave the helmet hanging and refit the seat to hold it in place. Warning Th ...