Ducati Diavel Service Manual: Removing the frame and the lateral footrests
Loosen the two special screws (6) to separate the frame (1) from the lateral brackets (2) and (3).
On the left side of the vehicle block retaining pins (9) and loosen the nuts (8) on the right side at the same time.
Slide out the retaining pins (9) and remove the frame (1) from the lateral brackets and the engine block.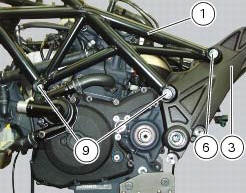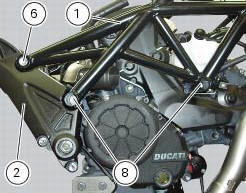 To remove the tool tray unit from the lateral footrests, loosen the screws (40) and remove the splashguard (20). Undo the screws (15) and remove the cover (16). Move the wiring branch ...
Check the dimensions of the frame against the dimensions shown here to determine whether it needs to be realigned or renewed. Important Damaged frames must be changed, not repaired. Any work carr ...
Other materials:
Refitting the starter motor gear
Position the washer (20) and the gear (19) in the pin (21) and take the pin into contact with the crankcase half. ...
Removal of the clutch-side crankcase cover
Unscrew the screws (2), (3) and (5) securing the clutch-side crankcase cover (1). Tap around the edge of the cover with a plastic mallet to detach it from the crankcase half. Remove the clutch cover (1) paying attention to the centring bushing (12). Check the condition of the cent ...
Disassembly of the gearbox shafts
Place the shaft in a vice in such a way as to facilitate the disassembly operations. Important Take care not to invert the positions of the shims on reassembly: this would potentially lead to jamming when using the gear selector control, making it necessary to reopen the engine crankcase. D ...