Ducati Diavel Owners Manual: Replacing the battery in the active key
Only use 3 volt cr 2032 lithium ion batteries.

Note
The keys do not need to be reprogrammed after replacing the battery.
Remove the metal part of the battery.
Use a large sized coin to pry open the shells of the plastic grip (2? coin) as shown in fig. 65.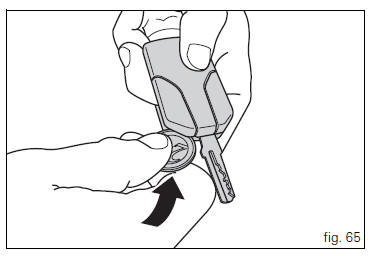 Important
Insert the coil only in the indicated point. Do not other use other objects inserted in points that are different than what is shown, as it could damage the integrated circuit and/ or the protective gasket.
Once the plastic shells have been separated, remove the printed circuit board (1, fig. 66) Prying it up gently with a small flat screwdriver, as shown in the figure.

Important
insert the point of the flat screwdriver just under the printed circuit board, being very careful not to damage it.
do not apply force on the battery or battery holder.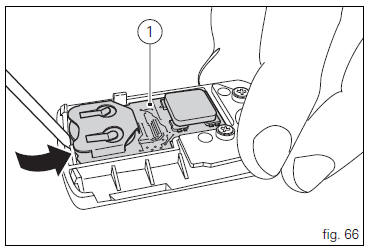 Remove the battery (2, fig. 67) From the printed circuit board (1, fig. 67) And replace it with a new one.
Pay attention to polarity: the positive pole (+) must face upward.
Important
Only use the required type of battery.
Reinsert the printed circuit board (1, fig. 68) From the side with the battery (2, fig. 68) Into the plastic shell.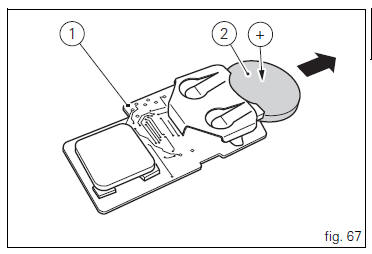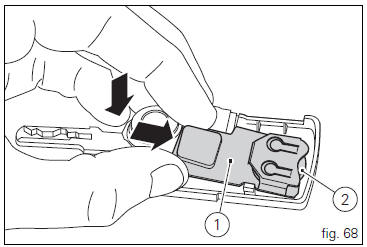 Apply slight pressure on the antenna (3, fig. 69) Of the printed circuit board until you hear a click.
Align the two shells of the grip and press on the area indicated by the arrows (fig. 70) To reclose them.
Make sure that you hear a "click" upon closing and that the key is well closed.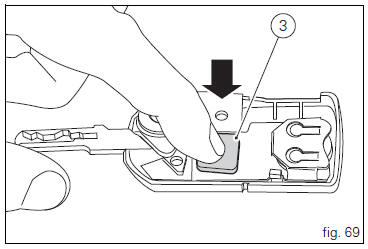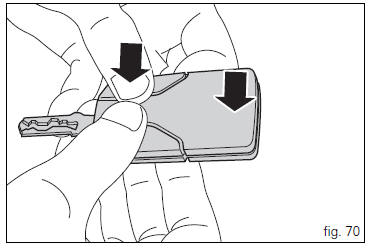 The owner receives a set of keys comprising: 1 Active key (1, fig. 62) 1 Passive key (2, fig. 62) It contains the code used by the "hands free" system for the key-on, in different ...
If you need any duplicate keys, contact the ducati service network with all the keys you have left. The ducati service centre will program all the new keys as well as any keys you already have. ...
Other materials:
Rear brake
Rear speed sensor (abs) Screw Washer Spring Brake switch (rear) Brake lever (rear) Rear pump - control unit pipe Sealing washer Pin Bush O-ring Screw screw Rear brake disc Rear brake calliper Rear brake master cylinder Hose clip Pushrod Screw Rubber pad ...
Front and rear mudguard
Front mudguard Washer Rivet Clip Screw Spacer Screw Rear mudguard Screw Spare parts catalogue Diavel abs rear swingarm Diavel abs belly fairing Diavel carbon abs rear swingarm Diavel carbon abs belly fairing Important Bold reference numbers in this section identif ...
Checking and adjusting timing belt tension
Note The on-screen icons used during this procedure are explained in a table at the end of this section. Note This operation, which is performed using the dds diagnosis instrument, has the advantage that it can be carried out on both timing belts with the engine still installed on the frame. ...