Ducati Diavel Owners Manual: Replacing the battery in the active key
Only use 3 volt cr 2032 lithium ion batteries.

Note
The keys do not need to be reprogrammed after replacing the battery.
Remove the metal part of the battery.
Use a large sized coin to pry open the shells of the plastic grip (2? coin) as shown in fig. 65.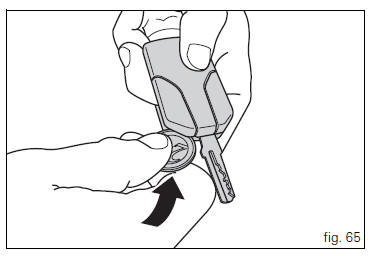 Important
Insert the coil only in the indicated point. Do not other use other objects inserted in points that are different than what is shown, as it could damage the integrated circuit and/ or the protective gasket.
Once the plastic shells have been separated, remove the printed circuit board (1, fig. 66) Prying it up gently with a small flat screwdriver, as shown in the figure.

Important
insert the point of the flat screwdriver just under the printed circuit board, being very careful not to damage it.
do not apply force on the battery or battery holder.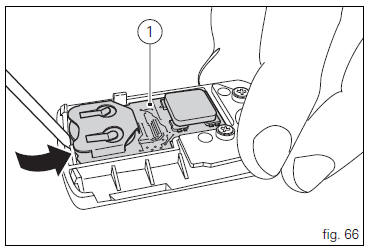 Remove the battery (2, fig. 67) From the printed circuit board (1, fig. 67) And replace it with a new one.
Pay attention to polarity: the positive pole (+) must face upward.
Important
Only use the required type of battery.
Reinsert the printed circuit board (1, fig. 68) From the side with the battery (2, fig. 68) Into the plastic shell.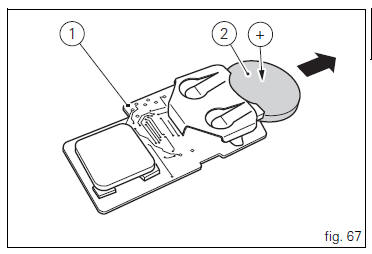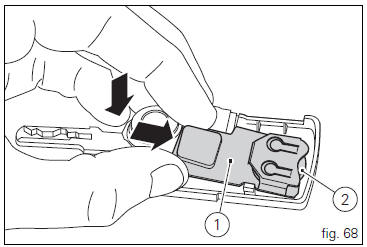 Apply slight pressure on the antenna (3, fig. 69) Of the printed circuit board until you hear a click.
Align the two shells of the grip and press on the area indicated by the arrows (fig. 70) To reclose them.
Make sure that you hear a "click" upon closing and that the key is well closed.